Movies
Published July 21, 2018
How Marvel Studios' Prop Master Brings Super Hero Gadgets and Weapons to Life
At San Diego Comic-Con, Russell Bobbitt discusses creating Arc Reactors, Stormbreakers, Infinity Gauntlets, and much more.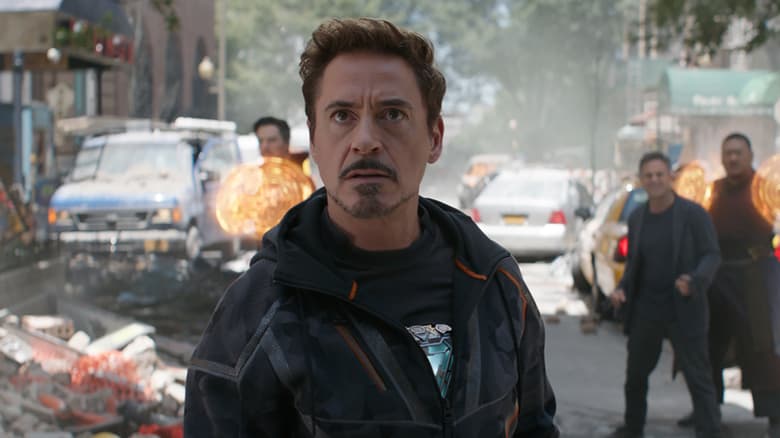 The MARVEL STUDIOS: The First 10 Years, Theatrical Prop Development with Russell Bobbitt
 panel at San Diego Comic-Con on Friday began with a video highlighting Bobbitt's amazing contributions to the Marvel Cinematic Universe over the course of 20 films to date – with Kevin Feige noting that Bobbitt has been with them since the beginning. 
Taking the stage, Bobbitt explained that as the prop master, he "handles anything the actor touches," including things that wouldn't initially even seem like props in the traditional sense. As Bobbitt put it, if an actor "opens the door, I don't do the door. But if he breaks the door, it becomes a prop." 
Several examples of Bobbitt's work were on display during the panel, as he discussed the work that went into them. This included: 
The Infinity Gauntlet
Big MCU fans know that a version of the Infinity Gauntlet was first glimpsed in Odin's vault in 2011's "Thor," and Bobbitt recalled getting a call very close to filming from Feige asking him to create the gauntlet. Said Bobbitt, "I called up a blacksmith I know and said 'Pound out a gauntlet for me and put some stones in there and make it snappy, because I need it next week!'" He added, with a chuckle, "I didn't realize they'd [eventually] make a movie about it!" The same Gauntlet prop from "Thor" was used for the mid-credit scene in "Avengers: Age of Ultron," but when it came time for "Avengers: Infinity War," Bobbitt re-made it in more detailed form, "Because now a movie was centered around it!" 
Bobbitt showed off the absolutely massive full scale Gauntlet, which was scaled to how big Thanos himself would be, before showing off a smaller, but still very detailed, gauntlet made for Josh Brolin to wear on set when he was filming scenes wearing a mocap suit. Bobbitt explained that he'd heard Brolin had a method actor sensibility, and though he wasn't asked by Brolin or anyone else to make a gauntlet for him, "All they had to say to me he was a method actor and I went to the drawing board. I knew had to make something for him to make him comfortable and help him." 
During filming, Bobbitt recalled, "Brolin almost never took this gauntlet off. He is Thanos. He just became comfortable with it. He became Thanos in the morning and I took it away from him at night!" 
Stormbreaker
For Thor's new weapon in "Avengers: Infinity War," Bobbitt felt it should be large, but when he did a cardboard cutout printing of his initial idea for it, he felt it was far too large and began making smaller concepts.  
However, Bobbitt noted he is 5'3" – a dramatic difference from Chris Hemsworth, who Bobbitt amusingly refers to as "The Specimen." He remembered Hemsworth saying, "Alright, let's go get Stormbreaker!" and I thought "It's too small! I forgot, The Specimen is here!" Hemsworth was given examples of potential Stormbreakers beginning with the smallest and then trying each bigger one, and ultimately, "The biggest size looked right and felt right to him." 
Bobbitt described Stormbreaker as "just the biggest monster prop you've ever seen." Weighing around 75 pounds, it is made from aluminum, and Bobbitt explained, "The front end is completely solid. The back end we had to make hollow or it would have been 100 [pounds]." Visually, he noted, "The biggest challenge was to make the handle look like Groot grew the handle around the head," but eventually they found a design everyone was happy with. 
Bobbitt recalled long days on set holding Stormbreaker over his own shoulder, at the ready for when Hemsworth would need it to film, and that he would go home with a bruise on his right shoulder. As Bobbitt put it, "This thing is big, bad, and cool." 
Proxima Midnight's Staff
Proxima Midnight was a digitally realized character in "Infinity War," but as Bobbitt explained, "Even with CGI, they still rely on us to design the piece." 
In a situation like this, he figures out how big the character is – Proxima is about 7'4" – and then designs a size-appropriate prop. 
Said Bobbitt, "I'll make a foam version of this, almost exact, scaled to the 7 foot character, or whatever it is. Then I'll make a real one, smaller, so our stunt people can use this [on set]." Even though the smaller prop will need to ultimately be replaced digitally, Bobbitt noted he makes it as detailed a possible. "I put lights in too – giving the computer guys more to work with." 
Mark 50 Arc Reactor
"Infinity War" featured the debut of Tony Stark's new Bleeding Edge nanotech Iron Man armor, and with it, a new Arc Reactor design. 
As Bobbitt revealed, "Robert Downey Jr. is a co-designer of all things Arc Reactor and I think you would be too if I was about to go glue something to your chest!" 
Bobbitt says after ten years, he and Downey have a regular routine when Downey is getting ready to play Iron Man again, where the actor will call the prop master and say, "Russell, it's Robert, come to the house. We've got to design an Arc Reactor." 
Bobbitt said he works closely with Marvel Studios' Visual Development team, headed by Ryan Meinerding, as they design new costumes for the films. In the case of "Avengers: Infinity War," Bobbitt said, "Somehow the arc reactor fell through the cracks" and with Meinerding and his team working on so many elements for the massive film and its many characters, "He just didn't have time." When they realized no work had been done on a new Arc Reactor yet, Meinerding called Bobbitt, and asked him, "Oh my goodness, have your guys do it." Bobbitt praised his collaborators for being able to make sure the new Arc Reactor came together in time.  
Black Widow's Batons
Bobbitt noted "Black Widow is challenging because I have to constantly give her new stuff," as he discussed the new batons she used in "Avengers: Infinity War." 
For those batons, Bobbitt was initially inspired by slap bracelets and the idea of a weapon that could wrap around someone upon impact. As he put it, "You'll hit somebody with it and it'll wrap around the arm and you can pull them out." 
While the batons do have an intricate design that looks like interlinked metal, he ultimately dropped the idea of it wrapping around people's limbs. As Bobbitt noted, he realized, "The only way to do that is with a real metal one. Rubber wouldn't bend." He added, "I did a little test with myself - and it didn't feel good!"
He joked that he decided he couldn't give a prop like that to Scarlett Johansson "out of respect for the other actors" she would need to use it on while filming. 
The panel ended with Bobbitt discussing the new Marvel Masterwork Collection, a partnership between Bobbitt, Marvel Studios, and Disney Consumer Products. While Bobbitt said he had a ton of respect for some of the great prop replicas that have been made from his work, he stressed he didn't think of the Marvel Masterwork Collection as replicas at all, as these are literal duplicates of the original props, using all of the same molds and materials. 
As he put it, "I'm not creating replicas. This is the most authentic stuff you'll get, because it's coming from me. I'm making everything with my team. These are additional runs of props that were actually on set." 
You can get more details on the items in the Marvel Masterworks Collection at www.marvelmasterworkscollection.com and in the video above! 
 
San Diego Comic-Con runs from July 19-July 22. Watch Marvel LIVE at www.marvel.com/SDCC2018 for minute-by-minute updates on all things Marvel. Join the conversation using #MarvelSDCC
The Hype Box
Can't-miss news and updates from across the Marvel Universe!