Movies
Published February 16, 2018
How The Costumes of 'Black Panther' Brought The World of Wakanda to Life
The styling of Black Panther and the Dora Milaje are rooted In tradition.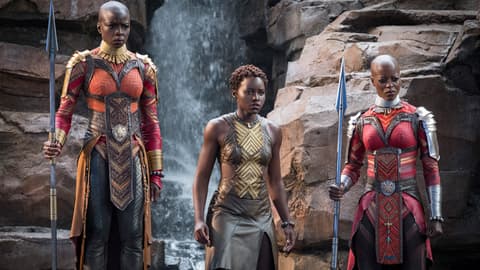 Marvel Studios' "Black Panther" is now open in theaters and its debut brings the pages of the historic comics to life. Making the characters in the fictional world a reality was tasked to costume designer Ruth Carter. Inspired by not one, but many different places in Africa, Carter melded the cultural aesthetics together to create a cohesive look that felt distinctly Wakandan.
With the world of Wakanda rooted in African tradition, the costuming worked in tandem with production designer Hannah Bleacher's elaborate set design. Carter made sure the color palette complimented the the landscapes and the elaborate tribal garb of Wakanda's tribes: "They were very strict about the color palates. There are the River Tribe, which is green. There's the Border Tribe, which is blue. There's the Panther and the Royal Palace, which is black and royal purple. The Jabaris, which are wood. We had a very clear direction and that came from [director] Ryan [Coogler]." The distinct color palettes reflected appropriate African customs along with Wakanda's mysterious futuristic technology.
"Most people who read the comic books know Wakanda is a mountainous area, and it's a secret place that's not necessarily trading and interacting with the rest of the world," said Carter. "They're more advanced in technology than the other civilizations. We are creating that world and trying to create a culture and pride that feels authentic to the specific location."
"Wakanda is this cast unknown world and, ultimately, the challenge of the unknown is what appealed to me on so many levels." Carter spoke about how intimidating it was to take on the daunting task of created a beloved fictional world. " Beyond what has been established in the comic realm, I knew very little about it but as I began my research, I realized we could create from a place of fantasy, a place of African culture and a place of imagination. Everybody had their own take on what Black Panther's world was but it had never really been translated to film which was very exciting."
Wakanda's key resource played a big part in costume design, since the new Black Panther suit is supposedly interwoven with vibranium. Carter created the vibranium layer from a silver missile suit, visible unsheathed and overlay of thin fabric imprinted with a repeat tribal triangle pattern known as Okavango—a nod to the Okavango river delta in northern Botswana.
Witness the fashion of #BlackPanther. See the looks that inspired the designs with costume designer @iamruthecarter. In theaters Friday: https://t.co/VrkPIsC3MG pic.twitter.com/X6qjPd3GKi

— Marvel Entertainment (@Marvel) February 13, 2018
"The new suit is a little bit more streamlined and Black Panther can do a whole lot more with less," said Carter. Coogler explained how the suit isn't actually a superhero suit, but a military uniform. The suit also has a subtle medallion emblazon over the chest plate and a new panther-tooth necklace that bolsters the tribal feel.
Carter explains the new streamlined suit, "what we wanted to do was take it into a new millennium, a new attitude, a new technology, and make it exciting again. And then sometimes, you know, cultures can come together with super heroes."
The most integral and visually recognizable part of the Black Panther comics are the Dora Milaje, the fierce women warriors who are charged with protecting T'Challa. Carter created their look by thinking about the reality and complexity of being a female warrior, but still focusing on feeling empowering. "In regards to the Dora Milaje, we wanted to make them have more of a presence. More of a strength of authority than they did have. We developed more as a real warrior might be developed. Real warriors who need their arms protected and need to have shields, and armor, and weaponry and shoes—like they're really going to go to battle."
The Dora Milaje outfits were based on tribal influences, and their distinct red color from the comics remained. Meanwhile the tabard or harness needed to have meaning. Likened to a prized heirloom that might be passed from mother to daughter to use over generations, the idea made the look become grounded in tradition. Carter also beaded them with little charms for protection, like talismans for protection and good spirit.
Combining traditional looks with modern influences is what made the Wakandan look uniquely its own. Carter explained, "In that it's a barefoot culture, they're advanced in technology. What are they wearing? Is it corny to have something lighting up? Our DP, she walks around with her headset on, and the light is blinking all the time. And I was like, Wakanda! It's like here every day. So that's kind of how I feel like you can actually, after watching this film, see things that way, you could point at and say, that's Wakanda."
Hear more from Ruth Carter at Marvel Studios' Black Panther World Premiere Red Carpet below:
Want even more insight into Ruth Carter's designs, the world of Wakanda and Marvel Studios' "Black Panther"? Pick up MARVEL'S BLACK PANTHER: THE ART OF THE MOVIE out now. Go behind the scenes with exclusive concept artwork and in-depth analysis from the filmmakers in this keepsake volume! 
To see the world of Wakanda come alive for yourself, catch "Black Panther" in theaters today!
Are you ready to meet the King? Follow @theblackpanther on Twitter and like Black Panther's official Facebook page for all the latest news and updates!
The Hype Box
Can't-miss news and updates from across the Marvel Universe!