Movies
Published July 25, 2019
Making Of: How VFX Transforms Mark Ruffalo to Hulk in 'Avengers: Endgame'
See Marvel Studios' 'Avengers: Endgame' in theaters now or purchase it on digital July 30 or on Blu-Ray August 13!
This past weekend, Marvel Studios' Avengers: Endgame became the highest grossing film in history.
As the historic 22nd chapter of the MCU continues to captivate Marvel fans worldwide, we've been hard at work trying to unpack the details that went into making the film. Earth's Mightiest Show recently had the opportunity to sit down with Dan DeLeeuw, Marvel Studios' visual effects supervisor, and learn how the VFX team turn Mark Ruffalo's performance into a hilariously Smart Hulk.
Between hanging out in the diner like Bruce Banner to Hulk sharing his tacos with Ant-Man to his trip back to his more barbaric self, the Hulk takes team work. In an Earth's Mightiest Show Bonus above, learn more about MoCap aka motion capture, modeling and design!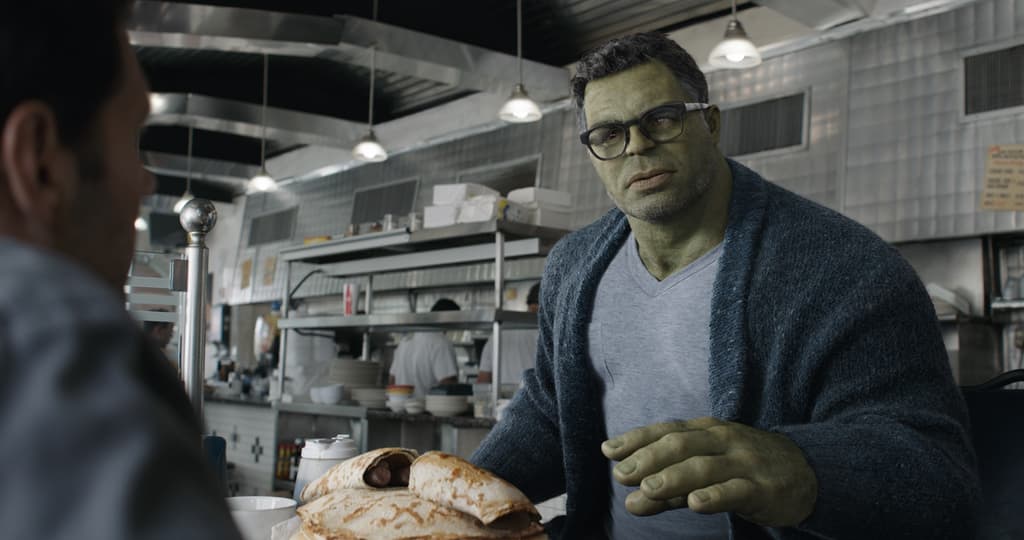 Standout Things We Learned from Dan DeLeeuw:
1. Smart Hulk is a fine balance crafted by the Look Dev on how much Ruffalo and how much Hulk they wanted.
2. The team was thankful for the partnership with Ruffalo. His caliber of talent and his understanding of Hulk's journey through the films married with the artistry and technology of the VFX is what makes Smart Hulk come to life on screen.
3. One of the complex shot was the diner scene where Smart Hulk is talking with a mouthful of food, which required matching the lip sync to the digital character.
4. Normally, they would be able to get away with real tacos but because Hulk's hands were giant and Ant-Man's human-sized, that touching moment involved CGI'd tacos.
5. The team still had the early model sculpt of Hulk from the first Avengers film, and since they knew that Smart Hulk was the merging of Banner and Hulk, began inputting Hulk's humanity into the design.
You can still see the culmination of the last decade of the Marvel Cinematic Universe in theaters. Get tickets on Fandango now!
Be on the lookout for when Marvel Studios' 'Avengers: Endgame' arrives on digital July 30 or on Blu-Ray August 13 for more behind-the-scenes content on the making of the film! Reserve your copy in your preferred format now!
Follow @Avengers on Twitter, and Like "The Avengers" on Facebook for the latest on the Avengers as it develops!
The Hype Box
Can't-miss news and updates from across the Marvel Universe!