Movies
Published February 25, 2022
Jared Leto on the Lore of 'Morbius'
Final trailer arriving Monday. See the film exclusively in theaters April 1!
A new Marvel Legend arrives on April 1.
In anticipation of the final trailer debuting this coming Monday, February 28, Morbius lead star Jared Leto speaks on the Living Vampire's lore in a brand new featurette.
Leto, who plays Dr. Michael Morbius, explains, "Morbius appeared first as an antagonist in THE AMAZING SPIDER-MAN in 1971, and eventually evolved into more of an anti-hero."
"For years before that, Marvel was actually forbidden from using characters considered more on the supernatural side," Leto continues. "It was a really big deal when Morbius finally made his debut. He was part of a much darker term within Marvel; one that, fortunately, fans fully embraced. After all, one loves a good monster story. There is something about the character that stoked people's imaginations. It really can grab a hold of you; it certainly did with me."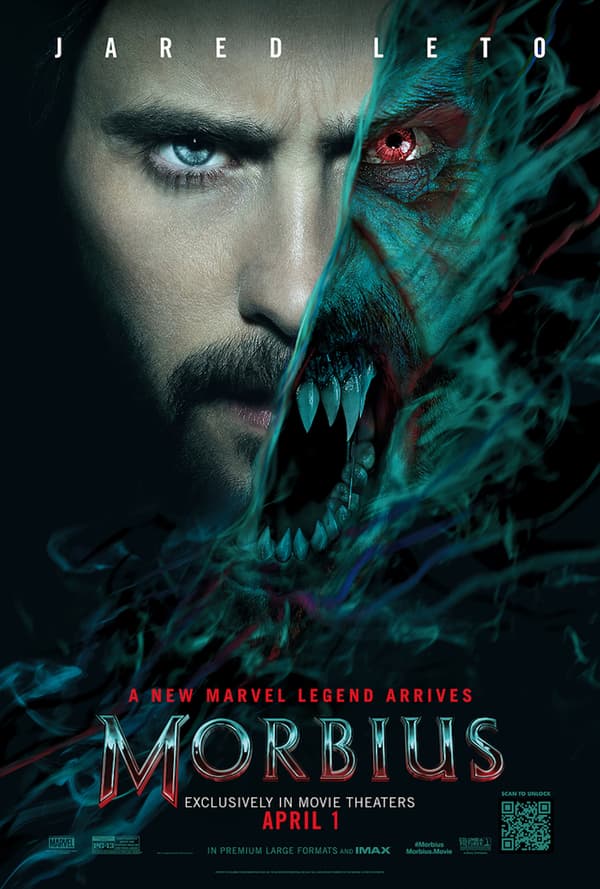 One of the most compelling and conflicted characters in Sony Pictures Universe of Marvel Characters comes to the big screen as Oscar winner Jared Leto transforms into the enigmatic anti-hero Dr. Michael Morbius in the upcoming theatrical release of Morbius. Dangerously ill with a rare blood disorder and determined to save others suffering his same fate, Dr. Morbius attempts a desperate gamble. While at first it seems to be a radical success, a darkness inside him is unleashed. Will good override evil – or will Morbius succumb to his mysterious new urges?
Interested in learn more about Morbius, discover the Morbius Character Close-Up reading list on Marvel Unlimited below!
The final trailer arrives Monday. See Morbius in theaters April 1.
Want to stay on top of everything in the Marvel Universe? Follow Marvel on social media—Twitter, Facebook, and Instagram—and keep watching Marvel.com for more news! 
The Hype Box
Can't-miss news and updates from across the Marvel Universe!