Movies
Published July 5, 2018
Marvel Studios' "Ant-Man and The Wasp" Hides In Plain Sight
Find out how production designer Shepherd Frankel came up with sets of all sizes!
If you think living in the real world is tough, imagine doing it at a microscopic size. Fans got an ant-sized glimpse of what it's like from a bug's point of view in Marvel Studios' "Ant-Man," and now the small world gets even larger with Marvel Studios' "Ant-Man and The Wasp."
Bringing a movie set to life is no easy task, especially when you have to factor in those same worlds at different sizes. Production Designer Shepherd Frankel discussed taking on the herculean task of building a world for "Ant-Man and The Wasp."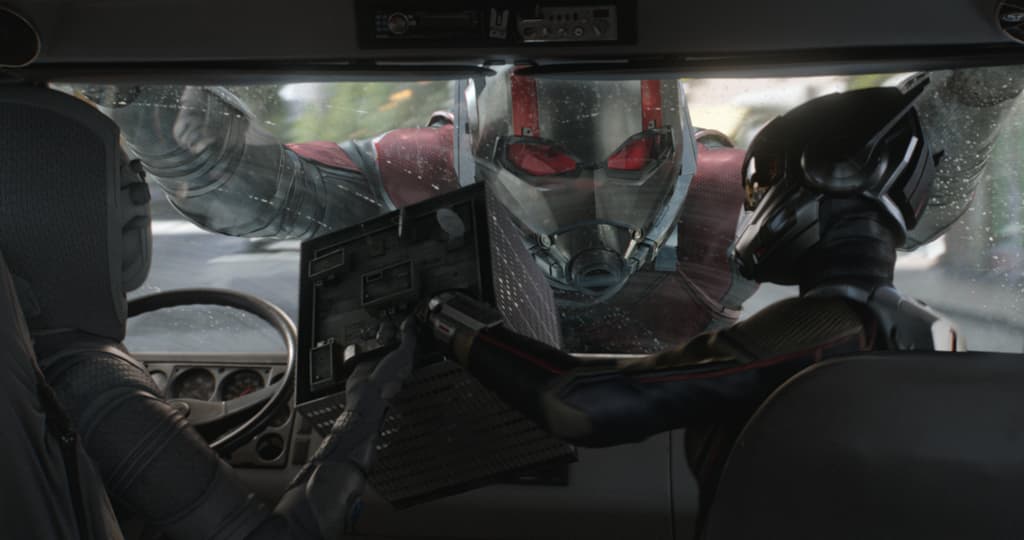 For Pym, who has figured out how to use his shrinking ability to his advantage, creating a lab for his work was key. "We thought it'd be cool for him to hide in plain sight. So when we were talking about what kind of facility he has to service his storyline—which is to reconnect his family—we thought, he needs a facility to do this, and we don't want it to be your average lab, or your Tony Stark lab," recalled Frankel. "We really want to pull and draw from the Hank Pym that we know, whose kind of heyday was in the 70s and 80s—when he was an Avenger—and when he was with S.H.I.E.L.D." Frankel leaned on Pym's background to flesh out the feel of the lab, "But his loyalty is to science, physics, and engineering."
The team used Pym's love of science and study as inspiration for many interpretations of the lab. "He could create a facility that has everything he needs inside of it...but he can hide in plain sight," Frankel continued. "It gets very S.H.I.E.L.D.-like. It gets very Tony Stark-like. It gets very...you know, Avenger-y. And we thought, wait, that's not our storyline!"
Frankel then turned to banal, everyday life as inspiration. "We started talking about the buildings that you drive by every day that you never notice," shared Frankel. "The places you go into to get your accounting done, and you're, like, wait! Is this my dentist office or my dermatologist? What is this?"
This idea of misdirection was the turning point Frankel was looking for. "We thought that's a very cool way of create a building that you forget is there, and you're, like, was that building always there? I don't believe it," said Frankel. "So Hank Pym as a engineer, the idea is that he's created a building that he can use his shrink tech on. And, shrink it, and put it in a parking lot, and also have it move when he wants to move it."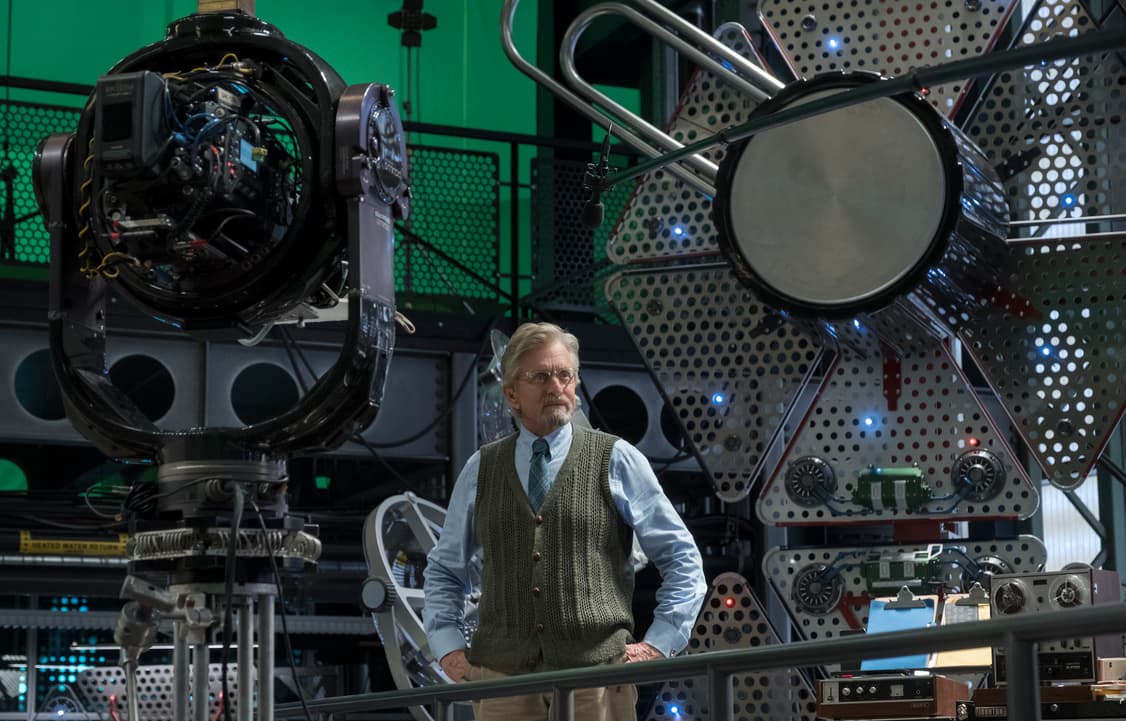 "Hank Pym does not need Stark Industries science to do his work. Again, he's a professor. He's a scientist. He's an engineer. He's a physicist," reiterated Frankel. "You give him a box of stuff, and he can glue things together, assemble things together, 'cause he is constantly trying to figure out how to do what he needs to do."
Under director Peyton Reed's direction, the idea of a finite amount of time was also a guide for the production design. "The one bad night storyline is a great reference, because it is, you know, 'Midnight Run,' 'One Bad Night'.... How do you get from A to Z in a certain amount of time? Cause that creates urgency, and obstacle that they're constantly fighting against," said Frankel.
Timing is everything, especially when it comes to setting the tone for the film. "One of the first things we do on a film is get into the timing of it all. And the timeline because that will help influence and inspire what locations we choose," Frankel revealed. "What's shot in day, what's shot at night, what's at dusk. So taking advantage of the critical hours, to have the location, or the set, tie into the emotional moment that we're there for is a critical thing."
"We never want to be moving for a location at night that we're gonna shoot at during the day. Or vice versa. Find a great location at day, but you're shooting it at night makes no sense," Reed stressing the importance of getting it just right. "We really want the location tied to the emotional tone of the moment."
See all the emotions for yourself when Marvel Studios' "Ant-Man and The Wasp" debuts in theaters on July 6. Get tickets on Fandango now!
Follow @AntMan on Twitter and like Ant-Man on Facebook for the latest on "Ant-Man and the Wasp," and as always keep your eyes peeled to Marvel.com!
The Hype Box
Can't-miss news and updates from across the Marvel Universe!