Movies
Published February 28, 2022
Watch the Final Trailer for 'Morbius'
See the film exclusively in theaters April 1!
The darkness inside him will be unleashed, in theaters on April 1.
The final trailer for Morbius is here, and the thrilling video opens with Michael Keaton's Adrian Toomes aka Vulture telling Jared Leto's Dr. Michael Morbius, "Discover who you're meant to be," to which Matt Smith's Milo affirms, "The bad guy."
Morbius explains, "I was trying to help people, but the cure... it's a curse."
"I have powers that can only be described as superhuman," continues Morbius. "But there's a cost. Now I face a choice: to hunt and consume blood, or die."  In trying to find a cure for rare blood disease, Morbius ends up gaining superpowers from his experimentation with bat DNA.
Nicholas (played by Jared Harris) cautions, "We all have monsters within us; it's up to us to control it." However, Morbius is unsure that he can.
Toomes believes Morbius was "given a gift," while Morbius' childhood best friend, Milo pleads, "All our lives we've lived with death. Why shouldn't they know what it feels like for a change?" Milo wants his friend, the Living Vampire, to "accept who you are."
The trailer ends with an incredulous agent Simon Stroud (played by Tyrese Gibson) questioning why he needs Holy Water while questioning the restrained Morbius.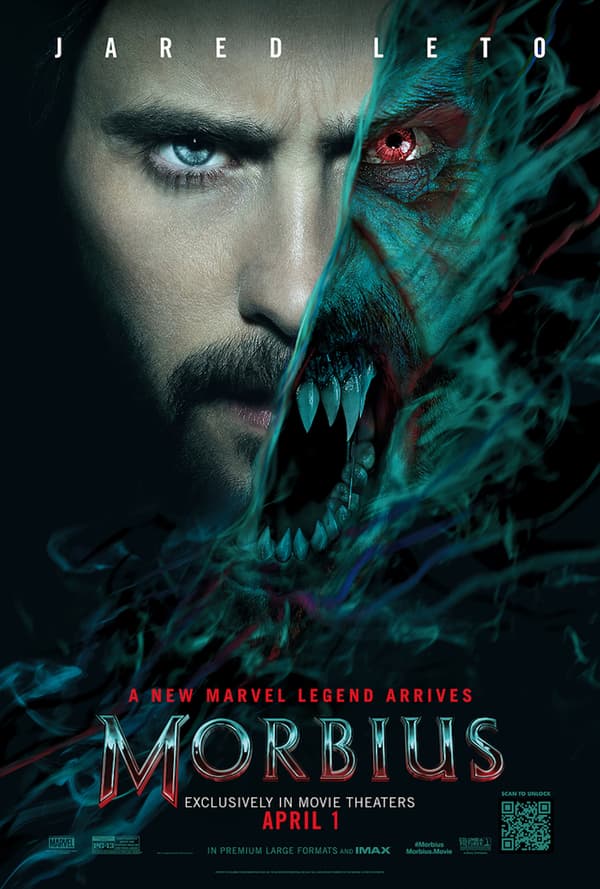 "There's a line in the film where Morbius says that he's been dying his entire life and now feels more alive than ever. And I think that sums it up," Leto explaining to IGN what drew him to the role. "Here's someone who's been afflicted with this horrendous disease and has had all kinds of challenges and has been in pursuit of this cure. And then all of a sudden has this power and this physical strength, which is all incredible, but there is a flip side to it, as well. There's a dark side. So that battle between the light and dark is something that he fights throughout the film."
One of the most compelling and conflicted characters in Sony Pictures Universe of Marvel Characters comes to the big screen as Oscar winner Jared Leto transforms into the enigmatic anti-hero Dr. Michael Morbius in the upcoming theatrical release of Morbius. Dangerously ill with a rare blood disorder and determined to save others suffering his same fate, Dr. Morbius attempts a desperate gamble. While at first it seems to be a radical success, a darkness inside him is unleashed. Will good override evil – or will Morbius succumb to his mysterious new urges?
Morbius stars Jared Leto (Dr. Michael Morbius), Matt Smith (Milo), Adria Arjona (Dr. Martine Bancroft), Jared Harris (Dr. Nicholas), Al Madrigal (FBI agent Alberto Ramirez), and Tyrese Gibson (FBI agent Simon Stroud). Directed by Daniel Espinosa. Produced by Avi Arad, Matt Tolmach, and Lucas Foster. Screen Story and Screenplay by Matt Sazama & Burk Sharpless. 
Interested in learn more about Morbius, discover the Morbius Character Close-Up reading list on Marvel Unlimited below!
Feed your craving with 'Morbius,' exclusively in theaters April 1.
Want to stay on top of everything in the Marvel Universe? Follow Marvel on social media—Twitter, Facebook, and Instagram—and keep watching Marvel.com for more news! 
The Hype Box
Can't-miss news and updates from across the Marvel Universe!