Movies
Published September 20, 2019
New Peter Porker Short Has Spider-Ham Fighting Super Villains and Eating Hot Dogs
Featuring John Mulaney's Peter Porker!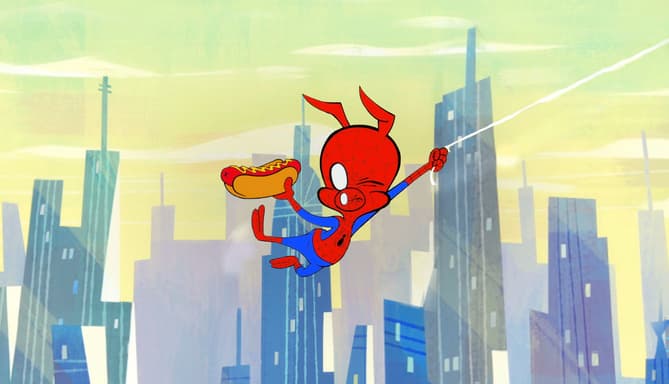 Though his hands might always be a little bit wet (it's because he just washed them), we still can't get enough of Peter Porker from Spider-Man: Into the Spider-Verse. Now that other loveable version of Spider-Man is back in a brand new short from the Oscar-winning movie, once again voiced by comedian John Mulaney. 
In "Spider-Ham: Caught in a Ham," what should be a typical day for Spider-Ham quickly turns chaotic when a mysterious portal threatens his cartoon reality and he comes face to face with villain Dr. Craw Daddy. Is that a great name for him? No! But that's the best name Spider-Ham's got right now, considering all he wanted to do today was eat his hot dog. Can he escape from this trouble, and finish his snack? We'll find out soon enough. 
The short is directed by Miguel Jiron and produced by David Schulenburg and first appeared on Blu-ray features of Spider-Man: Into the Spider-Verse, which is available now. 
Follow @Marvel on Twitter for more Spider-Man news!
The Hype Box
Can't-miss news and updates from across the Marvel Universe!