Movies
Published July 5, 2018
Ready or Not, Marvel Studios' 'Ant-Man and The Wasp' Is Ready for Action
Producer Stephen Broussard talks about bringing the intricacies of the movie to life.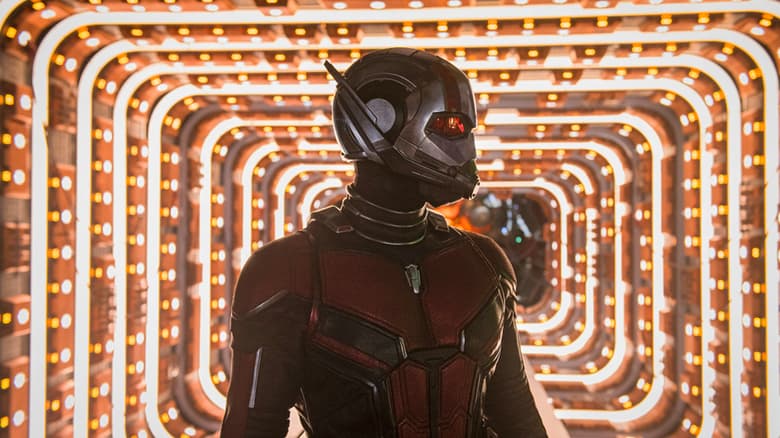 Ant-Man already had a lot to deal with—and now along with The Wasp—the duo has a whole new set of problems, both big and small. In Marvel Studios "Ant-Man and The Wasp," we'll get to see the pair use all the Pym tech to its full extent and maybe even visit the Quantum Realm.
Producer Stephen Broussard discussed the film's influences and inspirations that brought "Ant-Man and The Wasp" to life during a set visit for press last year.
When we last saw Scott Lang, he was larger than life in Marvel Studios' "Captain America: Civil War," and it landed him in hot water. "He got in over his head in his adventure during 'Civil War' and basically said, 'Not for me. No, thanks,'" said Broussard. After the plea bargain, "When the film opens, he's under house arrest. He has an ankle bracelet. He can't leave his apartment," explained Broussard on what's Scott up to now.
"He's living with Luis and he's just trying to stay on the straight and narrow for these last few hours," said Broussard. "And then, he'll be a free man, right. Free to live his life, to be a father to his daughter." However, the story can't end there. "But of course, we wouldn't have a movie if something didn't come crashing down and in this adventure sort of coming, barreling into it," teased Broussard.
"The first film was a heist film. It was kind of this crime movie and the 'Ant-Man' franchise lives in this crime adjacent world," shared Broussard. "A lot of the films that we started talking about just as inspiration and kind of how we want to approach it and how we want to do something new the same way. The heist movie felt new to the MCU. I don't really know if it's a genre onto itself, but movies that have always been kind of one bad night—when something just goes terrible—and just kind of spirals out of control."
The influence of films like "Go" and "Adventures in Babysitting," proved to be just the inspiration Broussard needed. "It started so simple but then it kind of just goes up and up and up and then you have a character trying to race to get, put it all back in the box before they get caught kind of thing," revealed Broussard.
Turns out the worst enemy isn't necessarily a villain. "That feels kind of crime adjacent to use that term again," said Broussard. "We wanted to populate this movie with a lot of antagonists. You know, not so much people that are like villains or super villains but like obstacles in the way. They have their agendas, their own journeys. They're not trying to take over the world but they're clearly standing in the way of our heroes."
"Everybody is sort of in a circle trying to get somewhere else and just colliding in the middle, and that was a huge inspiration for kind of the tone and the framework of where this movie could go," stated Broussard.
When it comes to Hank Pym's ingenuity, it's all about creativity. "Hank Pym designed technology that's also made with a lot of found objects," Broussard shared. "So you'll notice because he's not a billionaire like Tony Stark, he has to kind of make do with the resources that he has."
Broussard took time to explain how playing with the unexpectedness of scale not only relates to the sets for the film but the very ideal of shrinking into the quantum realm. "If you could go down there, it's another world. And if you kept going, maybe you'd find other things," pondered Broussard. "Or if you came back up, it'd be completely different at this level. It's a new frontier sort of speak. It's kind of a fun new door to kick open in the MCU."
See how it all comes together when Marvel Studios' "Ant-Man and The Wasp" debuts in theaters on July 6. Get tickets on Fandango now!
Follow @AntMan on Twitter and like Ant-Man on Facebook for the latest on "Ant-Man and the Wasp," and as always keep your eyes peeled to Marvel.com!
The Hype Box
Can't-miss news and updates from across the Marvel Universe!