Movies
Published March 16, 2018
Scarlett Johansson and Chris Evans Are Ready For Fans To See The Avengers Assemble in 'Avengers: Infinity War'
See Black Widow and Captain America gather the team against Thanos on April 27!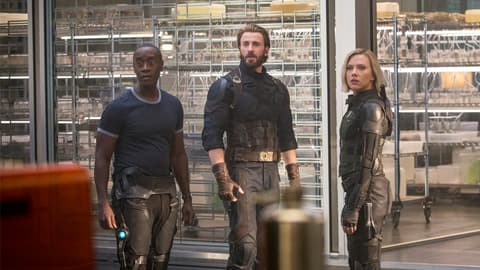 Avengers Assemble! After a Civil War, a Ragnarok, and the fight for Wakanda—Marvel's mightiest heroes are coming back together for a fight of galactic proportions. Marvel Studios' "Avengers: Infinity War" brings together the original team and more to unite and battle against the Mad Titan himself, Thanos.
Scarlett Johansson (Black Widow) and Chris Evans (Captain America) talked with us during a set visit last summer about what it was like to rejoin the fragmented squad and how their characters are moving forward as a team despite their differences.
When we last saw Steve Rogers, he was at odds with Tony Stark, but Evans feels like both characters are ready to move on and get the job done, "I don't think either one of us are ones to hold grudges. We operate very binary, utilitarian approach to most things we do, and I don't think we let emotion dictate our reality. It's been a couple years so I think we both—to some degree, not moved on—but maybe buried some things."
As "Infinity War" begins—dare we say it—is Cap broken at this point? "I kind of went rogue a little bit. But again, it's in his nature to be of service, and to some degree, in order to maintain sanity, he had to function within a system. That's how his brain works; there has to be some kind of functioning factory that he can operate within." Having lost his shield, even Cap's suit is showing signs of exhaustion. Alone and without protection, Evans knows Cap leaned on Widow, "He's been running these missions, answering to nobody, really. It really is the sign of a broken person. But yeah, that's the wear and tear."
The breaking point during the end of "Captain America: Civil War" was a hard one to bear but Cap had an ally in Widow, and Johansson explained their mutual desire for duty, "Between the events of 'Civil War' and now, Steve and Natasha have been together, that's how we imagined it. They've kind of been sort of flying under the radar but still taking care of business in the way that they know how to do. They sort of have a seamless communication between them."
Having been fighting away from the main group, Johnasson explained how Cap and Widow are more hardened, "When you are working underground for such a long time and you don't have—not that they need to have any sort of back-patting or recognition exactly—but when you're sort of fighting for something that you know is important but is not being really recognized or supported by a larger organization or even society as a whole, it takes a certain toll, and you can get feelings about it in a way. That's kind of where we find them."
A disillusioned Cap is something Black Widow can relate to. Evans sees that Natasha has already walked a similar line, "Every single movie, he learns a little bit more that the world isn't the way he kind of wants it to be, and that's why there's a connection between him and Black Widow. Black Widow has seen a lot more than he is, and is kind of a little more calloused, and in a lot of ways, he looks up to that and learns from that."
"First it was kind of the hierarchy of a kind of government structure that fell apart, and then there was a friendship that kind of betrayed him, or abandoned him, I should say, said Evans. Still, he believes  Cap knows there's a bigger picture, "When those things happen, it's like a destruction of a belief system to some degree, and you kind of can be a little cold as a result. And you lean on people that have walked familiar paths and there's no denying that Black Widow has certainly faced a lot of those challenges. He's compartmentalized it enough to put it as a lower priority than what's at hand, which is obviously Thanos."
As the team finally reassembles, emotions will run high. Johansson explains the enormity of the job at hand, "There's just a lot of people coming together, a lot of universes coming together. In some ways, there's not a lot of time to have feelings about what's going on, because we're facing the greatest threat we ever have, and I mean that in itself is so much."
"Avengers: Infinity War" is the culmination of the MCU. Evans knows fans won't be disappointed, and can't wait for them to see it come together, "It was fun with 'Avengers,' bringing all these characters to life, but they weren't all separate threads of characters that've had their own separate adventures. This has ever been done before, where you have so many different franchises coming together to kind of really try to make one stew. Like I said, 'Avengers' was pretty ambitious, but this really blows that one out of the water."
"Avengers: Infinity War" opens in theaters on April 27. Get tickets on Fandango now! Stay tuned to Marvel.com, follow @Avengers on Twitter, and Like "The Avengers" on Facebook for the latest on the Avengers as it develops!
The Hype Box
Can't-miss news and updates from across the Marvel Universe!