Movies
Published October 5, 2017
Taika Waititi Talks Taking On The Challenge of 'Thor: Ragnarok'
Catch Thor in theaters November 2!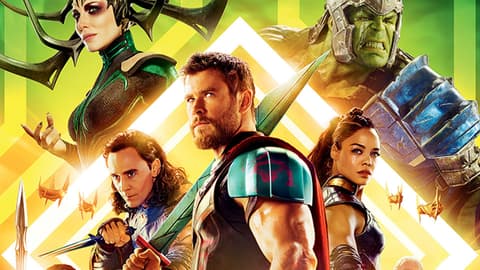 We're almost one month out from the premiere of Marvel Studios' "Thor: Ragnaok" and director Taika Waititi is excited to unveil his vision. Speaking with Marvel.com on a set visit, Waititi talked about taking on the challenge of bringing Ragnarok to life, Thor's new formidable adversary, and how the Son of Odin is similar to a 1980's icon. I suppose you could say Thor's a reasonable guy who's just experienced some very unreasonable things.
Fans have been waiting for "Ragnarok" and Waititi is ready to show it to them, "A lot of people are excited by the idea of what Ragnarok means. But to me it means the stripping down of the establishment of what's already there, and then building it up in a new way."
"I said this before, if the movie's called Thor, then Thor should be the best character," said Waititi. Expanding his thoughts on the God of Thunder, "My main focus was making him cool, and funny when he needs to be, heroic when he needs to be."
Thor's changed and it turns out he's picked up a sense of humor from an old friend, "Thor spent two years hanging out with [Tony Stark]. So, he knows a little bit more about irony and sarcasm now. He's got a little bit of Earth humor. He's like a rich kid from outer space who's spent some time slumming it for a bit, you know? So he's instantly become a bit more interesting but he's still in different parts of the Cosmos, and still learning as he goes."
For Waititi, Thor's personality was similar to that of well-known 1980's protagonist, "In my mind, I had imagined Thor being a bit like Jack Burton," said Waititi. The similarities between Big Trouble in Little China's lead played by Kurt Russell feels like a leap, but Waititi explains, "He's a great hero who's making his way through the adventure."
As far as Thor's foe, Cate Blanchett's Hela is a worthy opponent. "Cate is the first female villain, and for me, the most interesting villain because she is multidimensional. She's layered. She's troubled. She's really funny. So I think it's gonna be really satisfying to people." Waititi explains Hela's prowess, "Her character has amazing powers, she wears the cowl, she has the antlers, and she looks amazing in the concept art and stuff. Thor in the films has never fought anyone tougher than this lady."
Similar to his previous films, Waititi wants to strike a balance between comedy and drama, "That's always been my focus with this whole thing, to make it really entertaining, and poignant, and profound when it needs to be, but and also adventurous and funny."
"We'll improvise some stuff. I'll be next to actors and yell suggestions at them all the time, and just coming from that place where I'm with my friends I'm used to doing that—yelling at each other for outtakes—it's a bit messy."
Waititi's so called messiness leads to a cohesive film thanks to creative editing, "But I think, from that messiness comes really great kinda spur of the moment stuff. The balance is always found for me on the editing. So with most takes, I would do stuff that's way over the top, and then bring it down, and get something exactly what's on the page, and then something that's a nice sort of middle balance where the tone is a little bit more natural."
Having worked on smaller films, the jump to a large vehicle like "Thor: Ragnarok" can be a challenge. Waititi puts it in perspective, "You know, at the end of the day when you call 'Action'…the lens is pointed at two or three people. You're looking down at the little rectangle. And so for me the experience is completely the same, other than we have to do a lot more effects and all that stuff, but that's all part of it. I don't get annoyed by how long that stuff takes because I've seen all these other films, and you take the time to get that stuff right."
"This film is so crazy, so eclectic," Waititi enthused. "There's so many amazing characters, like a new style of Banner that we've never seen before; Hela, Loki's in there, obviously, then Grand Master. It really is the craziest of the Marvel films. In a good way."
"Thor: Ragnarok" makes its big screen debut in November. Get your tickets now for "Thor: Ragnarok" and stay tuned to Marvel.com and follow @ThorOfficial on Twitter and like Thor's official Facebook page for the latest "Thor: Raganaok" news!
The Hype Box
Can't-miss news and updates from across the Marvel Universe!