Movies
Published September 29, 2017
Tessa Thompson Talks Valkyrie's Contributions In 'Thor: Ragnarok'
Welcome to the Asgardian family drama, Valkyrie!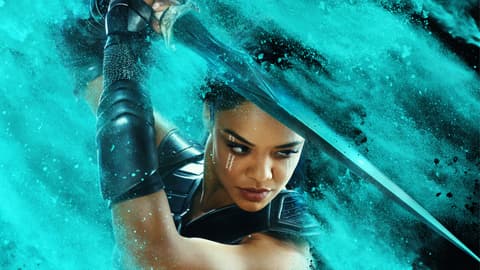 When it comes to warriors, Marvel Studios' "Thor: Ragnarok" knows how to fill out a fight card. Alongside Thor, his brother Loki, and that guy from work—there's another associate waiting to make her big screen debut, Valkyrie!
Actress Tessa Thompson plays Valkyrie and talked to us about taking on the role of the renowned Asgardian heroine. She spoke about Valkyrie's influences and where the strong female character fits in the family dynamics of "Thor: Ragnarok."
Marvel Comics and Norse mythology were references as far as shaping the character. "Norse mythology is mystifying and fantastic and totally confusing," joked Thompson. "But you can draw a lot of inspiration from it. The exciting thing I think for us was to create a Valkyrie that is kind of a combination of all those things. The cool thing about working with Taika [Waititi] is he has a healthy respect for the comic but also total irreverence in the sense that he's like let's create something new."
As far as the warrior's look, Thompson talked about how Valkyrie's armor is a classic battle look that is close to what fans are familiar with from the comics. While Valkyrie has a couple of costume changes, Thompson revealed that the God of Mischief was the true fashionista on set. "Tom Hiddleston yesterday was like, how many times do you change in this movie? He's like the diva of the film, he has like six changes. I thought I was fancy with two."
Looks aren't the only thing that are changing, "Thor: Ragnarok" brings an internal change to the characters we know and love. "I think the exciting thing about 'Ragnarok' is that you get to see characters that have long been a part of the Marvel Cinematic Universe also shift. I mean, I think we are getting to see a Bruce Banner and a Hulk that we've not seen in any of the other movies," explains Thompson. Even the God of Thunder gets a makeover, "You see that Chris has a new haircut," says Thompson. Speaking of the God of Thunder's new 'do, "There's stuff going on with him, so I think all of these characters are kind of fresh and new."
Family dynamics is what made the Thor films stand out in Thompson's eyes, "One of the reasons I was so excited to be in this film is I remember seeing the first Thor film and being like oh my God, it's like a Shakespeare family drama, you know? I just thought there was something so fantastic about the mix of genre in that film and these characters, that in this space, the superhero role, you could do really relatable things like family relationships."
Thor himself is a Valkyrie fan and the strong female character plays a big part in the dynamic of Ragnarok. "From the jump, Marvel and Taika really wanted Valkyrie to exist in her own plane and to offer something really strong and fresh and new." Thompson gets into more detail, "I think they've been really smart to answer the call to a lot of fans that are like, we need more women in the universe that are dynamic and not necessarily tied to male characters. So, that was something that was inherent in this script to begin with and they've been hugely collaborative."
"I think it's important for Marvel to answer the call for inclusion and diversity and also to be able to have some freedom with these stores and make the decision that they want to make," explains Thompson. "What Taika said to the press was that they cast a wide net and I was the person that made sense for the part. They saw all kinds of girls, some of them probably looked closer to Valkyrie and some that looked even less like her, but I think we just do what we do and we hope that people respond to it and we ignore that ones that don't."
Valkyrie isn't the only female warrior to be reckoned with, Cate Blanchett brings a special something to Ragnarok as Hela, Marvel's first onscreen female villain. "She's so tremendous, to have someone like her bring on this character and also to be a villain."
Thompson stressed the importance of the onscreen characters, "I think when we talk about representation, especially about Valkyrie having representation of a strong female character—also because I just happen to be a brown woman and that's so important in cinema—as much as we want, righteous, fantastic, strong characters, we also want weak ones and bad ones and shitty ones, we want all kind. Representation means the spectrum."
"Thor Ragnarok" hits theaters in November. Get your tickets now for "Thor: Ragnarok" now! Stay tuned to Marvel.com for the latest on "Thor: Ragnarok," and follow @ThorOfficial on Twitter and like Thor's official Facebook page!
The Hype Box
Can't-miss news and updates from across the Marvel Universe!