Comics
Published March 22, 2017
The Greatest Hero You've Never Heard Of
Learn about the mysterious Night Raven.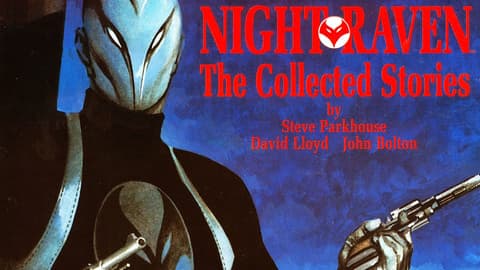 A recent Marvel collection of comic and prose stories highlights British vigilante Night Raven and a group of creators whose later work became fan-favorites, including Alan Moore, David Lloyd, Dan Abnett, and Alan Davis.
But wait—who's Night Raven, you ask?
British editor Dez Skinn, a key figure at Marvel UK in its seminal years, walks us through the late 1970's creation of one of the greatest heroes you've never heard of…in America.
"Then Marvel President Jim Galton had given me the task of making Marvel UK more homegrown-looking," he explains. "Sales of U.S. reprint titles [in our books] were seriously sliding in comparison with indigenous material, [which was] tailored to suit the tastes of UK readers where super heroes lost out against grittier more realistic storytelling. My role was like a publishing version of those script-fixers you hear about in movies."
Skinn suggested HULK COMIC to capitalize on the then-popular Bill Bixby "Incredible Hulk" TV series, but owing to the fact that most UK comic series stood as anthologies, a need for an array of "interchangeable" stories became evident.
"So even though it was named HULK, this 300,000 copy launch title needed a variety of non-spandex content," he says. "New material featuring super-spy Nick Fury and a modern day knight-in-arms, The Black Knight, were no-brainers, but I'd always loved those dark and sinister pulp heroes that had all but died out in the States [by the 1960's]. I also figured prohibition Chicago was a natural backdrop, already teeming with miscreants and ne'er do wells."
And so, Night Raven became a comic book reality.
"Armed with a thesaurus [and] a dictionary, I ploughed through everything that had 'night' as a suffix," Skinn notes. "Amidst hilarity and absurdity, I stumbled upon John Milton's 1645 poem, 'L'Allegro,' with the line 'The Night-Raven sings'."
The editor brought together a creative team for the vigilante's first outing in HULK COMIC #1, and they in turn dove into the new project.
"An editor is only as good as his tried-and-tested team of creators," says Skinn. "Both David Lloyd and Steve Parkhouse had proven themselves for me on prior projects and both seemed to have an affinity to the setting for this noir series, so having decided this character would be an old-fashioned vigilante, outside of the law but meting out justice to those seemingly untouchable wrongdoers, I briefed them on the character, his branding of villains, his Milton-based calling card and his totally faceless enigmatic identity. Then as all editors should, I let them run with it."
"What stands out most in my mind is the furious pace at which the Night Raven stories were produced," remembers writer Parkhouse. "Weekly schedules are a uniquely British form of torment and it's reflected in the lack of detail in those stories. They were sketches rather than full-blown portraits, but they were also challenging and at times strangely fulfilling for a fledgling writer such as myself."
Interestingly, Parkhouse worked apart from artist Lloyd, and throughout the Night Raven's run, never met with the man face-to-face, nor spoke with him on the phone.
"I concentrated entirely on the craft of writing a coherent narrative in the space of a few frames," he says. "The fact that people seemed to like it was a constant source of surprise to me."
For Lloyd, his introduction to the character also came as something of a whirlwind of development.
"I was given a rough brief and the task of visualizing [the strip], but I didn't get to see the basic template they'd created for it till I'd submitted my concepts for the character," he recalls. "It ended up being a blend of both. I had no contact with Steve directly except for one letter. It was all done through Dez and, later, Paul Neary, who was hired as an Art Director for Marvel UK. I'm just glad I was commissioned to help with it, and make something of the basic idea, because it gained a great following of readers, and a key following for my work, which is what every creator needs early in his career."
Night Raven's initial fans didn't include some Marvel executives across the pond. But despite brief resistance to Skinn's desire to publish the vigilante's nocturnal adventures, he made his way onto the page and into British comics history.
"I stuck to my guns and went with it anyway and was pleasantly surprised when it won an Eagle Award for best British character and best story only a few months later," Skinn says proudly.
"I think those stories were good value for the money," muses Parkhouse. "They weren't particularly sophisticated by today's standards, but they were well-crafted and quite commercial. The character himself was pretty two-dimensional, because we had no space in which to develop a back story. We focused on atmosphere and action rather than characterization.
"The fact that a new audience will see [the stories] prompts me to make a request [to potential new readers]. And that request would be: make allowances for the time and circumstances in which they were produced. We had to turn those stories around in a few days, with next to no reward. Everything was done on a shoestring. It was basically one step up from fandom. That's no bad thing, because everything we do in our early career will set us up for things to come. So, I look back on the experience as a learning curve mixed with a certain amount of excitement when the potential story ideas fell into place."
David Lloyd looks upon the work as an antecedent to another, perhaps better-known project of his.
"Without Night Raven there would never have been V for Vendetta," insists editor Skinn.
"From an entirely personal point of view, I see it as the primitive, but evocative, inspiration source for V for Vendetta, because that's what it became—V happened because I was asked to create something similar to Night Raven for a new magazine that V was developed for," says Lloyd. "Beyond that, I see it as a great demonstration by Steve Parkhouse of simple, minimalist, comic strip writing at its highest level. He made a lot out of a few pages, with short, sharp, and effective scripting that seems almost old-fashioned now, though it's the kind of storytelling the whole industry grew out of. The text stories are a whole different world that I had no hand in, but all of it is great fun stuff, and I loved being part of the team that brought it about!"
The Hype Box
Can't-miss news and updates from across the Marvel Universe!