Podcasts
Published April 17, 2018
Eat the Universe Episode #2: Pad-See "Us"
Chef Justin Warner stirs up Venom Black Noodles with guests Flatbush Zombies!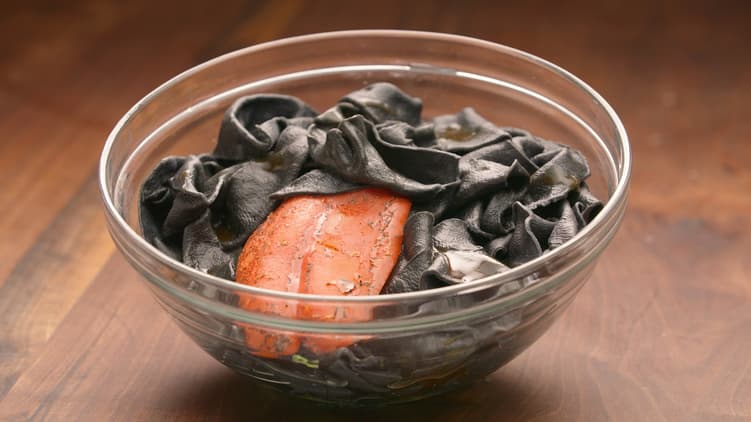 Welcome back, Marvel foodies! In this week's episode of our new digital series, Marvel's Eat the Universe, celebrity chef Justin Warner is joined by guests Flatbush Zombies for a Venom-themed dish that you'll definitely want to merge with.
The symbiote isn't just looking for human hosts — it's found a pasta host! This week, Justin and the Flatbush Zombies are stirring up Pad See "Us" with Venom Black Noodles to celebrate Venom's 30th Anniversary!
Pad-See "Us"
For the pasta
– 2 cups plus extra AP flour
– 1 TB activated charcoal
– 3 whole eggs
– 1 TB soy sauce
For stir frying
– 2 TB vegetable oil, divided
– 8 oz broccoli florets
– 1 clove garlic, minced
For the sauce
– 2 TB oyster sauce
– 2 TB rice wine vinegar
– 2 TB sweet soy sauce
For the tongue
– 1/4 red bell pepper
Make the pasta. Just do it. Place the flour on a clean work surface and make a well with your fingers. Beat together the eggs, activated charcoal and soy sauce. Add this to the well, and using you fingers, slowly incorporate the egg mixture in to the flour. Eventually, you will end up with a shaggy mess of doughy stuff. Congrats. Wad this up in to a ball, knead it a few times, and wrap with plastic wrap and refrigerate at least a half our.
Remove the pasta from the fridge and roll it out according to the instructions on your pasta roller like we did, or just make little Play-Doh snakes. That's a real pasta noodle, and it's called pici. It's totally legit. We cut ours in to more of a tagliatelle, because fancy.
Boil the noodles in water for about 4-5 minutes or until they feel lovely, strain, run under cold water to stop the cooking, and set aside.
In a wok or large frying pan, heat up 1 TB of the oil over medium heat.
Add the minced garlic and stir fry until aromatic. Add the broccoli and continue to stir fry until the color of the broccoli is bright green. Transfer the broccoli and garlic to a serving bowl and cover with plastic wrap to steam.
By all means, after adding the garlic, but before the broccoli, fry an egg in that oil, cut it up in to chunks, and recombine at the end of cooking.
Add the other TB of oil to the pan, allow it to heat up a bit, and then carefully add the noodles, oyster sauce, and rice wine vinegar. Toss this around until the noodles are warmed through and coated with the sauces. Drizzle with sweet soy sauce to finish. Pile this up on top of your broccoli.
If you wanna make a venom tongue, roast 1/4 red bell pepper over open flame until the skin is charred. Put this in a plastic bag and seal to steam. Rub the skin off and plate.
"We" hope you enjoy!
The Flatbush Zombies' "Vacation in Hell" is out now featuring the new single "Headstone." The band just played Coachella and will return to the desert THIS WEEKEND for Round 2 – after that, their headlining North American tour kicks off April 24 in Portland. More info at thegloriousdead.com.
The Hype Box
Can't-miss news and updates from across the Marvel Universe!