Podcasts
Published May 15, 2018
Eat the Universe with John Urschel
John Urschel joins host Justin Warner to make Cosmic Yogurt Bowls!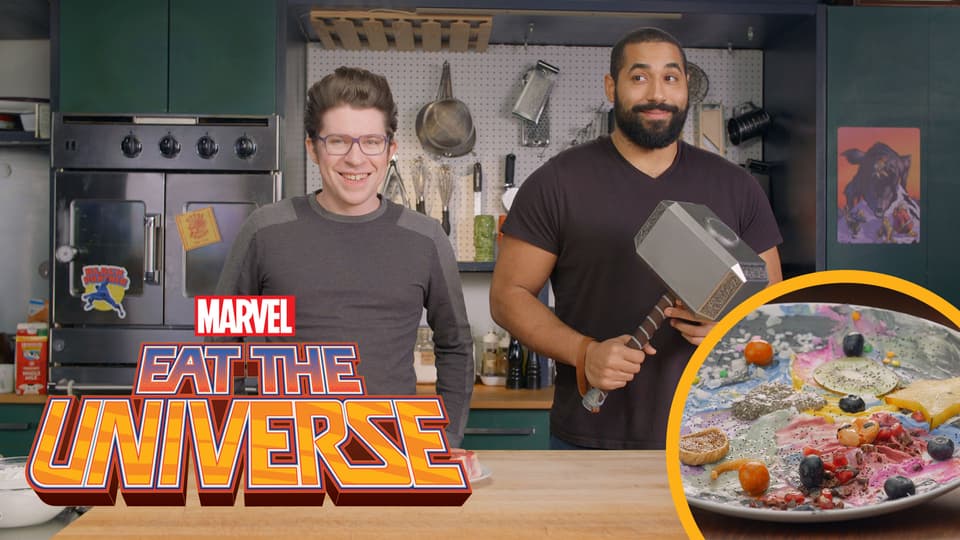 Travel the Rainbow Bridge to Asgard on today's episode of Marvel's Eat the Universe!
In this installment, John Urschel—former NFL player and current mathematician—joins the show to make some Cosmic Yogurt!
John, a doctoral candidate in applied mathematics at MIT, teams up with your host, celebrity chef Justin Warner, to calculate the craft of this special extraterrestrial snack. Watch the video above, then dive into the ingredients and instructions below!
Instructions:
The Big Bang of a Cosmic Yogurt universe is the greek yogurt. That's where it all begins.
The Bifrost-inspired color palette is created by adding different all-natural powders to the mix. For specific colors, use the following add-ins: Beet Powder (Red), Raspberry Powder (Pink), Turmeric (Yellow), Blue Spirulina (Blue), Activated Charcoal (Black), Mango powder (Orange), Chlorophyll (Green), Dragon Fruit Powder (Hot Pink).
Once the different colors are created, they can be spread on a plate to paint the supernovae of the scene! With a nebulous yogurt setting as a backdrop, the sky is the limit when it comes to toppings. Fruits and grains work well to create out-of-this-world textures, while sweet and salty elements come together to engage the taste buds with this stellar dish!
The Hype Box
Can't-miss news and updates from across the Marvel Universe!