Podcasts
Published March 2, 2022
Love, Legacy, and Creative Power: 'The History of Marvel Comics: Black Panther' Podcast
Tune into the fourth episode, then dive into the covered comics from creators Reginald Hudlin, John Romita Jr., Dwayne McDuffie, and more.
In the fourth episode of podcast series The History of Marvel Comics: Black Panther, host Nic Stone sits down with legendary creators Reginald Hudlin and John Romita Jr. to discuss their definitive BLACK PANTHER run, T'Challa's rise as a blockbuster Avenger, and his important stint as a member of the Fantastic Four alongside Storm courtesy of writer Dwayne McDuffie.
This six episode documentary podcast is hosted by New York Times best-selling author Stone, who explores the comic book origins of the Black Panther through conversations with the creators who shaped T'Challa's journey, celebrating the innately Afro-Futuristic world of Wakanda, while analyzing the larger impact of the character. Both new and lifelong fans will get a behind-the-scenes look in a tell-all of how T'Challa came to be Black Panther, and how he and Wakanda have evolved since.
Listen to the fourth episode now, also featuring comics creator and journalist Stephanie Williams, and Jesse J. Holland, journalist, author, and educator who wrote a novelized adaptation of Black Panther's history.
Grab our top highlights from the episode, then read the companion comics on Marvel Unlimited!
ON THE CREATIVE COLLABORATION BEHIND BLACK PANTHER'S LANDMARK 2005 SERIES:
REGINALD HUDLIN: Denys Cowan. You know, Denys would take me to comic book conventions, and he would introduce me to other artists and stuff. And everybody loves Denys, so I got to meet everybody through him.
NIC STONE: You might remember Denys Cowan from Episode 2, he was the artist on the 4-issue Black Panther limited series written by Peter B. Gillis in the 80s.
JOHN ROMITA JR.: And [Denys] set up a meeting with Reggie and myself. And Reggie and I just got along famously. And he talked about Panther being one of his favorites, if not his favorite character, et cetera. And that he loved my artwork, which was so much fun because he and his brother at the time were film stars. They were film producers.
REGINALD HUDLIN: And we just talked about everybody and everything. And I was like, "God, this guy is nice, he's a brilliant artist, and he's incredibly fast. I don't even know how he exists." That he's all three of those things. So anyway, we got John to draw the book.
JOHN ROMITA JR.: The fun part was that Reggie's idea about the character led me to doing more research on Africa. We had to pick a spot that might have been related to Wakanda in some manner, shape, or form. While we couldn't find any structures that way, I think I printed out two tons of images off the internet and used various cultures to create some of the imagery.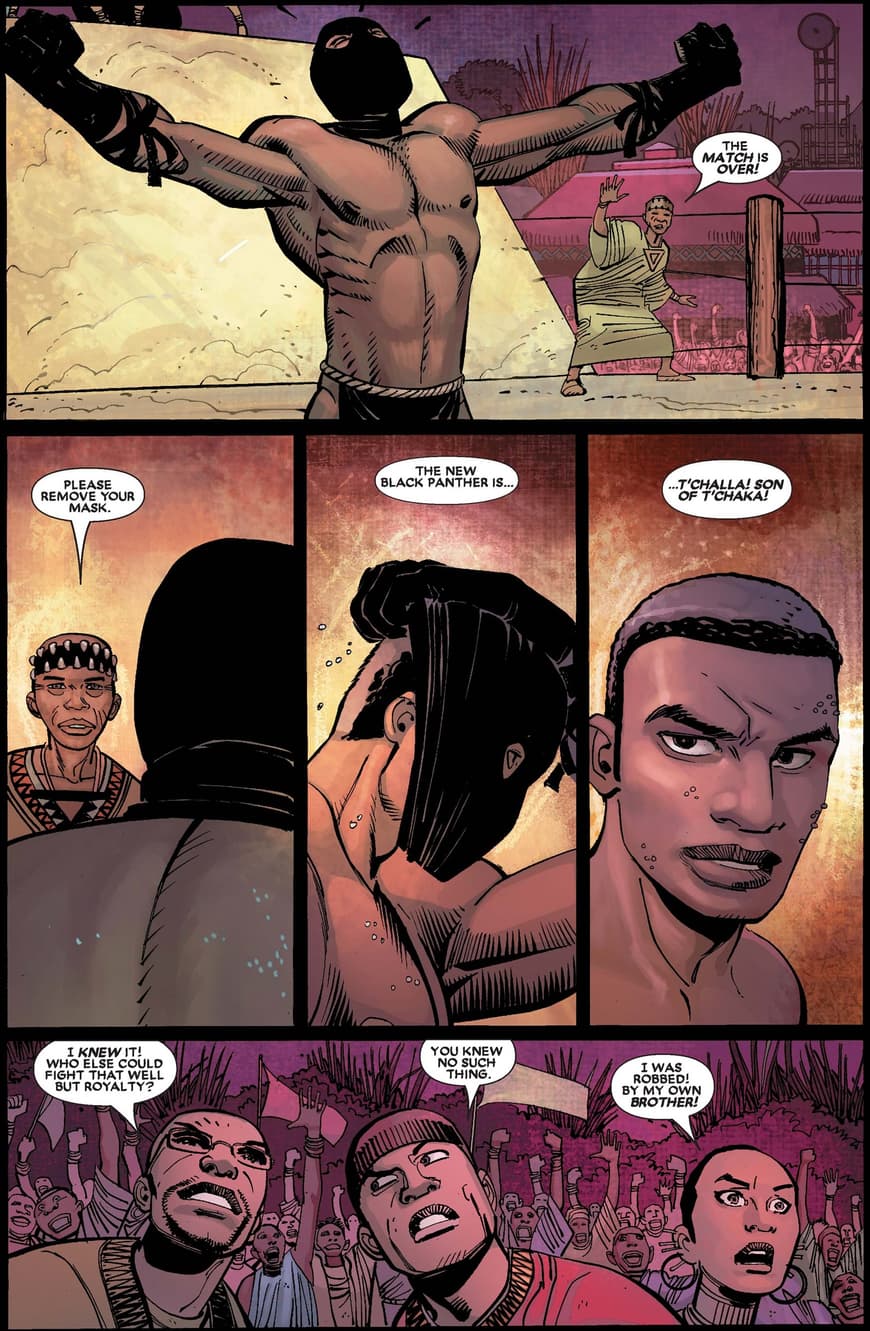 ON SHURI AS THE BLACK PANTHER:
REGINALD HUDLIN: It's very easy, particularly when you start talking about royalty and stuff like that... It's like, "Well it's sexist and only men can take the title, or take the crown, or whatever." And I was like no we don't actually function like that. And obviously in Africa there's Queen Nzinga, you've got Nefertari and Nefertiti. So there's all these examples of women rulers. So that's not a thing, historically, there's plenty of examples of that. And women warriors, I mean the women who are the actual basis of the Amazons, and so on. Even the whole idea that Wakanda was ahead. Wakanda is like, "No we were ahead and we've always been ahead. We're so far ahead, you can't even, can't literally, see us. You can't catch up with us."
NIC STONE: When Shuri takes on Radioactive Man and finishes him off-- is probably the most important part about Shuri's role as Black Panther. It not only shows how she uses her newly found power, but also distinguishes herself from how her brother handles the mantle of Black Panther.
REGINALD HUDLIN: If you look at Bruce Lee in Enter The Dragon, he's the only action hero that felt empathy for when he had to kill somebody. You know there's an amazing scene when he's fighting O'Hara in the tournament. And then we go to a tight close-up of Bruce Lee's face, and we see this wash of emotion over him. Of like, I did it, but that's horrible that I had to do this. Even for a guy as evil as this. So anyway, I just wanted to give Shuri that love of humanity. And see that transition point for her.
ON BLACK PANTHER AND STORM AS THE POWER COUPLE:
REGINALD HUDLIN: [Marvel editorial] and I talked about who T'Challa could marry. And Marvel said the name.
NIC STONE: Storm, you know of X-Men fame.
REGINALD HUDLIN: I'm like, we're done. I can't believe you're going to give me her. She's an African queen. He's an African king. It's a no-brainer, right?
JESSE J. HOLLAND: Oh, wow. Well, first and foremost, Reginald got the T'Challa-Ororo story right. First and foremost. And I am still pissed that they're not together. That they're not together to this day. I mean, it's been almost 15 years now that they've split up--but, this is usually the first thing any Black Panther/Storm-shipper will say if you ask them about it. It was THAT BIG.
NIC STONE: Now, remember, this was by design, because Reggie knew what he was doing by adding more prominent Black women to the mythos.
JESSE HOLLAND: Now with the T'Challa-Storm relationship, in most fictional relationships, the man in the relationship is by far the stronger, physically. T'Challa might be able to beat Ororo in a fist fight, even though I wouldn't put too much money on him in that. But at any moment, Ororo will change the weather patterns over his head. She by far is the power in that relationship. He's the mind, she's the power. The wedding of Ororo and T'Challa eliminated the whole "the wife or the significant other of the main character having to be rescued." Ororo didn't need anybody to rescue her, because she was good enough to do it on her own. So it, for me, it was a call out to a lot of modern relationships.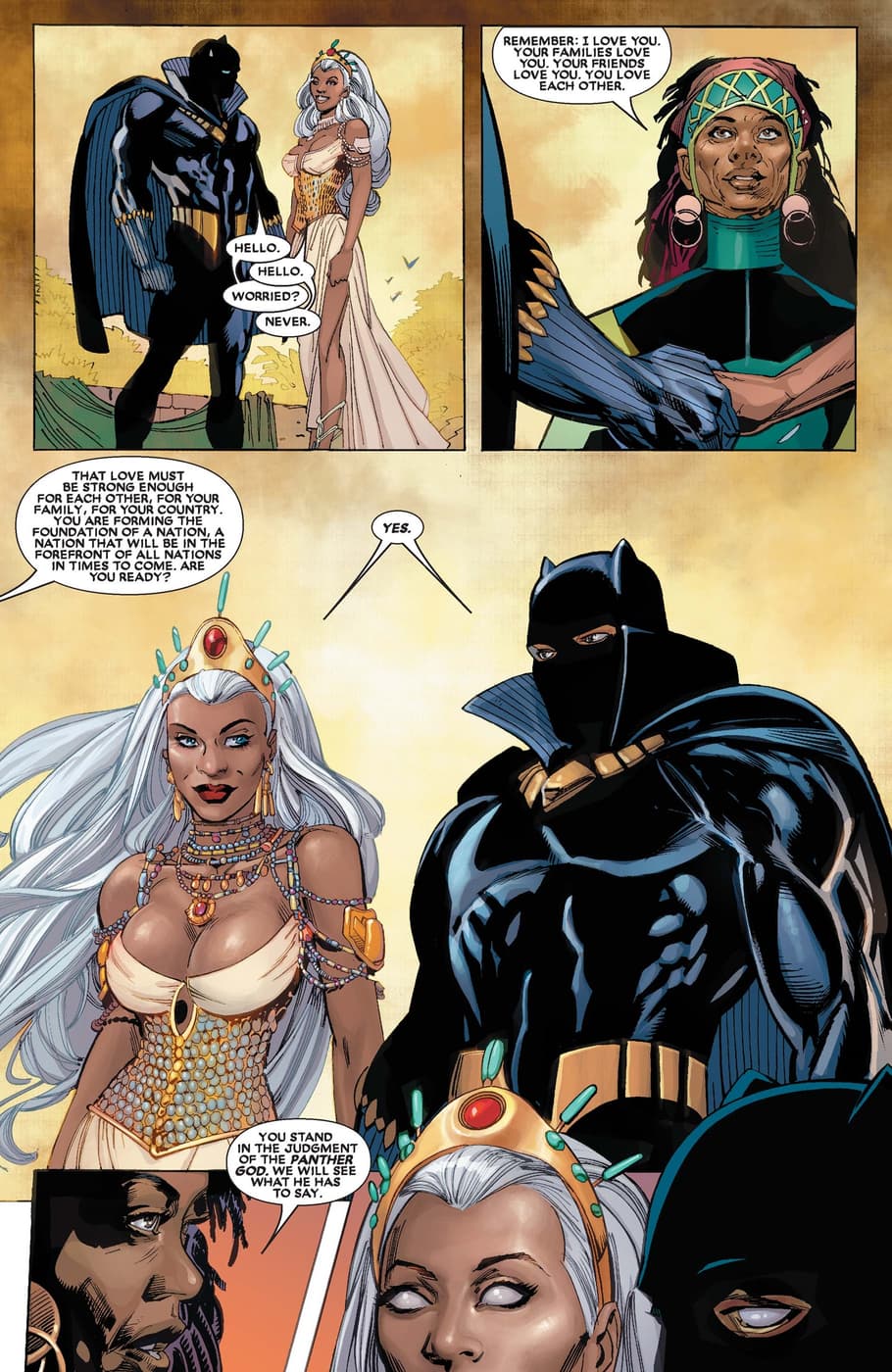 The Hype Box
Can't-miss news and updates from across the Marvel Universe!