Podcasts
Published September 19, 2018
Listen to Chapter 3 of 'Wolverine: The Long Night' for Free
Get a round-up of previous episodes, study the suspect list, and listen to the latest chapter now!
Every Wednesday, new episodes of Marvel's first scripted podcast, "Wolverine: The Long Night", are released for free! To mark each new episode, we're doing recaps and updating suspect lists from last week's chapter. 
But first, listen to the latest episode of "Wolverine: The Long Night" right now! Get lost in chapter 3, "Underground", below, then keep reading for more insights on previous episodes.
For a look at where we were before episode 3, we deputized Marvel.com writer (and first-time listener) Amanda Ames to keep up with the action as it's released. Amanda, take it away...
There may be a thousand ways to die in Alaska, but one in particular seems to be plaguing the town of Burns... It's murder in the first degree, and everyone has secrets to hide.
After two local fishermen found a boat adrift with nine freshly flayed bodies aboard, Special Agents Sally Pierce and Tad Marshall arrived to put their little grey cells to work–but things weren't as cut-and-dry as they anticipated. And so, our story begins.
Circumstances are changing, lines are blurring, and not everyone in town is a straight-shooter. The game is afoot, but here's what we know so far:
Ten men should have sailed on the ship but only nine bodies were found strewn across the hold. Steven Washburn serendipitously called in sick…or so he'd have you believe. Did fortune smile upon the downtrodden or did lady luck have some insider information this go 'round?

The boatmen may not be the only Burns victims; two women died in "suspected" grizzly bear attacks and while the outwardly upstanding Sheriff Ridge is positive they're not connected, our suspiciously timely local fisherman isn't too sure, and neither are our agents.

It seems a new loner arrived in town just ahead of this murder spree and you don't need three guesses to figure out who the lethal old grouch is. All the evidence points to this mysterious stranger but things can't be that easy. Can they?
Then it was time to wade through the strawberry thickets and eliminate the impossible in a development that started with two words, "Goodnight Nobody"...
Two words tattooed on one of the victims of the supposed grizzly attack, which unraveled details about a cult called Aurora, its devotees, and a man called Nicholas Prophet. The leader of Aurora, the so-called Prophet, recounted some of the group's philosophies, but ultimately left the agents with more questions than answers. 
Then a phone call... "Heard you been askin' around about me," a voice said. Then, one last word: "Don't."
It was Logan.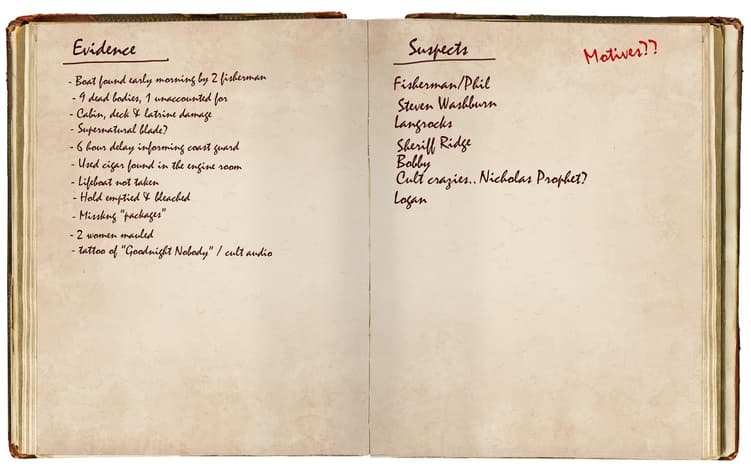 Now listen to chapters 1 and 2 for the full experience.
The Hype Box
Can't-miss news and updates from across the Marvel Universe!