Podcasts
Published October 3, 2018
Listen to Chapter 5 of 'Wolverine: The Long Night' for Free
Get a recap of the previous episodes before diving into the latest chapter today!
Every Wednesday, new episodes of Marvel's first scripted podcast, "Wolverine: The Long Night", are released for free! To mark each new episode, we're doing recaps and updating suspect lists from last week's chapter. 
But first, listen to the latest episode of "Wolverine: The Long Night" right now! Get lost in chapter 5, "Into the Woods", below, then keep reading for more insights on previous episodes.
For a look at where we were before episode 5, we deputized Marvel.com writer (and first-time listener) Amanda Ames to keep up with the action as it's released. So here's a look at what went down in chapter 4...
It's every man, woman, and bear for themselves at the moment. But when every potential answer turns into a dead end, it's safer to shut up and keep to yourself...or so the residents of Burns believe.
The tale of the killer grizzly continues to grow by the minute, but the truth is never so evident. When a local hunter reveals some strange happenings in the woods, our agents follow the trail straight to the Langrocks. And between back alley business deals and a penchant for violence that seems to run in the family, Joe, Brent, and Hudson have a lot to hide. Is Joe Langrock the patron the town believes or is something stirring under placid waters? It's time to clear away the excess and focus on the definite. 
Here's what we know:
The shroud of mystery and bravado surrounding Logan continues to thicken. It seems the Langrock crew had a bone to pick with our brooding loner, but they forgot two things: never threaten the innocent, and never corner a wild animal. In a particularly destructive brawl Logan took justice into his own hands

—up against a

 large crew of angry men. Had the local game ranger not had a tranquilizer gun, we could have been looking at a very different crime scene.

From their somewhat disturbed personalities to their secretive business affairs, the Langrocks have more than a few things to hide. Evidently, they did not think the large taxidermied grizzly bear in their trophy room was one of those things. It's true

—

nothing muddles the waters quite like an obvious fact, but could we be looking at what provided the bite marks on our two female victims?

Did I say two victims? Better make it three. Another woman fell prey to our grizzly attacker but this time our victim escaped with her life…for now. After learning of Logan's bare expeditions in the woods, Agent Marshall began to question the accuracy of his bear attack statistics. However, a tip to talk with a local tribe falls suspect when we learn the new victim inexplicably hails from the tribe in question. Looks like our agents are headed their way sooner than expected. Coincidence? You know better than that.
 
Tensions are on the rise, new motives are coming to light, and someone is trying to silence the residents of this ill-fated town. How much more blood will stain the waters before our killer falls into a trap?
Take a look at the suspect list in the aftermath of chapter 4 with our Agent's Dossier...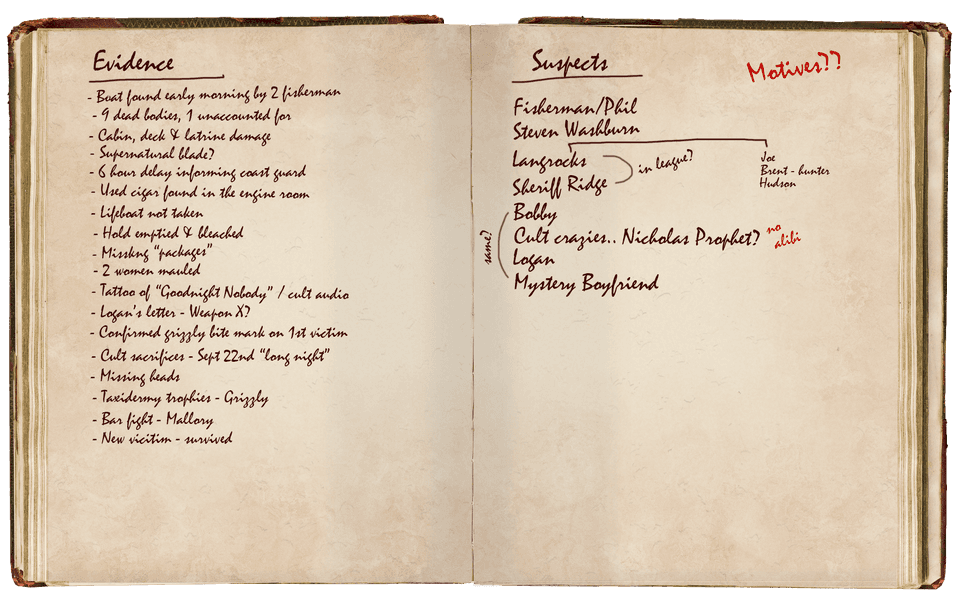 Come back next week for our recap of chapter 5 and the release of chapter 6!
Get lost in the world of Wolverine: The Long Night" right now—for free! To get each new episode, subscribe on Apple Podcasts, Stitcher, Spotify, Google Podcasts, or wherever you like to listen. And stay tuned to Marvel.com for interviews, behind-the-scenes videos, and more insights on the show!
The Hype Box
Can't-miss news and updates from across the Marvel Universe!