Podcasts
Published October 24, 2018
Listen to Chapter 8 of 'Wolverine: The Long Night' for Free
Get a recap of the previous episodes before diving into the latest chapter today!
Every Wednesday, new episodes of Marvel's first scripted podcast, "Wolverine: The Long Night", are released for free! To mark each new episode, we're doing recaps and updating suspect lists from last week's chapter. 
But first, listen to the latest episode of "Wolverine: The Long Night" right now! Get lost in chapter 8, "The Red Sunset", below, then keep reading for more insights on previous episodes.
For a look at where we were before episode 8, we deputized Marvel.com writer (and first-time listener) Amanda Ames to keep up with the action as it's released. So here's a look at what went down in chapter 7...
Things continue to spiral in Burns, but sometimes you have to break the law to keep the peace...or solve a crime.
The city plunges into darkness after light bulbs are stolen from every inch of town, signifying the approach of the long night. Bobby's been secretly outed as a drug addict and aligned himself with Sheriff Ridge and the Langrocks before disappearing. Agent Pierce discovers the shipment method and processing plant used by the Langrocks' drug mules—though it may be too little too late. And a blast from the past reveals this isn't the first time the Tarrack has been threatened by industrialists looking to squander the lands, let's hope this time someone lives to tell the tale.
It's time to clear away the brush before the fire spreads. Here's the breakdown:
Bobby seems to have found himself at the center of Burns' illicit drug-smuggling operation, but unlike the town's unsuspecting citizens, he is choosing to break bad. Unfortunately for him, Sheriff Ridge seems to have forgotten the cardinal rule of drug smuggling: never trust a junkie. After Ridge takes Bobby for a little smuggling 101 training, he disappears, sending Ridge into a panic. He needs to find him before our agents do or it could mean trouble in his snow-capped paradise.  

Everyone in Burns has something to hide; some more than others. After searching through the town hospital's illegally-acquired security footage, Agent Marshall found he needed to pay another visit to Sherman Moses, who proved to be less than forthcoming about his relationship with Logan. Turns out Logan saved Sherman from a pack of wolves about two weeks after he arrived in town then swore him to secrecy in a follow-up visit. Which encounter was more frightening remains to be seen, but one thing is clear: no matter how lethal he is, Sherman doesn't believe Logan is the killer.    

Logan seems to be on a mission to rid Burns of the Langrocks and their drug smuggling operation. So our agents decide to change tactics. It's time to follow the powder-white road straight to their man. And while this strategy might not have brought them face to face with Logan, it did land them in the middle of another crime scene. And this time, no one's around to hide the evidence. The Langrocks "business" is under attack and the message is clear–they're next.


 
Burns is on the brink of an all-out war and sacrifices must be made if the agents are to shed a little light in the darkness engulfing them all. 
Take a look at the suspect list in the aftermath of chapter 7 with our Agent's Dossier...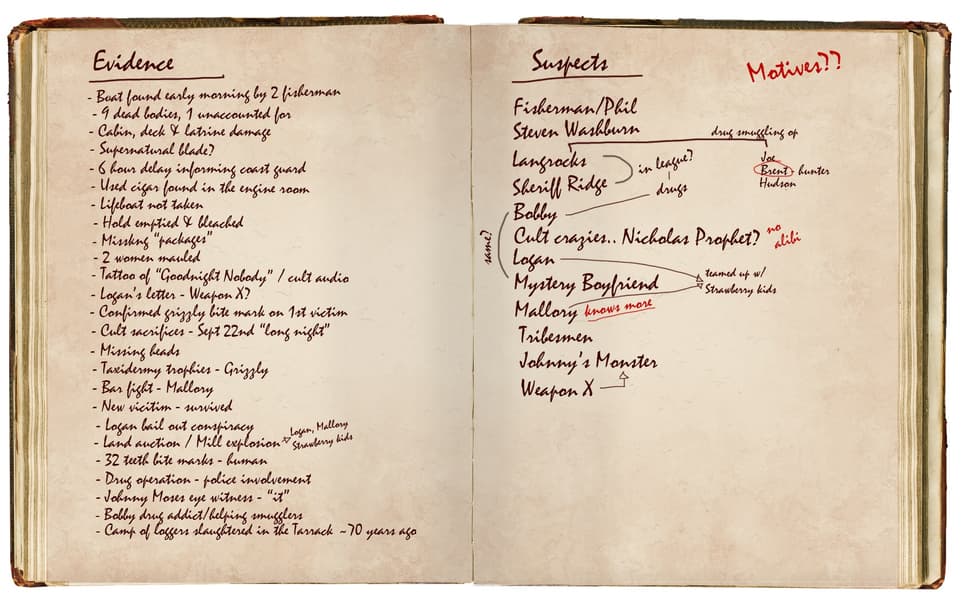 Come back next week for our recap of chapter 8 and the release of the penultimate episode, chapter 9!
Get lost in the world of Wolverine: The Long Night" right now—for free! To get each new episode, subscribe on Apple Podcasts, Stitcher, Spotify, Google Podcasts, or wherever you like to listen. And stay tuned to Marvel.com for interviews, behind-the-scenes videos, and more insights on the show!
The Hype Box
Can't-miss news and updates from across the Marvel Universe!