Podcasts
Published November 16, 2023
The 'Women of Marvel' Guide to Ms. Marvel
From super fan to Super Hero. In this episode of the 'Women of Marvel' podcast, we chronicle the super-powered journey of Ms. Marvel, AKA Kamala Khan!
It's an all-new season from the Women of Marvel! Listen to the latest episode from the podcast series, then tune into new character spotlight episodes each Wednesday!
Kamala Khan is the Marvel Universe's biggest fan, known for her fanfiction and unabashed enthusiasm for the world of super heroes. In a surprising twist of fate that unlocked her latent super-powers, Kamala became a super hero herself, taking on the mantle of "Ms. Marvel." While fighting alongside idols like Captain Marvel, Spider-Man, and the X-Men, teenage Kamala protects her hometown of Jersey City, while keeping the world safe as a solo hero and an Avenger.
In the eleventh (and second to last!) episode from this season of the Women of Marvel podcast, our hosts Ellie Pyle and Preeti Chhibber chronicle the super-heroic rise of Kamala Khan, exploring her compelling debut in pop culture, and why her character continues to spark Marvel fandom. Joining them is writer Samira Ahmed (MS. MARVEL: BEYOND THE LIMIT), Kamala Khan co-creator Sana Amanat, Marvel VP of Content & Character Development, and the MCU's own Ms. Marvel, actor and comics writer Iman Vellani (MS. MARVEL: THE NEW MUTANT)!
Listen to Ms. Marvel's full Women of Marvel spotlight, then catch our episode highlights below!
IMAN VELLANI: MS. MARVEL THE MUTANT
Women of Marvel was beyond excited to speak to Iman Vellani, one of the stars of Marvel Studios' The Marvels, and the co-writer of ongoing comic series MS. MARVEL: THE NEW MUTANT! After telling Ellie and Preeti how she first became involved in writing the series, Iman talked about tapping into Kamala's voice.
"I feel like I know [Kamala] so well because I just insert myself so much into her life," Vellani said. "I feel like I've lived vicariously through the experiences that Kamala's had from high school and [beyond]. And we've kind of been growing together as humans, although people age very slowly in comics. I just love how sure of herself she is. She's never been shy of all the labels that she carries. She just has this innate desire to want to help people. That's solely what she's driven by, and she has a wonderful support system of family and of friends."
And Vellani also gave listeners insight into this latest series: "What's different about [MS. MARVEL: THE NEW MUTANT] is that [for Kamala] being a mutant is just another label to add to the list and it doesn't change anything. This new suit and this new title, it's all just a formality. But very quickly, she comes to the realization that going public with the mutant label bears a lot more weight than she was expecting," Vellani teased. "And the world's perspective on Ms. Marvel entirely shifts. There are so many metaphors that can go hand in hand. Ms. Marvel has always had the X-Gene is how we're establishing it in this comic. So, she's always been a mutant. But the only difference is now people know."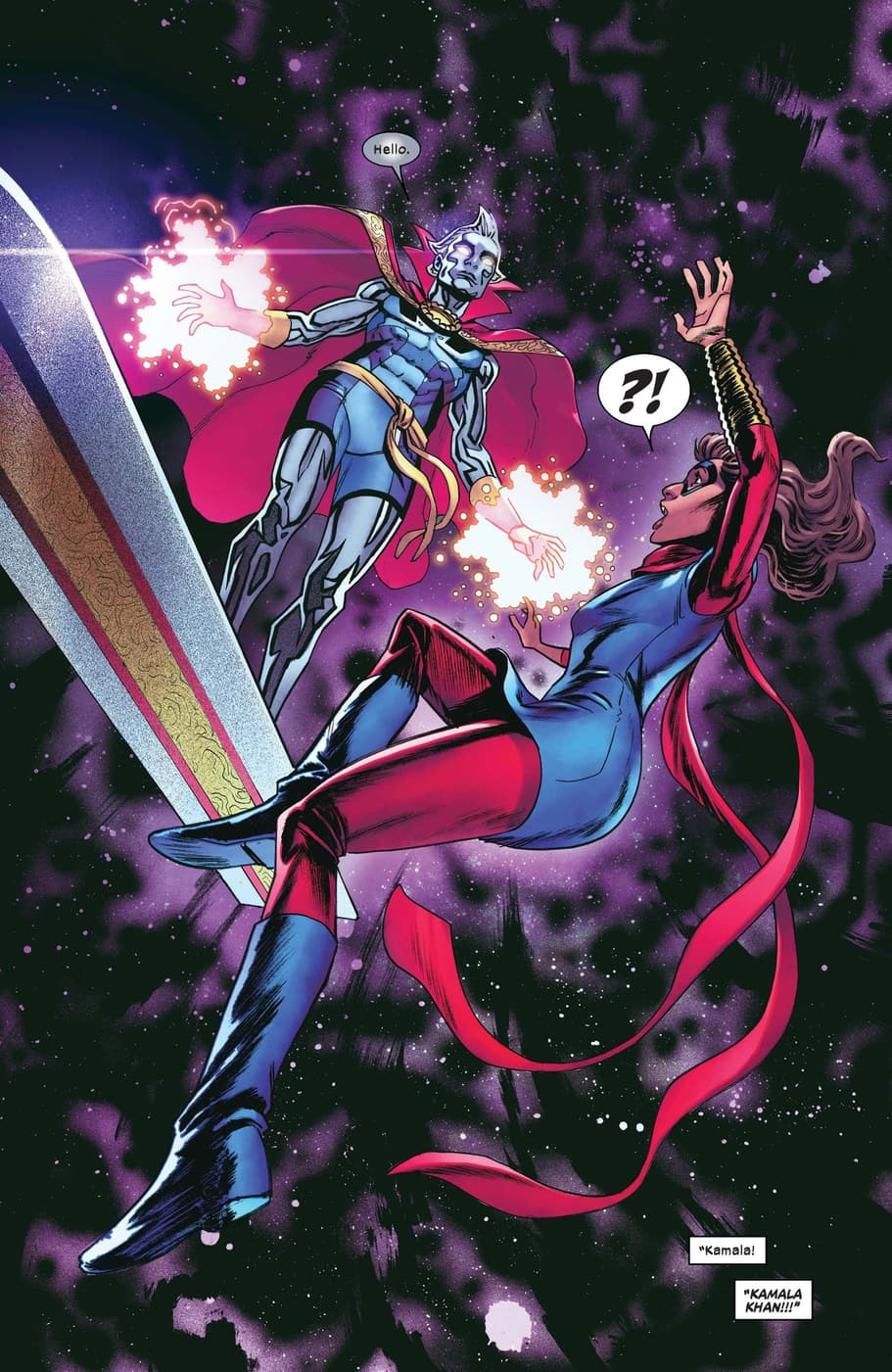 THE FAN PERSPECTIVE: WRITING KAMALA KHAN
Samira Ahmed, young adult novelist and the writer behind comic series MS. MARVEL: BEYOND THE LIMIT, vividly recalled her reaction to Kamala's major debut issue, MS. MARVEL (2014) #1.
"When [G. Willow Wilson's] very first issue came out [with] that super iconic cover, it didn't even show [Kamala's] face. It just had her holding her books and it just gave me some kind of goose bumps when I saw it," Ahmed said to Preeti. "And I remember I was reading through [that 2014 run] and I was like, 'Oh my God, this is so awesome. There's a Desi Muslim super hero and she has so many of the same problems I did when I was a teenager.' And I remember telling some people, 'Wouldn't it be cool if I could write her one day?'"
In 2021, that wish became a reality when Ahmed was approached by Marvel editors to write Kamala in an interdimensional adventure in MS. MARVEL: BEYOND THE LIMIT.
"So, at the beginning of ["Beyond the Limit"] Kamala is going to chill out [for] a few days with her brilliant physicist cousin in Chicago," Ahmed explained. "And of course, while she's there, there's never really a moment of rest for a super hero. Her brilliant physicist cousin is working on a mysterious experiment that has the power to potentially open wormholes, or portals, into other Multiverses. And of course, someone's trying to steal it and things go awry. This accident creates a rift between worlds and careens a young woman from another place into Kamala's world. And we see this doppelganger character is sort of this Mirror of Kamala, because she is faced with a lot of difficult decisions."
KAMALA KHAN: FROM PAGE TO SCREEN
Listeners also tuned into a clip from Sana Amanat, Marvel's VP of Content & Character Development, and a former Marvel Comics editor who co-created Kamala Khan!
"That first [MS. MARVEL] run is about [Kamala] being a little bit insecure in her own body and what happens when her body effectively transforms and gets these powers and she has to figure out what to do with them," Amanat reflected of Kamala's origin. "And, you know, I guess it's not even the young woman's experience, but being a young woman of color. You feel invisible in the world, and you feel like you don't know how to show your voice and allow it to shine. And when Kamala gets powers and she's even more amplified, what kind of image does she want to project to the world? That's kind of the journey of the show, the same way the comic was."
The latest season of Women of Marvel has arrived! Tune into upcoming episodes spotlighting a new hero each Wednesday, available wherever you listen to your podcasts!
The Hype Box
Can't-miss news and updates from across the Marvel Universe!