Podcasts
Published July 11, 2019
'Miles Morales: Spider-Man' Author Jason Reynolds Joins 'Marvel's Voices'
Angélique Roché sits down with the writer for a brand-new episode!
Over the last eight years, Miles Morales has steadily grown in popularity within his own solo comic books, as a member of the Champions, in the Marvel Gamer-Verse, animated shows and with his own animated film Spider-Man: Into the Spider-Verse. In addition, parts of Miles' background and story were turned into prose in 2017's, "Miles Morales: Spider-Man" book by this week's Marvel's Voices' guest Jason Reynolds.
Whether folks related to his age, his initial reluctance to being a hero, his heritage as the first Afro-Latinx Spider-Man, or his Brooklyn roots, Miles quickly found his way into the hearts of many readers, including mine.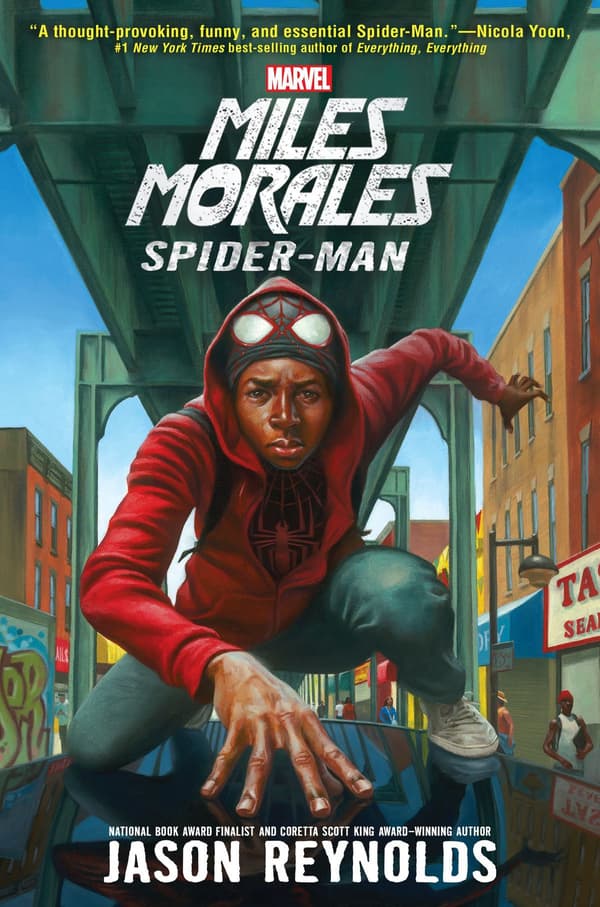 Miles Gonzalo Morales, aka Spider-Man, was created in 2011 by writer Brian Michael Bendis and artist Sara Pichelli and first appeared in ULTIMATE FALLOUT #4 (August 2011). While Miles' origin story begins like many of the Marvel Universes' other super-powered Spidey people (and animals) besides being bitten by a radioactive spider, his unique story and characteristics distinguish him as groundbreaking for many comic book lovers.
I had an opportunity to chat with writer Jason Reynolds about the process of translating that unique story and life into long-form prose, his dedication to creating a young adult story that was true to the spirit and heritage of a character like Miles Morales, and his love of Queen Latifah. I also spoke with the award-winning writer and poet about his journey as a writer, his literary and musical influences, and the motivation behind his passion for making reading accessible to everyone.
Listen to the full episode right here:
Download this episode of Marvel's Voices from Marvel.com/podcasts and subscribe to the show on Apple Podcasts now!
The Hype Box
Can't-miss news and updates from across the Marvel Universe!