Podcasts
Published May 16, 2018
Time Travel with Cable on Marvel's The Pull List
Watch the all-new video version to preview this week's Marvel Comics!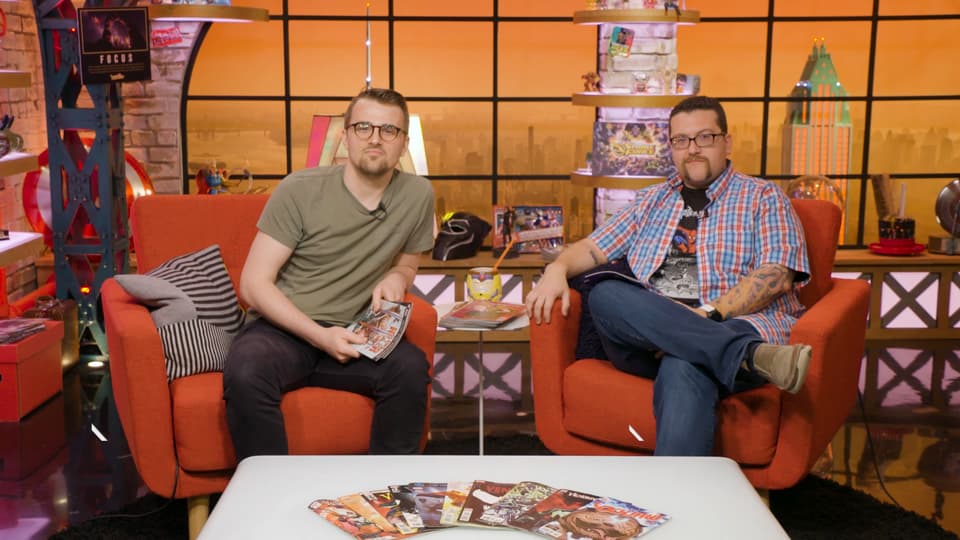 Celebrate New Comic Book Day with Marvel's The Pull List!
On this episode, Ryan and Tucker preview May 16's new comic releases, including ALL-NEW WOLVERINE, CABLE, CAPTAIN AMERICA, STAR WARS: POE DAMERON, and all the other books that are waiting for you in stores right now! Watch the brand-new, bite-sized video version above, then dive into the full podcast below.
Here's the full list of what's available from Marvel this week:
MARVEL PRINT COMICS ON-SALE (5/16/18)
ALL-NEW WOLVERINE #35
AVENGERS #2
BEN REILLY: SCARLET SPIDER #18
CABLE #157
CAPTAIN AMERICA #702
DAREDEVIL #602
HUNT FOR WOLVERINE: CLAWS OF A KILLER #1
INFINITY COUNTDOWN: DAREDEVIL #1
MIGHTY THOR: AT THE GATES OF VALHALLA #1
QUICKSILVER: NO SURRENDER #1
STAR WARS: POE DAMERON #27
THE PUNISHER #224
WEAPON H #3
X-MEN: RED #4
X-MEN: THE WEDDING SPECIAL #1
YOU ARE DEADPOOL #3
COLLECTIONS
AMAZING SPIDER-MAN EPIC COLLECTION: SPIDER-MAN NO MORE
BEN REILLY: SCARLET SPIDER VOL. 3 – THE SLINGERS RETURN
DEADPOOL CLASSIC VOL. 22: MURDER MOST FOWL
DEFENDERS MASTERWORKS VOL. 6
FANTASTIC FOUR VISIONARIES: JOHN BYRNE VOL. 2 – 6
HULK: RETURN TO PLANET HULK
MOON KNIGHT: LEGACY VOL. 1 – CRAZY RUNS IN THE FAMILY
PUNISHER INVADES THE 'NAM
STAR WARS: POE DAMERON VOL. 4 – LEGEND FOUND
DIGITAL COMICS
AVENGERS: BACK TO BASICS #6
ON THE MARVEL APP
DEFENDERS (1972) #42-46, 51-57
MASTER OF KUNG FU (1974) #75-89
PUNISHER INVADES THE 'NAM: FINAL INVASION (1994) #1
THE 'NAM (1986) #52-53, 67-69
DIGITAL COLLECTIONS
MARVEL MASTERWORKS: THE DEFENDERS VOL. 6 (HC)

FRESHLY DIGITIZED COMICS ON MARVEL UNLIMITED
CABLE #80-86, 88-96
DAREDEVIL #595
DESPICABLE DEADPOOL #289
FALCON #2
GENERATION X #8
HAWKEYE #1-4
JESSICA JONES #14
MASTER OF KUNG FU #126
MOON KNIGHT #188
MS. MARVEL #24
ROYALS #10
RUNAWAYS #3
SHE-HULK #159
SPIDER-MAN/DEADPOOL #23
SPIRITS OF VENGEANCE #2
STAR WARS #38
THE UNBEATABLE SQUIRREL GIRL #26
THE UNBELIEVABLE GWENPOOL #22
THOR CORPS #1-4
THOR: GODSTORM #1-3
UNCANNY AVENGERS #29
VENOM #157
VISION: DIRECTOR'S CUT #6
X-MEN: GOLD #15
ZOMBIES ASSEMBLE 2 #4
Subscribe to the show on Apple Podcasts, download the episode from Marvel.com/podcasts, or tune in on SoundCloud!
The Hype Box
Can't-miss news and updates from across the Marvel Universe!