Podcasts
Published March 21, 2018
Tune in to Episode 11 of Marvel's The Pull List
Check out the bite-sized podcast preview of this week's new Marvel Comics!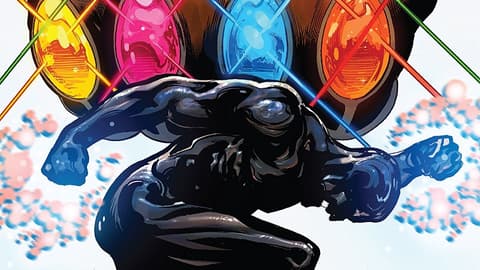 Just in time for New Comic Book Day, it's Marvel's The Pull List!
In this episode, Ryan and Tucker give you bite-sized previews of March 21's new comic releases, including CABLE, MIGHTY THOR, RUNAWAYS, STAR WARS, WEAPON H, and all the other books in stores today!
Here's the full list of what's available from Marvel this week:
MARVEL PRINT COMICS ON-SALE (3/21/18)
AMAZING SPIDER-MAN: RENEW YOUR VOWS #17
AVENGERS #685
CABLE #155
DOCTOR STRANGE: DAMNATION #3
INCREDIBLE HULK #714
IRON FIST #78
IRON MAN: HONG KONG HEROES #1
MIGHTY THOR #705
MONSTERS UNLEASHED #12
MS. MARVEL #28
RUNAWAYS #7
SPIDER-GWEN #30
STAR WARS #45
STAR WARS: POE DAMERON #25
TALES OF SUSPENSE #103
THANOS #17
WEAPON H #1
X-MEN: GOLD #24
COLLECTIONS
Avengers Omnibus Volume 3 HC
Generation X Volume 3 Survival Of The Fittest TP
Iron Fist Volume 2 Sabretooth Round Two TP
Marvel Masterworks Ka-Zar Volume 2 HC
Marvel Masterworks Marvel Two-In-One Volume 3 HC
Marvel's Avengers Infinity War Prelude TP
Spider-Men II TP
Star Wars Legends Epic Collection The Clone Wars Volume TP
X-Men Blue Volume 0 Reunion TP
X-Men Blue Volume 3 Cross Time Capers TP
DIGITAL COMICS
 AVENGERS: BACK TO BASICS #2
ALSO ON SALE ON THE MARVEL APP
DARK REIGN: THE GOBLIN LEGACY (2009) #1
SPIDER-MAN: DEATH & DESTINY (2000) #1-3
SPIDEY AND THE MINI-MARVELS (2003) #1
X-MEN UNLIMITED (1993) #17, 40-50
DIGITAL COLLECTIONS
ATLAS ERA STRANGE TALES MASTERWORKS VOL. 1
CAPTAIN AMERICA: PRISONER OF WAR
HULK: VISIONARIES – PETER DAVID VOL. 4
INCREDIBLE HULK MASTERWORKS VOL. 4
VAMPIRE TALES VOL. 1
FRESHLY DIGITIZED COMICS ON MARVEL UNLIMITED
ALL-NEW WOLVERINE #24
BEN REILLY: SCARLET SPIDER #7
DEADPOOL #36
DEFENDERS #5
DOCTOR STRANGE AND THE SORCERERS SUPREME #12
GENERATIONS: CAPTAIN MARVEL & CAPTAIN MAR-VELL #1
HULK #10
MARVEL UNIVERSE GUARDIANS OF THE GALAXY #22
MS. MARVEL #22
OLD MAN LOGAN #28
ROCKET #5
RUNAWAYS #1
SECRET EMPIRE OMEGA #1
SECRET WARRIORS #6
STAR WARS #36
STAR WARS: DOCTOR APHRA #12
STRIKEFORCE: MORITURI #14-31
THE AMAZING SPIDER-MAN #32
THE UNBEATABLE SQUIRREL GIRL #24
THE UNBELIEVABLE GWENPOOL #20
UNCANNY AVENGERS #27
VENOMVERSE #2
VISION: DIRECTOR'S CUT #4
WEAPON X #8
X-MEN: BLUE #11
ZOMBIES ASSEMBLE 2 #2
Download The Pull List from Marvel.com, check out Marvel Podcast Central, grab the This Week in Marvel RSS feed, and subscribe to This Week in Marvel for The Pull List updates on iTunes! Then head over to our Soundcloud hub to listen to more from Marvel!
The Hype Box
Can't-miss news and updates from across the Marvel Universe!