Podcasts
Published March 28, 2018
Tune in to Episode 12 of Marvel's The Pull List
Check out the bite-sized podcast preview of this week's new Marvel Comics!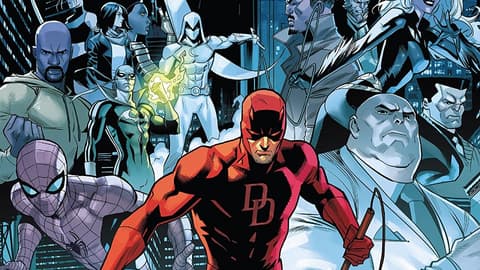 Happy New Comic Book Day, gang! Time to celebrate with Marvel's The Pull List!
In this episode, Ryan and Tucker give you bite-sized previews of March 28's new comic releases, including BLACK PANTHER, DAREDEVIL, JESSICA JONES, SPIDER-MAN/DEADPOOL, and all the other books in stores today!
Here's the full list of what's available from Marvel this week:
MARVEL PRINT COMICS ON-SALE (3/28/18)
AVENGERS #686
BEN REILLY: SCARLET SPIDER #16
BLACK PANTHER #171
CHAMPIONS #18
DAMNATION: JOHNNY BLAZE – GHOST RIDER #1
DAREDEVIL #600
DESPICABLE DEADPOOL #297
INVINCIBLE IRON MAN #598
JESSICA JONES #18
LEGION #3
LOCKJAW #2
MOON GIRL AND DEVIL DINOSAUR #29
MOON KNIGHT #193
OLD MAN HAWKEYE #3
OLD MAN LOGAN #37
PETER PARKER: THE SPECTACULAR SPIDER-MAN #302
SPIDER-MAN/DEADPOOL #30
STAR WARS: DOCTOR APHRA #18
X-MEN: BLUE #24
COLLECTIONS
ANNIHILATION: THE COMPLETE COLLECTION VOL. 1
CAPTAIN MARVEL: CAROL DANVERS – THE MS. MARVEL YEARS VOL. 1
COLOR YOUR OWN AVENGERS
MIGHTY THOR VOL. 3: THE ASGARD/SHI'AR WAR
NEW MUTANTS: DEMON BEAR
THING: PROJECT PEGASUS
THOR VS. HULK: CHAMPIONS OF THE UNIVERSE
WOLVERINE EPIC COLLECTION: BLOOD DEBT
X-MEN GOLD VOL. 0: HOMECOMING
X-MEN GOLD VOL. 4: THE NEGATIVE ZONE WAR
ON THE MARVEL APP
SPECTACULAR SPIDER-MAN (2011) #1000
WOLVERINE (1988) #150-158
X-MEN (1991) #71-79
X-MEN/DR. DOOM ANNUAL (1998) #1
DIGITAL COLLECTIONS
ATLAS ERA STRANGE TALES MASTERWORKS VOL. 2
GOLDEN AGE ALL-WINNERS MASTERWORKS VOL. 3
THOR VS. HULK: CHAMPIONS OF THE UNIVERSE
HULK: VISIONARIES – PETER DAVID VOL. 5
INCREDIBLE HULK MASTERWORKS VOL. 5
SUB-MARINER MASTERWORKS VOL. 2
FRESHLY DIGITIZED COMICS ON MARVEL UNLIMITED
ALL-NEW GUARDIANS OF THE GALAXY #10
AMAZING SPIDER-MAN: RENEW YOUR VOWS #11
AMERICA #7
AVENGERS #11
AVENGERS ANNUAL #20
AVENGERS: DEATHTRAP – THE VAULT #1
DOCTOR STRANGE #25
GENERATIONS: MS. MARVEL & MS. MARVEL #1
INVINCIBLE IRON MAN #11
JEAN GREY #7
JOURNEY TO STAR WARS: THE LAST JEDI – CAPTAIN PHASMA #2
KA-ZAR #1-2
LUKE CAGE #5
MONSTERS UNLEASHED #6
PETER PARKER: THE SPECTACULAR SPIDER-MAN #4, 69-70
POE DAMERON #19
ROYALS #8
SPECIAL MARVEL EDITION #15-16
SPIDER-MEN II #3
STAR WARS ANNUAL #3
THE TOTALLY AWESOME HULK #23
THOR VS. HULK – CHAMPIONS OF THE UNIVERSE #2
U.S.AVENGERS #10
VENOM #154
VENOMVERSE #3
X-FACTOR #3-8, 106
X-FACTOR ANNUAL #1
X-MEN: GOLD #12
Download The Pull List from Marvel.com, check out Marvel Podcast Central, grab the This Week in Marvel RSS feed, and subscribe to This Week in Marvel for The Pull List updates on iTunes! Then head over to our Soundcloud hub to listen to more from Marvel!
The Hype Box
Can't-miss news and updates from across the Marvel Universe!