Podcasts
Published January 23, 2018
Tune in to Episode 3 of The Pull List
Check out the bite-sized podcast preview of this week's new Marvel Comics!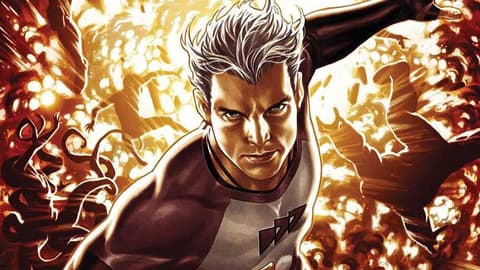 The herald of New Comic Book Day arrives! It's The Pull List!
In this episode, Ryan and Tucker provide bite-sized previews of January 24's new releases, including AMAZING SPIDER-MAN, BLACK PANTHER, MARVEL TWO-IN-ONE, PHOENIX RESURRECTION, and all the other comics that'll be waiting for you in stores tomorrow!
Download episode #3 of The Pull List from Marvel.com, check out Marvel Podcast Central, grab the This Week in Marvel RSS feed, and subscribe to This Week in Marvel for The Pull List updates on iTunes! Then head over to our Soundcloud hub to listen to more from Marvel!
Hosted by Creative Executive Ryan "Agent M" Penagos and Marvel.com Assistant Editor Tucker Markus, The Pull List gives you a taste of the books, characters, and storylines that'll be waiting for you on stands at your local comic shop or online retailer every Wednesday! We want your feedback on the new show, so tweet your questions, comments, and thoughts about The Pull List to @AgentM, @tuckermarkus, @chrissypedia, @TheEricGoldman, or @Marvel with the hashtag #ThisWeekinMarvel!
—
Here's the full list of what's available from Marvel this week:
Marvel Print Comics on Sale
AMAZING SPIDER-MAN #794
AVENGERS #677
BLACK PANTHER #169
INHUMANS JUDGEMENT DAY #1
LEGION #1 (OF 5)
LUKE CAGE #169
MARVEL TWO-IN-ONE #2
MARVEL'S AVENGERS INFINITY WAR PRELUDE #1 (OF 2)
PHOENIX RESURRECTION THE RETURN OF JEAN GREY #4 (OF 5)
STAR WARS POE DAMERON #23
THANOS #15
X-MEN BLUE #20
X-MEN BLUE ANNUAL #1
Collections on Sale
AMAZING SPIDER-MAN WORLDWIDE VOLUME 7
GUARDIANS OF THE GALAXY TELLTALE GAMES
IMMORTAL IRON FISTS MARVEL PREMIERE GRAPHIC NOVEL
IRON MAN EPIC COLLECTION VOLUME 15 DOOM
NEW MUTANTS BACK TO SCHOOL THE COMPLETE COLLECTION (THE 2003 SERIES)
PUNISHER VOLUME 3 KING OF NEW YORK STREETS
WOLVERINE OLD MAN LOGAN VOLUME 6 DAYS OF ANGER
WOLVERINE OLD MAN LOGAN VOLUME 6 DAYS OF ANGER (BLACK & WHITE EDITION)
X-MEN GOLD VOLUME 3 MOJO WORLDWIDE
On Sale on the Marvel App
DOOM (2000) #1-3
MAGNETO: DARK SEDUCTION (2000) #1-4
MARVEL TEAM-UP (1972) #2-11
MARVEL FANFARE (1982) #1-4, 6-7, 10-13, 15

Freshly Digitized Comics on Marvel Unlimited
ASTONISHING X-MEN #1
DEADPOOL KILLS THE MARVEL UNIVERSE AGAIN #2
MARVEL'S THOR: RAGNAROK PRELUDE #2
PETER PARKER: THE SPECTACULAR SPIDER-MAN #2
LUKE CAGE #3
MONSTERS UNLEASHED #4
SECRET EMPIRE: BRAVE NEW WORLD #4
AMERICA #5
ROYALS #5
STAR WARS: DARTH MAUL #5
ALL-NEW GUARDIANS OF THE GALAXY #6
SECRET EMPIRE #6
U.S.AVENGERS #8
X-MEN: GOLD #8
AMAZING SPIDER-MAN: RENEW YOUR VOWS #9
INVINCIBLE IRON MAN #9
ULTIMATES 2 #9
POE DAMERON #17
MS. MARVEL #20
THE TOTALLY AWESOME HULK #21
MIGHTY THOR #21
DOCTOR STRANGE #23
DAREDEVIL #24
SPIDER-MAN 2099 #25
NAMOR: THE SUB-MARINER #1-18
FALLEN ANGELS #1-8
The Hype Box
Can't-miss news and updates from across the Marvel Universe!