Podcasts
Published January 31, 2018
Tune in to Episode 4 of Marvel's The Pull List
Check out the bite-sized podcast preview of this week's new Marvel Comics!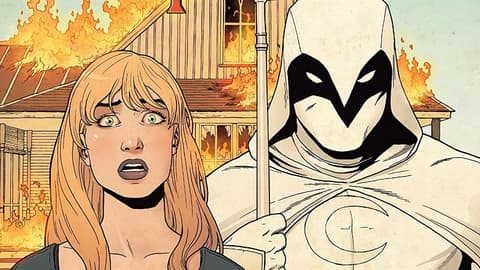 If New Comic Book Day is Galactus, then The Pull List is the Silver Surfer!
We herald this week's new releases with previews of all Marvel comics due out on January 31! In this episode, Ryan and Tucker break down what to expect from ALL-NEW WOLVERINE, MOON KNIGHT, PHOENIX RESURRECTION, TALES OF SUSPENSE, and all the other comics that'll be waiting for you in stores tomorrow!
Download episode #4 of The Pull List from Marvel.com, check out Marvel Podcast Central, grab the This Week in Marvel RSS feed, and subscribe to This Week in Marvel for The Pull List updates on iTunes! Then head over to our Soundcloud hub to listen to more from Marvel!
Hosted by Creative Executive Ryan "Agent M" Penagos and Marvel.com Assistant Editor Tucker Markus, The Pull List gives you a taste of the books, characters, and storylines that'll be waiting for you on stands at your local comic shop or online retailer every Wednesday! We want your feedback on the new show, so tweet your questions, comments, and thoughts about The Pull List to @AgentM, @tuckermarkus, @chrissypedia, @TheEricGoldman, or @Marvel with the hashtag #ThisWeekinMarvel!
—
Here's the full list of what's available from Marvel this week:
COLLECTIONS ON SALE
BLACK PANTHER: WHO IS THE BLACK PANTHER? (BARNES & NOBLE)
BEN REILLY: SCARLET SPIDER VOL. 2 – DEATH'S STING
INHUMANS VS. X-MEN
LEGION: SON OF X VOL. 1 – PRODIGAL
MYSTERY MEN: THE GOLDEN AGE
ROYALS VOL. 2: JUDGMENT DAY
U.S.AVENGERS VOL. 2: CANNONBALL RUN
VENOM VOL. 3: LETHAL PROTECTOR – BLOOD IN THE WATER
VENOM: LETHAL PROTECTOR
WEREWOLF BY NIGHT: THE COMPLETE COLLECTION VOL. 2
ZOMBIES ASSEMBLE VOL. 2 MANGA (DIGEST)
DIGITAL COMICS ON SALE THIS WEEK
BLACK PANTHER: LONG LIVE THE KING #4
ALSO ON SALE ON THE MARVEL APP THIS WEEK
AVENGERS CLASSIC #1-12
MARVEL TEAM-UP #13-20, 22 (1972)
TRUTH: RED, WHITE & BLACK #1-7
X-MEN: CHILDREN OF THE ATOM #1-6
DIGITAL COLLECTIONS ON SALE THIS WEEK
ATLAS ERA JOURNEY INTO MYSTERY MASTERWORKS VOL. 4
GOLDEN AGE MARVEL COMICS MASTERWORKS VOL. 6
INCREDIBLE HULK: PAST PERFECT
MARVEL TEAM-UP MASTERWORKS VOL. 2
SPIDER-MAN: THE GRAPHIC NOVELS
FRESHLY DIGITIZED COMICS ON MARVEL UNLIMITED
BEN REILLY: SCARLET SPIDER #5
BLACK PANTHER #16
CABLE #3
CAPTAIN AMERICA: SAM WILSON #24
CAPTAIN AMERICA: STEVE ROGERS #19
DEADPOOL #34
EDGE OF VENOMVERSE #3
GUARDIANS OF THE GALAXY: TELLTALE GAMES #1
I AM GROOT #3
ICEMAN #3
INFAMOUS IRON MAN #10
IRON MAN #49-51, 43, 38
MAN-THING #9-18
MOON GIRL AND DEVIL DINOSAUR #21
OCCUPY AVENGERS #9
SECRET EMPIRE #7
SPIDER-GWEN #22
SPIDER-MAN: THE FINAL ADVENTURE #1-4
SPIDER-MAN: THE PARKER YEARS #1
SPIDER-MAN: THE TRIAL OF VENOM #1
STAR WARS: DOCTOR APHRA #10
THANOS #9
THE MIGHTY CAPTAIN MARVEL #7
THE PUNISHER #14
THE UNBELIEVABLE GWENPOOL #18
WEAPON X #6
X-MEN: BLUE #8
The Hype Box
Can't-miss news and updates from across the Marvel Universe!