Podcasts
Published February 6, 2018
Tune in to Episode 5 of Marvel's The Pull List
Check out the bite-sized podcast preview of this week's new Marvel Comics!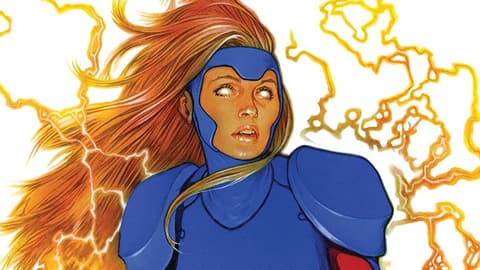 Get ready for New Comic Book Day with Marvel's The Pull List!
In this episode, Ryan and Tucker give you bite-sized previews of February 7's new releases, including AMAZING SPIDER-MAN, ROGUE & GAMBIT, SHE-HULK, X-MEN: RED, and all the other books that'll be waiting for you in stores tomorrow!
Here's the full list of what's available from Marvel this week:
MARVEL PRINT COMICS ON-SALE (2/5/18)
AMAZING SPIDER-MAN #795
AVENGERS #679
BLACK BOLT #10
BLACK PANTHER: THE SOUND AND THE FURY #1
DAREDEVIL #598
HAWKEYE #15
ICEMAN #10
INFINITY COUNTDOWN: ADAM WARLOCK #1
IRON FIST #77
RISE OF THE BLACK PANTHER #2
ROGUE & GAMBIT #2
RUNAWAYS #6
SHE-HULK #162
SPIDER-MAN #237
SPIDER-MAN/DEADPOOL #27
SPIRITS OF VENGEANCE #5
STAR WARS #43
VENOM #161
X-MEN: GOLD #21
X-MEN: RED #1
COLLECTIONS ON SALE
AMAZING SPIDER-MAN WORLDWIDE VOLUME 3 (HC)
AVENGERS AND CHAMPIONS WORLDS COLLIDE
BLACK PANTHER BY REGINALD HUDLIN THE COMPLETE COLLECTION VOLUME 3
DAREDEVIL SHADOWLAND OMNIBUS (HC)
DEADPOOL BY DANIEL WAY OMNIBUS VOLUME 1 (HC)
INHUMANS ONCE AND FUTURE KINGS
INVINCIBLE IRON MAN BY BRIAN MICHAEL BENDIS (HC)
IRON FIST #77
MARVEL UNIVERSE GUARDIANS OF THE GALAXY DIGEST VOLUME 6
STAR WARS DOCTOR APHRA VOLUME 2 DOCTOR APHRA AND THE ENORMOUS PROFIT
ALSO ON SALE ON THE MARVEL APP THIS WEEK
A-NEXT #8-12 (1998)
DEADLY HANDS OF KUNG FU #2-31 (1974)
QUASAR #2-9 (1989)
STARTLING STORIES: BANNER #1-4 (2001)
DIGITAL COLLECTIONS ON SALE THIS WEEK
ATLAS ERA TALES TO ASTONISH MASTERWORKS VOL. 1
HULK: RETURN OF THE MONSTER
QUASAR CLASSIC VOL. 1
THE 'NAM VOL. 1
WOLVERINE & BLACK CAT: CLAWS
FRESHLY DIGITIZED COMICS ON MARVEL UNLIMITED
ALL-NEW GUARDIANS OF THE GALAXY #7
AVENGERS #10
BLACK BOLT #4
CHAMPIONS #11
DARTH VADER #4
GENERATIONS: BANNER HULK & THE TOTALLY AWESOME HULK #1
HAWKEYE #9
HOWARD THE DUCK #1
IMMORTAL IRON FISTS #1-6
IRON FIST #6
JESSICA JONES #11
KA-ZAR #3-7
MARVEL UNIVERSE AVENGERS: ULTRON REVOLUTION #12
MARVEL'S THOR: RAGNAROK PRELUDE #3
NICK FURY #5
SENSATIONAL SHE-HULK #31-46, #48-50
SPIDER-MAN #19
SPIDER-MAN/DEADPOOL #20
STAR WARS: ROGUE ONE ADAPTATION #5
THE UNSTOPPABLE WASP #8
VISION: DIRECTOR'S CUT #3
X-MEN GOLD #9
Download episode #5 of The Pull List from Marvel.com, check out Marvel Podcast Central, grab the This Week in Marvel RSS feed, and subscribe to This Week in Marvel for The Pull List updates on iTunes! Then head over to our Soundcloud hub to listen to more from Marvel!
The Hype Box
Can't-miss news and updates from across the Marvel Universe!