Podcasts
Published February 28, 2018
Tune in to Episode 8 of Marvel's The Pull List
Check out the bite-sized podcast preview of this week's new Marvel Comics!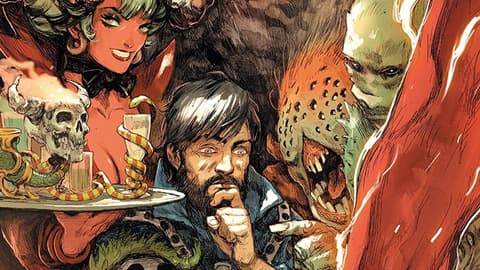 It's New Comic Book Day, True Believers! And that means it's time for Marvel's The Pull List!
In this episode, Ryan and Tucker preview February 28's new releases, including ALL-NEW WOLVERINE, DARTH VADER, DOCTOR STRANGE, JESSICA JONES, and all the other books that will be waiting for you in stores tomorrow!
Here's the full list of what's available from Marvel this week:
MARVEL PRINT COMICS
ALL-NEW WOLVERINE #31
AMERICA #12
AVENGERS #682
BLACK PANTHER #170
CAPTAIN MARVEL #129
CHAMPIONS #17
DARTH VADER #12
DESPICABLE DEADPOOL #295
DOCTOR STRANGE #386
GWENPOOL, THE UNBELIEVABLE #25
INVINCIBLE IRON MAN #597
JESSICA JONES #17
LEGION #2
LOCKJAW #1
MARVEL'S AVENGERS: INFINITY WAR PRELUDE #2
MOON GIRL AND DEVIL DINOSAUR #28
MOON KNIGHT #192
PETER PARKER: THE SPECTACULAR SPIDER-MAN #300
SPIDER-GWEN #29
SPIDER-MAN/DEADPOOL #28
THANOS #16
X-MEN: BLUE #22
COLLECTIONS
ATLAS ERA TALES TO ASTONISH MASTERWORKS VOL. 4
CAPTAIN AMERICA: THE ADVENTURES OF CAPTAIN AMERICA
DESPICABLE DEADPOOL VOL. 1: DEADPOOL KILLS CABLE
GOLDEN AGE MARVEL COMICS MASTERWORKS VOL. 7
JUBILEE BY ROBERT KIRKMAN
NEW MUTANTS EPIC COLLECTION: CURSE OF THE VALKYRIES
SPIDER-MAN THROUGH THE DECADES
STAR WARS: JEDI OF THE REPUBLIC – MACE WINDU
THE 'NAM VOL. 2
THE UNBEATABLE SQUIRREL GIRL VOL. 7: I'VE BEEN WAITING FOR A SQUIRREL LIKE YOU
THE UNSTOPPABLE WASP VOL. 2: AGENTS OF G.I.R.L.
UNCANNY AVENGERS: UNITY VOL. 5 – STARS AND GARTERS
WEAPON X VOL. 2: THE HUNT FOR WEAPON
DIGITAL COMICS
BLACK PANTHER: LONG LIVE THE KING #6
ALSO ON SALE ON THE MARVEL APP
MARVEL AGE SPIDER-MAN (2004) #1-20
NEW MUTANTS (1973) #73-85
THE 'NAM (1986) #11-20
ADVENTURES OF CAPTAIN AMERICA (1991) #1-4
DIGITAL COLLECTIONS
AMERICA VOL. 1: THE LIFE AND TIMES OF AMERICA CHAVEZ
AVENGERS ACADEMY: THE COMPLETE COLLECTION VOL. 1
LEGION: SON OF X VOL. 2 – INVASIVE EXOTICS
FRESHLY DIGITIZED COMICS ON MARVEL UNLIMITED
BEN REILLY: SCARLET SPIDER #6
BLACK GOLIATH #1
CABLE #4
DAREDEVIL #25
DEADPOOL KILLS THE MARVEL UNIVERSE AGAIN #4
DOCTOR STRANGE #24
EDGE OF VENOMVERSE #5
ELEKTRA #-1-19
GENERATIONS: THE UNWORTHY THOR & THE MIGHTY THOR #1
I AM GROOT #4
ICEMAN #4
PETER PARKER: THE SPECTACULAR SPIDER-MAN #3
SECRET EMPIRE #9
STAR WARS: DOCTOR APHRA ANNUAL #1
THE PUNISHER #15
WEAPON X #7
X-MEN: GOLD #10
Download episode 8 of The Pull List from Marvel.com, check out Marvel Podcast Central, grab the This Week in Marvel RSS feed, and subscribe to This Week in Marvel for The Pull List updates on iTunes! Then head over to our Soundcloud hub to listen to more from Marvel!
The Hype Box
Can't-miss news and updates from across the Marvel Universe!