Podcasts
Published March 7, 2018
Tune in to Episode 9 of Marvel's The Pull List
Check out the bite-sized podcast preview of this week's new Marvel Comics!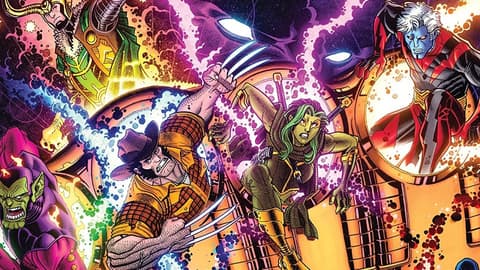 Just in time for New Comic Book Day, it's Marvel's The Pull List!
Celebrate with Ryan and Tucker's preview of March 7's new releases, including AMAZING SPIDER-MAN, HAWKEYE, INFINITY COUNTDOWN, X-MEN: RED, and all the other books in stores today!
Here's the full list of what's available from Marvel this week:
MARVEL PRINT COMICS ON-SALE
AMAZING SPIDER-MAN #797
AVENGERS #683
BLACK BOLT #1
CAPTAIN AMERICA #699
DOCTOR STRANGE: DAMNATION #2
HAWKEYE #16
ICEMAN #11
INFINITY COUNTDOWN #1
MARVEL'S ANT-MAN AND THE WASP PRELUDE #1
RISE OF THE BLACK PANTHER #3
ROGUE & GAMBIT #3
SHE-HULK #163
SPIDER-MAN #238
STAR WARS #44
VENOM #163
X-MEN: GOLD #23
X-MEN: RED #2
COLLECTIONS
AVENGERS & THE INFINITY GAUNTLET
FROM THE MARVEL VAULT
GOLDEN AGE U.S.A. COMICS MASTERWORKS VOL. 2
GOLDEN AGE YOUNG ALLIES MASTERWORKS VOL. 2
SPIDER-MAN: MARVEL TEAM-UP BY CLAREMONT AND BYRNE
THE 'NAM VOL. 3
THE SENTRY
DIGITAL COMICS
AVENGERS: BACK TO BASICS #1
ALSO ON SALE ON THE MARVEL APP 
AVENGERS: INFINITY #1-4
CAPTAIN AMERICA COMICS (1941) #76-78
MARC SPECTOR: MOON KNIGHT (1989) #8-10
THE 'NAM (1986) #21-30
FRESHLY DIGITIZED COMICS ON MARVEL UNLIMITED
AMERICA #6
BLACK PANTHER #14-15, 17
BLACK PANTHER AND THE CREW #6
DEADPOOL #35
DOCTOR STRANGE #57
DOCTOR STRANGE AND THE SORCERERS SUPREME #11
GENERATIONS: HAWKEYE & HAWKEYE #1
GUARDIANS OF THE GALAXY: TELLTALE GAMES #2
INFAMOUS IRON MAN #11
JEAN GREY #6
JUNGLE ACTION #8-22, #24
MARVEL PREMIERE #51-53
THE MIGHTY CAPTAIN MARVEL #8
MOON GIRL AND DEVIL DINOSAUR #22
SECRET EMPIRE #10
SPIDER-GWEN #23
STAR WARS #35
STAR WARS: JEDI OF THE REPUBLIC – MACE WINDU #1
THANOS #10
UNCANNY AVENGERS #26
X-MEN: BLUE #10
Download The Pull List from Marvel.com, check out Marvel Podcast Central, grab the This Week in Marvel RSS feed, and subscribe to This Week in Marvel for The Pull List updates on iTunes! Then head over to our Soundcloud hub to listen to more from Marvel!
The Hype Box
Can't-miss news and updates from across the Marvel Universe!