TV Shows
Published March 13, 2017
A Guide to 'Marvel's Inhumans'
Marvel's Inhumans' television series heads to IMAX and ABC this fall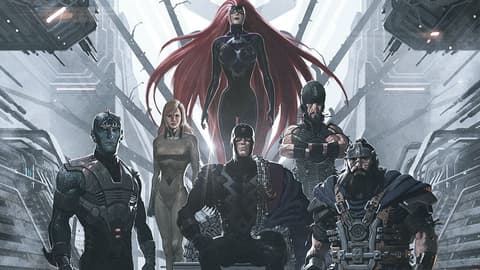 Bred by an alien race to be a warrior caste and possessing alien DNA, the Inhumans exist as humans possessed of incredible and otherworldly powers when exposed to the substance known as Terrigen. Living secretly, for the most part, among their fellow man, the Inhumans forge their own destiny as a separate society and sometimes even Earth's protectors. The Royal Family of the Inhumans guides their people as well as sets standards and laws by which they live.
This September, "Marvel's Inhumans" will explores the never-before-told epic adventure of the royal family including Black Bolt, the enigmatic, commanding King of the Inhumans, with a voice so powerful that the slightest whisper can destroy a city.
It was previously announced that a version of the first two episodes, shot entirely with IMAX® cameras, will premiere exclusively in IMAX® theatres for a two-week window beginning September 1, 2017, prior to the ABC network television run.
The TV version of the Inhumans have been cast, and what follows is a look at the actors and their characters.
Black Bolt – The enigmatic, commanding King of the Inhumans, with a voice so powerful that the slightest whisper can destroy a city.
Black Bolt will be played by Anson Mount, known for his roles in the film Tully, and on the TV series Hell on Wheels, as well as voice work in video games.
Medusa – Queen of the Inhumans and wife of Black Bolt — his most trusted advisor, a fiercely resilient warrior who has the ability to move and control her hair the way most people use their hands and fingers.
Medusa will be played by Serinda Swan, no stranger to such roles from her time on such shows as Ballers, Graceland, Smallville and Supernatural, as well as work on Breakout Kings and Chicago Fire.
Maximus –the clever and charming Inhuman that is fiercely devoted to the people of Attilan, especially his brother, the King – although he harbors an intense desire to wear the crown himself.
Maximus will be played by Iwan Rheon, best known for his role on Game of Thrones and also a singer, musician, stage performer, and video game voice artist.
Karnak – Cousin and closest advisor to Black Bolt. His gift is an ability to see the fault in all things – people, plans, structures, everything. He's Black Bolt's most ardent supporter and strategist and is often seen as the royal family's planner and philosopher.
Karnak will be played by Ken Leung, most recently known for his role as a general in Star Wars: The Force Awakens, Lost, Night Shift and his other foray into Marvel film territory, X-Men: The Last Stand.
Gorgon – Cousin of Black Bolt, member of the Royal family, and leader of Attilan's military. With super strong legs, complete with hooves, he can generate destructive seismic waves with a single stomp makes him a force to be reckoned with among Inhumans. The yin to his cousin Karnak's yang, Gorgon would rather fight than talk to solve his problems.
Gorgon will be played by Eme Ikwuakor, who has essayed parts in Concussion, Extant, CSI: Los Angeles, and How to Get Away with Murder.
Crystal – Medusa's sister, Crystal, is the youngest member of the royal family and has the ability to control the four elements of fire, earth, water and air. Impetuous and independent, she is also deeply devoted to her family.
Crystal will be played by Isabelle Cornish, who has played parts in TV's Australia Day and Puberty Blues.
Triton – Black Bolt's cousin, he's calm under pressure and supremely athletic. His gift is his fish-like ability to live underwater.
Triton will be played by Mike Moh, best known for his recurring part as Ryu in Street Fighter: Assasin's Fist and Empire.
Auran – Head of the Royal Guards on Attilan, a capable and no-nonsense woman. She is fiercely loyal to the King of Attilan.
Auran will be played by Sonya Balmores, best known for roles in Beyond the Break and Soul Surfer.
Mysterious, undisclosed character – A smart, intense, and focused woman. Her job at a private aerospace company is her life, second only to her passion for all things space and lunar.
This mysterious character will be played by actress Ellen Woglom who has appeared in Californication and Outlaw.
Lockjaw – Crystal's 2,000 lb canine companion; he is a two-thousand-pound dog (yes, a dog!) with the ability to teleport.
Lockjaw will play himself.
The Hype Box
Can't-miss news and updates from across the Marvel Universe!