TV Shows
Published March 6, 2021
Anthony Mackie on His Next Chapter as Falcon
The Marvel Studios star talks to Variety about Sam Wilson's journey, Cap's shield, and more!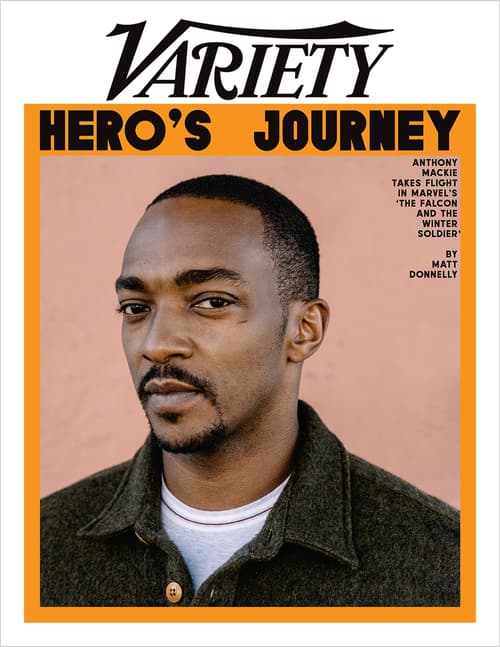 We're officially two weeks away from the premiere of The Falcon and The Winter Soldier, which sees the return of two of the MCU heroes — Sam Wilson (Falcon) and Bucky Barnes (Winter Soldier). In the six-episode series, the pair, who came together in the final moments of Avengers: Endgame, team up on a global adventure that tests their abilities, and their patience. Directed by Kari Skogland with Malcolm Spellman serving as head writer, the series also stars Daniel Brühl as Zemo, Emily VanCamp as Sharon Carter, and Wyatt Russell as John Walker.
Speaking to Variety, Anthony Mackie, who joined the MCU with Marvel Studios' Captain America: The Winter Soldier, shared some insight on helming his own Marvel Studios series, "I was really surprised and affected by the idea of possibly getting the shield and becoming Captain America."
Marvel Studios president Kevin Feige shed light on how Disney+ presented the right opportunity to tell this story. 
"Suddenly, what had been a classic passing of the torch from one hero to another at the end of Endgame became an opening up of our potential to tell an entire story about that. What does it really mean for somebody to step into those shoes, and not just somebody but a Black man in the present day?" said Feige to Variety.
"Sam Wilson as played by Mackie is different than a Thor or a Black Panther, because he's not from another planet or a king from another country," continued Feige. "He's an African American man. He's got experience in the military and doing grief counseling with soldiers who have PTSD. But where did he grow up? Who is his family? Mackie was excited to dig into it as this man, this Black man in particular, in the Marvel version of the world outside our window."
What makes Sam Wilson's story worth telling? "I'm basically the eyes and ears of the audience, if you were put in that position where you could go out and fight alongside Super Heroes," noted Mackie. "It adds a really nice quality to him, that he's a regular guy who can go out there and do special things."
And what does the man who passed the torch has to say? Chris Evans, who played Steve Rogers (Captain America), explained, "[His] role within the Marvel universe has answered the call to action time and time again. He's proven his courage, loyalty and reliability over multiple films. Sam has given so much, and he's also lost a lot too. He believes in something bigger than himself, and that type of humility is necessary to carry the shield."
For more on the series, Mackie's approach, and collaborating and learning from the late Chadwick Boseman, Samuel L. Jackson, Morgan Freeman, and more, head on over to the latest cover story of Variety.
Stay tuned to Marvel.com for more details! And be sure to follow Marvel on Facebook, Twitter, and Instagram. 
Looking for more Marvel movies and shows to stream? Check out everything on Disney+, Hulu, and ESPN+ right here, and where to find all your favorite Super Heroes right here. Sign up for Disney+ and start streaming now! 
The Hype Box
Can't-miss news and updates from across the Marvel Universe!