TV Shows
Published March 15, 2021
'Assembled: The Making of WandaVision' Is Now Streaming
Discover some of our favorite fun facts, and watch the special exclusively on Disney+.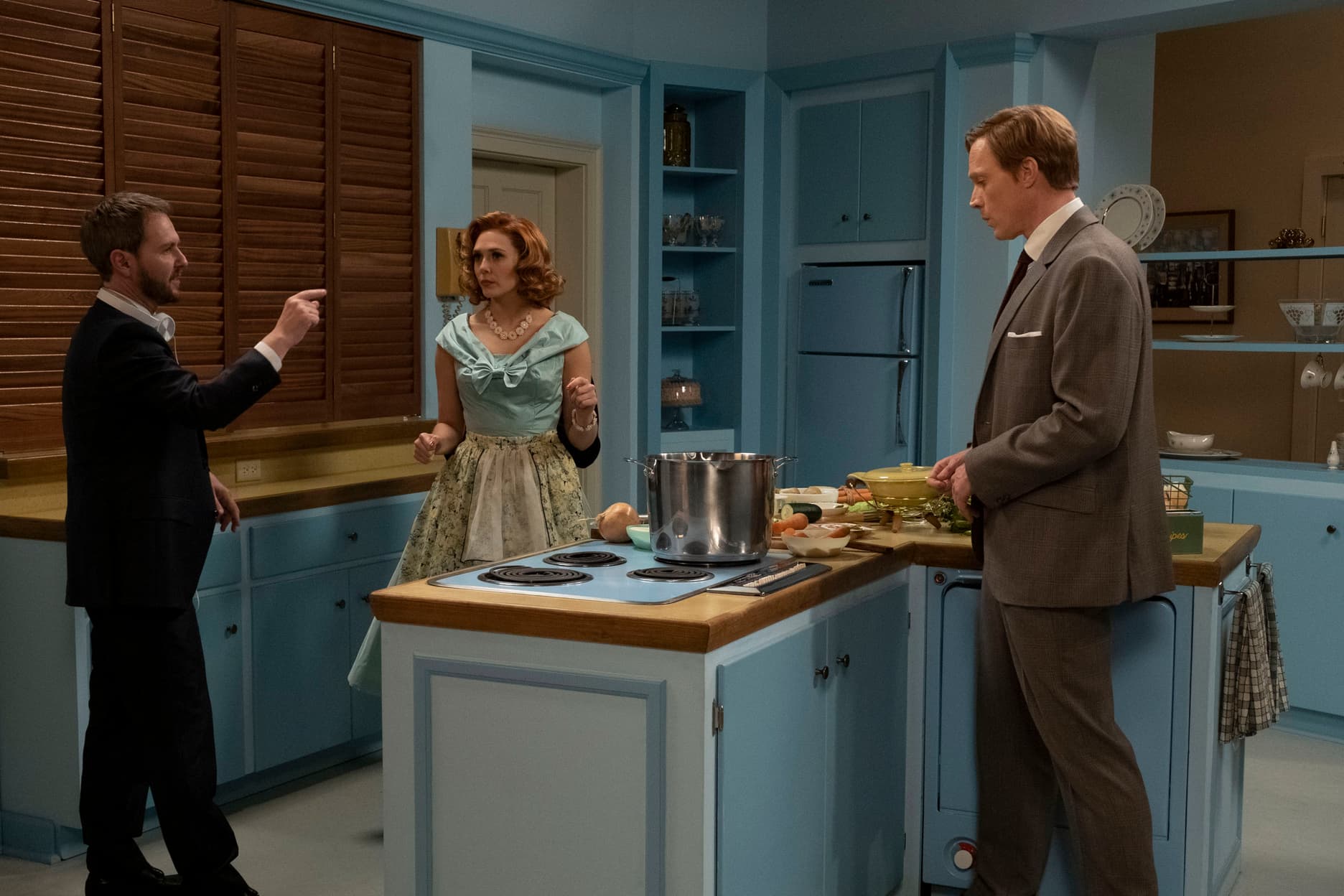 Now that you've seen every episode of Marvel Studios' WandaVision, it's time to pull the curtain back a little bit more on the first MCU series on Disney+. The first episode of Marvel Studios' Assembled: The Making of WandaVision dives into the series, starting with Wanda Maximoff and Vision's entrance into the MCU and takes us on a journey to where they are today —  Westview, New Jersey.
The hour-long documentary (which is part of a new series, arriving exclusively on Disney+) takes viewers beat by beat, character by character through all nine episodes of WandaVision, revealing how the show came to life, one sitcom homage at a time.
Watch Assembled: The Making of WandaVision now on Disney+, and read on to discover some of the most interesting things we learned!
Episode 1 was really filmed before a live studio audience
Just like the episode title says, a live audience really was brought in for the 1950s-inspired first episode. Obviously with the cast in full period outfits for the timeframe, the crew decided to dress up, too, creating a completely immersive experience for everyone — including the audience! While both Elizabeth Olsen and Paul Bettany were nervous to work for the first time in front of a television audience (both had done live theater before), their worries were quickly put to rest the second the audience laughed. "I've never been allowed to be funny!" Olsen explains.
Debra Jo Rupp was maybe the most excited to be in a Marvel series
The veteran sitcom actress had no idea what she was getting into for WandaVision as Mrs. Hart, and only agreed to the part because otherwise her great nephew would never visit her again. "She loved filming the Marvel-y stuff in the finale, she thought it was fabulous," Olsen explained. Matching that excitement, Rupp herself explained how she had to have digital full body scans for the finale. "I took pictures [of them], it's amazing, but I won't show them to anyone, Marvel!"
The emotional foundation between Vision and Wanda has been brewing for a long time
Both Wanda and Vision were introduced in Marvel Studios' Avengers: Age of Ultron, and even way back when, seeds were being planted for their future relationship with things like glances that lingered a little too long. Then came Marvel Studios' Captain America: Civil War, where Wanda was now, "Finding her place in the Avenger Compound and finding solace with Vision." Flash forward to WandaVision with Olsen adding, "It's lovely that [the series] is told through their love story."
Kathryn Hahn loves playing Agatha
Though she starts off playing into the "nosey neighbor" sitcom trope, eventually it's revealed that Agnes is actually Agatha Harkness. "Her true center is a fantastical witch," Hahn explains, adding that she's been keeping the secret for so long, she's "so excited to say this out loud!" When the role was first pitched to her, she couldn't "imagine a part in the Marvel universe that I would want to play more."
Teyonah Parris manifested the role of Monica
When Parris was asked to audition for a secret Marvel project, she had no idea what she was auditioning for — let alone who. She had a thought that it might be for an adult Monica Rambeau, and shared that hope with her agent. When the call came in saying that she had gotten that exact role, "I lost it, and I practically tried to jump off a set of stairs because I thought I could fly," adding, "to have a black female, Super Hero onscreen is monumental."
Olsen was happy to finally wear Wanda's classic costume
In the earlier days of the MCU, Olsen was promised that she wouldn't ever don Wanda's classic leotards and tights look, breathing a huge sigh of relief. Now, years later, "The way we incorporated the retro costume of Scarlet Witch [into the show] it gave me so much joy. If you had asked me 7 years ago to wear that, even ironically, I'd be like 'oh really?' But now that I have so much love for the fandom and comics it's so fun to be in that costume." 
Everyone gets to fly!
While Olsen is used to being harnessed in mid-air, WandaVision was the first time there were multiple fliers, and multiple mid-air fight scenes that needed to be choreographed. Explaining that for roughly the last six weeks of filming, "we're always harnessed," Olsen adds that the experience "was so fun, I love flying, I love doing the flying work. But it's the first time Marvel's really had to create a full fight sequence in the air." Hahn was also excited to take to the skies, noting that the first time she put on Agatha's full witch-look and was hoisted into the air on all the harnesses, it was so gratifying to know everyone's hard work had come together for this moment. (Bonus points for Olsen yelling to Hahn, off screen, "You look amazing!" with Hahn shouting back, "You look amazing, too!")
The Hex is based on old school television
Wanda creates a huge boundary around Westview but...what does it look like? As Visual Effects Supervisor Tara Demarco explains, it actually looks like old television sets. "We studied how magnets were drawn on old CRT televisions and the magnetization you would get across the screen," she explains. "We went to photography, and we found our favorite images for what this boundary could be using the language of television. Westview was meant to be Wanda's idyllic town... So that was a touchstone for everything about Wanda's home. The town came from this concept that she recreated the reality she wanted from her childhood from those television shows."
The MCU was already episodic, now it's just serialized
As Bettany muses, the MCU has already spanned 23 interconnected stories, so jumping to television is not different. The only thing difference, though, as Olsen notes, is "The focus on Wanda and Vision."
Wanda's journey is moving forward
The series wraps with Wanda, once again, having to say goodbye to Vision. But, it's a huge step forward for the newly minted Scarlet Witch. "Wanda has really accepted who she is and puts to bed so much pain," Olsen explains. "We find her finally having peace and being okay. I'm so excited now that we've cracked open this other part of her so there could hopefully be more stories to tell. It's been such a gift. I really loved doing the show."
Every episode of Marvel Studios' WandaVision is now streaming on Disney+.
Want more exciting information about Phase 4? Find the latest Marvel Cinematic Universe news right here — and stay tuned for more!
This is just the beginning of the Phase 4 news. Stay tuned to Marvel.com for more details! And be sure to follow Marvel on Facebook, Twitter, and Instagram.
Looking for more Marvel movies and shows to stream? Check out everything on Disney+, Hulu, and ESPN+ right here, and where to find all your favorite Super Heroes right here. Sign up for Disney+ and start streaming now!
The Hype Box
Can't-miss news and updates from across the Marvel Universe!