TV Shows
Published August 6, 2021
Go Behind-the-Scenes with 'Marvel's Spidey and his Amazing Friends'
The creative force behind the new original series share some insight!
Get ready!
It's time to suit up and swing out! Marvel's Spidey and his Amazing Friends debuted earlier today with a simulcast on Disney Channel and Disney Junior, and we're excited to share with you what went in to creating Marvel's very first full-length series for preschoolers!
As songwriter/composer Patrick Stump points out, "It's Spidey but it's also his amazing friends. Spidey couldn't succeed without his friends."
Supervising producer Chris Moreno shares the approach to the series, "We're taking these characters and we're introducing them to a younger audience who's meeting them for the first time," as well as acknowledges the comic book inspiration for the series' visual elements, noting the "panels" and "old printing dot patterns."
Lori Mozilo, vice president, original programming, at Disney Junior reveals that the supporting characters Peter Parker, Miles Morales, and Gwen Stacy team up with are "of paramount importance" for the universe the series is building, "The team calls upon additional Marvel heroes: Ms. Marvel, Black Panther, and Hulk."
Mozilo adds, "We talked to people, particularly super fans of Marvel, that this is the show they were waiting for when they were little kids."
Speaking to the three lead heroes' powers, Mozilo describes, "Peter and Miles and Gwen all have the classic Spider-power that Spider-Man has. Any additional powers that Peter has are from his inventions." 
Calling out Peter's inventions, Moreno states, "Trace-e is Peter's part-pet, part-helper. The name itself is based off of the Spider-Tracer from the comic books, which was a little device that Spidey could use to stick on things and track them." Learn more about Trace-e below!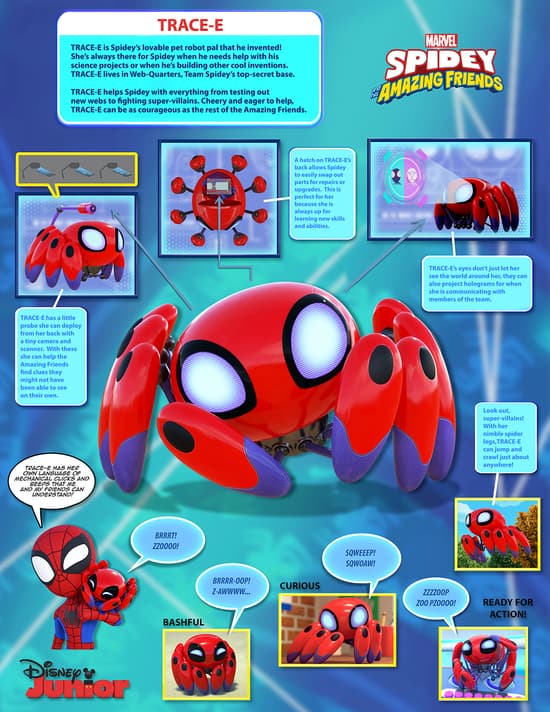 We previously covered the involvement of GRAMMY® Award-nominated musician Patrick Stump, lead singer of the multi-platinum selling rock band Fall Out Boy, on the series. In addition to creating the theme song, Stump composed and performed "The Transformation Song" above!
"Composing and writing all the music for the series has been incredible because I'm such a big Spidey fan," shares Stump in the featurette below. "The theme song for Spidey and his Amazing Friends, you couldn't pull me away from the studio after I recorded it because I just wanted to add more stuff; I was so excited."
"There's a certain frenetic energy to Spidey and the web-slinging that I just wanted to put into it," continues Stump. "So it was all of those things speed up and made over excited because that's how I was feeling." Stump goes on to explain that he plays the vast majority of the instruments on the show, reflecting "it was really neat to get to learn trombone and french horn.
Another exciting element in developing the characters on the series was giving each of the heroes as well as the villains a different sound. Highlighting the Green Goblin, Stump gave the classic Spidey Villain a "troll-polka kind-of feel" because "he's scary but also weird," and "he's a very strange villain."
But his favorite character he got to create a distinct sound for, Stump exclaims, "My favorite one, hands down, was Black Panther," whose sound incorporates the talking drum. 
"It's incredible; I get to write music for all these characters I've been attached to since I was a little kid," Stump reflecting on his overall experience, "My kids are so excited and I definitely think this is the coolest I'm ever going to be with them. It's a dream come true and hopefully you can hear that through the music."
Marvel's Spidey and his Amazing Friends is produced by Disney Junior and Marvel Entertainment in association with Atomic Productions. Harrison Wilcox (Marvel's Avengers: Black Panther's Quest) is executive producer, and Steve Grover (Hello Ninja) is supervising producer. Chris Moreno (Disney Junior's Muppet Babies) and Chris Gilligan (Disney Junior's T.O.T.S.) serve as supervising director and consulting director, respectively.
The series is available in DisneyNOW on Friday, August 6, and will begin streaming on Disney+ shortly thereafter. Launch platforms will vary in international territories. 
Want to stay on top of everything in the Marvel Universe? Follow Marvel on social media—Twitter, Facebook, and Instagram—and keep watching Marvel.com for more news!
The Hype Box
Can't-miss news and updates from across the Marvel Universe!