TV Shows
Published April 16, 2018
Bill Irwin and Amber Midthunder on the Evolution of Cary and Kerry in 'Legion'
The 'Legion' stars on how things are changing for the two mutants and their unique dynamic.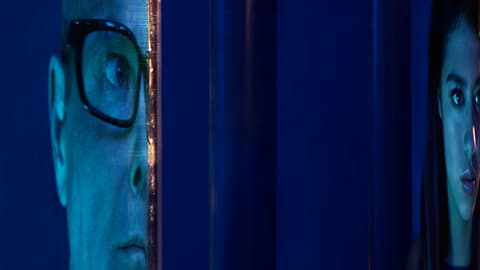 One of the fascinating character dynamics on "Legion" — airing Tuesday nights on FX — is Cary (Bill Irwin) and Kerry (Amber Midthunder) Loudermilk, two mutants who co-exist within Cary's body, with Kerry only physically appearing when needed.
Recently on the series though, things have been changing for them, including a crisis in last week's episode that found Cary instead be absorbed within Kerry, which resulted in a notable change in appearance for Kerry when it came to her hair. Meanwhile, larger questions about what happens to them down the line — especially considering Cary is physically much older than Kerry — continue to be raised.
During a visit to the set of "Legion," Irwin and Midthunder spoke to Marvel.com about the new season and the unique challenges their characters face.
Discussing the duo, Irwin said, "They're ever evolving and it's really interesting. In Season 2, things have happened between these two characters that inhabit one body so that we're forever feeling out our duality. But as the same time, we as a storytelling group, this production, we're going back and looking at this proposition and getting a second chance to take it on. Last year, as with all first seasons, we hit the ground running. Amber and I were merged. Now we're figuring out what that means for us as characters and for us as storytellers and how the rest of the set of characters take that on."
As far as what just occurred on "Legion," Irwin added, "There are some complications when I look at my other half, who is in real life 40 years younger, in the episode which we just completed, and she has a couple of gray hairs."
Said Midthunder, "I think before Season 1, the two of them had their life where they each played roles in their unit. If the two of them are one piece, they each had their territories that they covered in life and they could do that. And then David came in and it continued, but it really forced them to look at themselves and called into question – are they two people who are dependent on each other? Is it okay? Or are they truly unhealthy? Are they codependent and it's a problem? I think it called into question a lot of things about their relationship and their living situation that now can't be ignored."
Midthunder noted that for Kerry, when it came to these issues, "I think if it were up to her, she'd ignore it. She'd be like 'It's fine, I'm happy with the way things are! I have this, I have you, we're okay.' But he knows that you can't just live like that forever. Some hard unknowns have been called into question that they have to figure out the truth to. Like he had that moment last season of 'I wonder what happens to her when I die?' They have to figure that out. You can't ignore that anymore. It's like being in high school where you're like 'real life is never gonna happen' and the years go by and then you're like 'Oh, I actually have to become an adult? I have to be independent? I have to do life by myself?' I think that's sort of what she's dealing with. She's like 'No, we'll just coast.' And he's like 'No, we have to figure this out.' I think it's about her learning to be independent and how she views that and what that means to her because it's more a question of the stability of their relationship in her eyes. The more independent she is, the more she views it as distance between the two of them. When you don't know anything else and you rely so much on someone and they feed your soul, you don't want them to be distant from you. So, I think that's really where she's at."
In Season 2 of "Legion," the action has shifted from Summerland to Division 3, and Irwin noted that for scientist Cary, "He does have slightly greater resources perhaps. And of course the group of mutants doesn't have to expend quite so much energy hiding from D3. I love the texture and I hope to get to sit down and talk to Noah [Hawley] about this but it seems to me that those of us who created the Summerland environment in which the story took place last season, there must be some undercurrents of 'Oh, that's how they do it at D3.'"
Kerry in the meantime is a fighter, and Midthunder said that when it came to filming her action scenes, "It's always a challenge. but I have a lot of fun with it. It's definitely something I look forward to. Travis Wong is our fight choreographer, Mike Gaines is our stunt coordinator, and they're both really amazing. We work really well together. They've been great about teaching me things and really balancing [it all]. On a show like this it's not just like 'A fight is a fight.' We have to do the narrative also and do the internal and show the internal physically. So that's been a lot of fun to unravel that and figure out who she is and how to show it – because Kerry is not a person who is very emotionally aware of herself. So she would take her feelings out without understanding them. But she would take them out physically, so how do we transfer that? As an actor, I understand how she's feeling. How do we show that through her way of showing it? So that's been a lot of fun."
New episodes of "Legion" air Tuesday nights at 10:00pm ET/PT on FX.
The Hype Box
Can't-miss news and updates from across the Marvel Universe!