TV Shows
Published July 31, 2018
Bringing The Comics World of 'Marvel's Cloak & Dagger' To Life
How the story of Ty and Tandy remains relevant and fresh.
Marvel's television shows are based on its comics origins, and while some require updating to keep up with the times, "Marvel's Cloak & Dagger" remains completely suited for the modern era.
The story of Tandy Bowen and Tyrone Johnson, two teenagers from very different backgrounds who find their powers and themselves burdened is rooted in Marvel's deep publishing history. The storytelling, while remaining true to the comics, also had to resonate with the relevance of the socio-economic and political atmosphere today. This complicated tightrope walk required authenticity and well-crafted emotional storytelling.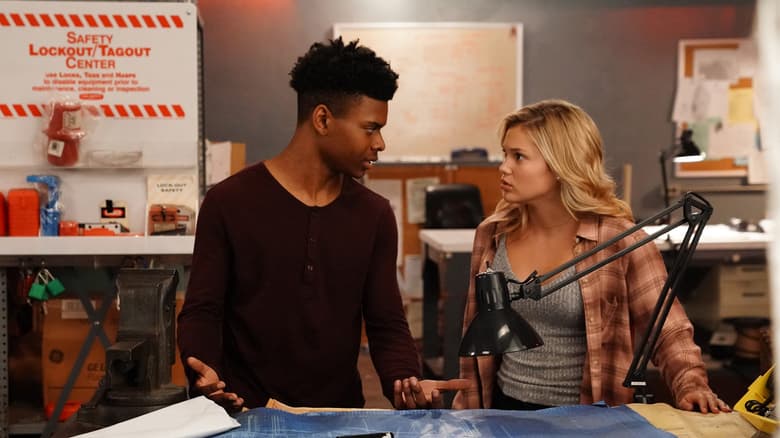 Executive producer and showrunner Joe Pokaski looked to the past for inspiration. "The original mini series is kind of the gold standard for me. The comics, from the very beginning, the way their powers worked, the idea of the cloak and what the cloak could do, and the way the darkness sort of seeps out from the character and the idea of the brightness that is Tandy's character and the daggers that fly through the night… Working all of that out from a physical sense was a lot of fun, to have something that is not dependent upon that. But when we do get to those things, they feel authentic."
Bringing those true comic book moments from page to screen was key to making the show feel emotional and real. "I'm sure it drove Gina [Prince-Bythewood] crazy," said Pokaski. "It was important to make sure we had an aspect of their powers that were emotional. I liked the idea of a cynic like Tandy stepping into see somebody's hope and the idea of someone like Tyrone who feels afraid to see that other people are afraid too. Starting on the page, we wrote it and then put it in the hands of Gina to kind of figure out how to show that in the real world."
Pilot director Prince-Bythewood agreed that taking on the challenge wasn't easy. "Obviously when you're doing TV, you don't have a budget like Black Panther or Avengers," shared Prince-Bythewood. "But there's an expectation by the audience when they're watching it. They want to believe it. It really is tied into the grounded feel that we wanted and really went after, in terms of showing what the powers are and how they're manifesting in a grounded way. In doing that, it helped us believe it and make it emotional."
The story of series centers on the characters and their emotional arcs. Jeph Loeb described the importance of showing Ty and Tandy's complicated relationship, "One of the remarkable things about what Joe Pokaski did to the story is that he really wanted to explore these characters from all aspects. It was important to us that we do something a little different. Often times you see an origin story told from the point of view of the character themselves. Since these two people are so close to each other, what if we flipped it? What if one found out about the other one and one found out about the other? The audience learns it either way but you get the added advantage of seeing what Ty thinks of Tandy and what Tandy thinks of Ty and how that will complicate each other going forward."
One major change from the comics that helped set the tone for the show was moving Ty and Tandy's home base from New York to the historically-rich city of New Orleans. Pokaski felt the move only made the show stronger. "I love a lot of super hero television," reveled Pokaski. "But man, it seems like New York has a lot of super heroes. So when Jeff and I first started talking about doing New Orleans, I got very excited. The more we started figuring out who Tandy and Tyrone were in the TV world, New Orleans became more and more perfect." Further explaining his love for the city, Pokaski added, "It has this great history. It feels kind of European. It has a magic underneath it. But it's also a city that could use a couple heroes. We touched lightly on Katrina and Deep Water Horizon and there's just something magical about the city and something magical about Cloak and Dagger. It all came together really well."
"Marvel's Cloak & Dagger" is unique from other Marvel series from the subject matter to the spirit explained Loeb. "What we wanted to do was tell a story that was a little more serious than some of the other shows that we've been doing," shared Loeb. "It spoke really well to the network that we were on,  Freeform. But it also very much feels like Marvel. Anybody who reads Marvel comics knows that Ms. Marvel is very different from Squirrel Girl, which is very different from Luke Cage. We wanted to have a show that was really about two young people who are trying to figure it out. And oh by the way, they have super powers."
The importance of relevant topics on the show wasn't an accident. "When you look at what's happening to young people today, whether they're marching on Washington to talk about gun control or they're really involved in politics or the environment, they're really involved in what's happening to the Earth and what's happening to the world that they live in," detailed Loeb. "It's so much more than the world that I grew up in where my major concern was whether or not my cartoons were going to be on....This is an opportunity for us to tell a story with an amazing cast the likes of Olivia Holt and Aubrey Joseph. They really do come from different worlds as people and then they have this incredible chemistry when they're together. Whenever you get a chance to tell a story about two people who are sort of lost, who find out more about themselves by being with each other, it's compelling storytelling."
The season one finale of "Marvel's Cloak & Dagger" airs this Thursday, August 2 on Freeform at 8p/7c! Stay tuned to Marvel.com for the latest on "Marvel's Cloak & Dagger" and Marvel Television! Be sure to follow @CloakandDagger on Twitter and like the official "Marvel's Cloak & Dagger" Facebook page!
The Hype Box
Can't-miss news and updates from across the Marvel Universe!