TV Shows
Published May 31, 2019
The Divine Pairing Levels Up in the 'Marvel's Cloak & Dagger' Season 2 Finale
Olivia Holt, Aubrey Joseph, and Joe Pokaski talk Tyrone and Tandy's growth on The Marvel After Show!
NOTE: If you haven't watched Season 2 of "Marvel's Cloak & Dagger," there are unfiltered SPOILERS ahead!
The Marvel After Show: "Marvel's Cloak & Dagger" Season 2, the official companion podcast, gives you behind-the-scenes insight with stars Olivia Holt, Aubrey Joseph, and the rest of the cast and creators as they discuss each episode directly after it airs.
On Episode 10 "Level Up," hosts Lorraine Cink and Angélique Roché welcomed back Olivia Holt (Tandy Bowen), Aubrey Joseph (Tyrone Johnson), and showrunner and executive producer Joe Pokaski, one last time this season. The trio reflected back on Ty and Tandy's journey to becoming the super heroes they were meant to be, the making of the "Marvel's Cloak & Dagger" Season 2 finale, the fate of our divine pairing, and what might be on the horizon.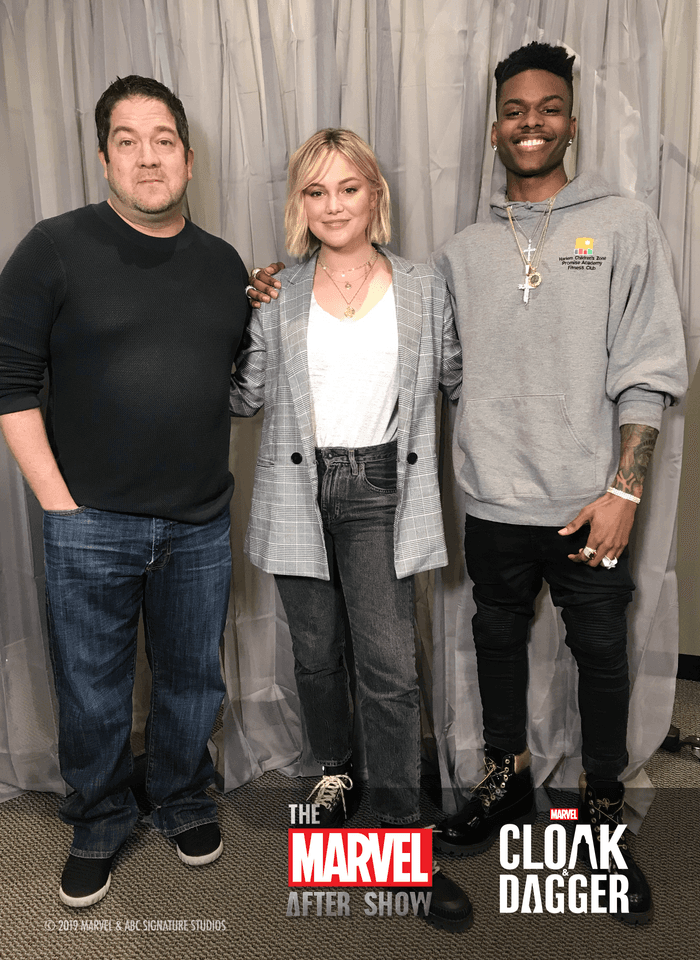 The big reveal in the finale was Andre Deschaine's ascension to a Loa and his powerful alter-ego, D'Spayre. "As we started talking about this season, we kind of got our heads around you know, what's the opposite of hope," stated Pokaski. "We like the idea that D'Spayre was there."
"When you have someone who's living between cynicism and hope, and someone who's living between the fear and bravery, bringing someone who takes away all the good things and seeing how they rise above just felt like a good challenge for these two," continued Pokaski.
Holt reflected on both of the characters' growth throughout the season. "You really feel the pieces of empowerment and the pieces of overcoming all of those things that have been really difficult for them," shared Holt. "Everyone has been on this journey with them; everybody has seen what they've gone through. And it's such a relief. And it's exciting. The fact that Tandy and Tyrone did this together, and they are now even better than they were at the beginning of Season 1. It's amazing that they're just continuing to be with each other in this sense of overcoming everything that they never thought that they could."
For Joseph, seeing the characters finally come into their powers was a huge moment this season. "The thing with Tyrone and Tandy, the beauty of their relationship is that they grow together and they learn from each other," reflected Joseph. "We saw them from these two kids in New Orleans, who were just trying to get to the next day, form into these powerful super heroes. Just finally seeing that moment and seeing them work together to save the city that's their home, it finally felt real for me like. This is Cloak and Dagger."
Hear more of what our two leads has to say about their journey this season and the epic season conclusion of  "Marvel's Cloak & Dagger" on the latest episode of the  The Marvel After Show podcast!
Catch up on Season 2 of "Marvel's Cloak & Dagger" on Freeform.com, Hulu and On Demand! Then listen to The Marvel After Show podcast, available for download now at www.marvel.com/aftershow, Apple Podcasts, Spotify, and your favorite podcast app.
Stay tuned to Marvel.com for the latest on "Marvel's Cloak & Dagger" and Marvel Television! Be sure to follow @CloakandDagger on Twitter and like the official "Marvel's Cloak & Dagger" Facebook page!
The Hype Box
Can't-miss news and updates from across the Marvel Universe!