TV Shows
Published March 17, 2021
8 Things We Learned from 'The Falcon and The Winter Soldier' Press Conference
The stars and filmmakers laid out everything you need to know and teased what we can expect from the Marvel Studios' original series for Disney+, premiering this week!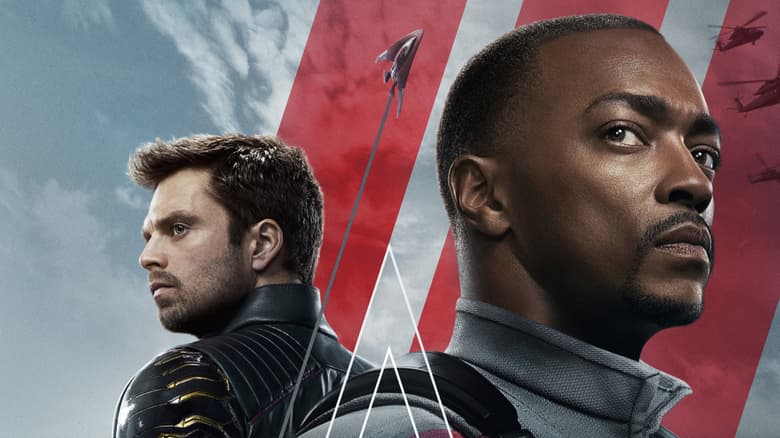 Before the premiere of Marvel Studios' The Falcon and The Winter Soldier this Friday, March 19, on Disney+, ESPN journalist Kelley Carter moderated a virtual press conference with series stars Anthony Mackie (who plays Sam Wilson) and Sebastian Stan (who plays Bucky Barnes), series director Kari Skogland, head writer Malcolm Spellman, and Marvel Studios president Kevin Feige. 
The upcoming original series will take a look at how two Avengers, Sam Wilson (Falcon) and Bucky Barnes (Winter Soldier) grapple with the ramifications following the events of Marvel Studios' Avengers: Endgame, and what does it mean to continue in a world without Steve Rogers (Captain America).
To get you ready for the premiere of The Falcon and The Winter Soldier, here are the big things we learned during the global press conference.
Disney+, home of the MCU
Kicking off the press conference, Feige stressed how much the streaming service Disney+ factors in to the stories they want to tell and the characters they want to explore. Both the original series for Disney+ and the theatrical film releases have equal weight in the MCU narrative.
"Just because it's on TV doesn't mean it's not going to be as big as it possibly could be," said Feige. "We were working just as hard on it [as the films] and putting all of our blood, sweat, and tears into [it]."
To drive that point home, Feige shared what viewers could expect with the series opener, "If we're going to do a series with Falcon and Winter Soldier in it, we need to at least start off with the best action that we've ever seen…. It was really an opportunity to go deep."
Sam Wilson and Bucky Barnes, the men behind the heroes
Over the course of several films spanning several years, Mackie and Stan shared what they were excited to see from their characters in the upcoming series.
Mackie notes how the comic book iteration of Sam Wilson, under Stan Lee, was able to evolve as "African American culture evolved," and how he can't wait for everyone to see the "new and improved" Sam Wilson in the series due to the opportunity "to dive into his backstory, and his family, and his surroundings," which "only betters the character for the audience."
"The idea of Sam Wilson—he's always evolved in the world of Marvel comic books, and now he's evolved in the Marvel Cinematic Universe," stated Mackie. "As African American culture evolved, Stan Lee evolved him in the comic book into different incarnations of himself.  I'm excited for everyone to see the new and improved Sam Wilson."
Stan credits Spellman for honing in on Bucky's humor that marries Bucky's dynamic with Sam and matches his own personal dynamic with Mackie — and that offered more areas of Bucky to uncover. "We're finally zooming in on his quest for identity and, and in terms of really accepting his past and sort of re-educating himself about the world that he's currently in," noted Stan. "The ideals and principles he might've lived by and been driven by at one point that perhaps no longer really serve him the same way. He's kind of in an interesting trajectory when we start out the show and, obviously, that's always exciting for an actor."
The Marvel Cinematic Universe's odd couple
During the presser, Skogland and Spellman both shared the outside influences that helped finalize the tone and story they were trying to tell—namely, buddy cop franchises. Skogland name checked Midnight Cowboy and the director David Lean.
"Tonally, you can go from as gritty as 48 Hours to as comedic as Rush Hour, but in between there's sort of like the first Lethal Weapon and the first Bad Boys," stated Spellman. "What we liked about it was it allows Sebastian and Anthony to do what they do and create that magic, but also allows the broader creative to — if you need to take on real issues or if you need to get into something very Marvel-y, it's a very, very durable form of storytelling." 
Cementing the pairing, Mackie remarked, "The great thing about it is…or what I enjoy so much, you can't find two people further opposite than each other than Sebastian and I. We allow ourselves to be our best selves, and we correct ourselves when we're not our best selves."
The legacy of the shield
Elaborating on one of the final scenes of Avengers: Endgame, where an older Steve Rogers passes his Captain America shield to Sam Wilson, Mackie explored some of Sam's internal thoughts, "Sam's whole thing is he went on this journey, this Avenger journey, over six movies with Steve, because of his respect and admiration for Steve. When Captain America shows up at your door, you answer it. That being said, it's the pain, the idea of not being able to go on these missions. Not being able to help his friend. There's still people out there that really appreciate camaraderie and friendship. Sam is one of those people. He's just like everybody else, you don't want to see Steve Rogers go away. You don't want to see Captain America go away.  Because just like Captain America was your captain, Captain America was Sam Wilson's captain. That's why he says at the end of Endgame, it feels like when he's holding his shield, it feels like it someone else's. It feels like it's yours."
Those who take advantage
Without going too far with the antagonists of the series, Spellman offered, that in the post-Endgame world, "Thanos has created this situation, or dispatching Thanos, has created a situation where the entire world is dealing with one single issue. The villains in this series are responding to that. In fact, every villain will tell you that he or she is a hero. Heroes are responding to that in their personal lives. It's all born from one single, organic thing.  And this continuum from what happens, after Endgame, that sort of galvanizes and affects everybody on the planet the same time and creates a nice cohesion, and direct lineage to the MCU."
The weight of the world
As Iron Man 3 explored Tony Stark's PTSD following the attack on New York and WandaVision explored Wanda Maximoff's grief following the loss of twin brother Pietro and her love Vision, viewers will see Sam and Bucky both, in The Falcon and The Winter Soldier, tackle personal conflicts at home, outside of the threat of those taking advantage of the situation the Blip created.
"What's great about the Marvel characters is, you've always heard us say, is their flaws," said Feige. "For as crazy and extraordinary and science fiction and fantasy and supernatural as the MCU can get, it's grounding in the character experiences and the emotions of the character."
"The consequences of Steve missing has thrown [Sam and Bucky] into opposite corners in terms of facing their lives and their demons," reflected Stan. "They got different things they're facing, but they're in similar places in terms of the questions that are asked."
"The whole subject of PTSD and the experience that they both share as soldiers, as men who have served, is one of the things that brings them together," continued Stan. "There's sort of a bit of an honor code between them even though they come from different ideas or opinions about things, there's a mutual respect…And as everybody knows, PTSD is not something you're done with, it's really something that one has to continue to grow with and to become better at dealing with. Obviously, it's a major part of our show and grounds both of these characters in realistic ways." 
The freedom afforded by Marvel Studios' WandaVision
Commenting on the recent success of Marvel Studios' WandaVision and the upcoming slate of Marvel Studios projects, whether original series for Disney+ or theatrical releases, Feige explained, "They really will go back and forth between Disney+ series, and the Marvel Studios Features. Where characters show up and how, sometimes will be in a direct Season Two. Sometimes will be in a feature, and then into an additional season. We're just not going to say who does what right this second."
For now, get ready to go deep with Sam and Bucky's story, starting this Friday. "The characters of Bucky and Sam are essential to the MCU," Feige said. "As they change, or as they evolve, or whatever they go through, could and should have a big impact on the MCU. There can be character shifts that have massive, massive implications for the stories we're telling in the future," before including, "Not everything is world-shattering to the point of bringing in some giant element." Marvel Studios plans to tell stories of all scale.
Steve Rogers would be proud
Mackie shared some of the concerns he had with the project, but worry not, it gets the Cap seal of approval. "Our goal, and we've talked about this, I speak for Sebastian [too], was not to mess it up.  We didn't want to be the first crappy Marvel project," revealed Mackie. "Our job was to take the torch and not make a bad show.  And I'm very happy to say that Steve Rogers will be proud that our show does not suck."
Closing out the press conference, Feige highlighted the team who made the series possible, and reaffirmed Mackie's comment, "We never would have attempted this or tried this, or had been excited to bring a series to Disney+ if we didn't have unbelievable actors like Anthony Mackie and Sebastian Stan playing these characters and being able to bring them to life and know that we can pile six hours on and it will work."
"And they could go further," continued Feige. "Obviously with Malcolm and Kari bringing them to life in ways that are above and beyond.  And not on this call, Nate More and Zoie Nagelhout, who brought in Malcolm and Kari, and who were there every single day all making what this show is, which as Anthony rightly says, 'The show that doesn't suck.  It doesn't suck.'"
Marvel Studios' The Falcon and The Winter Soldier, a six-episode series, will start streaming on March 19 on Disney+!
Want more 'The Falcon and The Winter Soldier'? Follow the series on Facebook, Twitter, and Instagram!
Stay tuned to Marvel.com for more details! And be sure to follow Marvel on Facebook, Twitter, and Instagram. 
Looking for more Marvel movies and shows to stream? Check out everything on Disney+, Hulu, and ESPN+ right here, and where to find all your favorite Super Heroes right here. Sign up for Disney+ and start streaming now! 
The Hype Box
Can't-miss news and updates from across the Marvel Universe!