TV Shows
Published March 10, 2017
Launching Into the Second Season of 'Marvel's Guardians of the Galaxy'
Stephen Wacker and Cort Lane talk about this weekend's two-part, season two debut on Disney XD!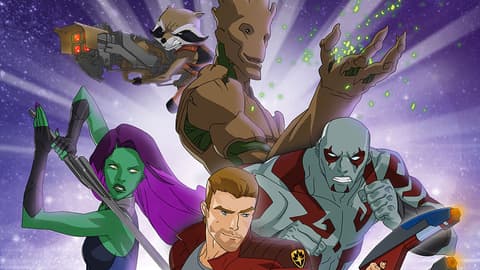 What's an intergalactic team of galactic guardians to do during a brief stay on Earth? Well, if they're the Guardians of the Galaxy, they try to steal a shrunken asteroid from the Avengers, inadvertently blast the surrounding area with a satellite laser and team up with the Earth's Mightiest Heroes to take on the High Evolutionary!
That's how the first two episodes of the Disney XD series "Marvel's Guardians of the Galaxy" will kick off on Saturday, March 11 at 9:00pm ET/PT on Disney XD. To get an early look at what to expect from "Stayin' Alive," "Evolution Rock" and the rest of the season we spoke with Senior Vice President, Animation and Family Entertainment Cort Lane and Vice President, Animation Stephen Wacker!
Marvel.com: This two parter features the Guardians teaming up with the Avengers to stop a series of threats. There are so many great interactions between characters like Rocket and Captain Marvel. Did those come naturally in the writing process?
Stephen Wacker: No. In the room with the writers and our story editor Marty Isenberg, we really played a lot. It took a while to get going on story because we were really playing the "what if" of how this character bounces against this one or how this character bounces against that one. I think what's so rich about the Guardians is that every combination worked in their own way. You team any of those characters up with any of the Avengers and you get something new out of it. It wasn't a situation where we just naturally said, "Oh, we want these two obviously together." The problem was that there was so many iterations, that choosing which one gave us the best story [was difficult].
Marvel.com: The one that really clicked in my head was between Ant-Man and Star-Lord as both having outlaw backgrounds, but trying to do the right thing now.
Stephen Wacker: It's been a year and a half since we broke the story, but I don't remember that one coming instantly. We sat down with Marty and Mairghread Scott, our consulting producer, as we were breaking it all. I think we realized at a certain point, "Oh this is interesting. There's some fun here that we can dig into." When we first started to break into it, it was not long after the Ant-Man film had come out, so we brought in that fresh perspective from the movie as well.
Marvel.com: Going back a bit, you had a great first season, but I'm sure you're always looking at what to do next. What were some of the big themes and ideas or even stories and villains you wanted to tackle this season?
Stephen Wacker: We get challenged by our bosses, and most directly Cort, with finding the new thing or new twist. Where we ended season one was with a big Thanos battle and the team on Earth. The season starts with shorts of the team finding a little something on Earth. What we really had from Cort after such a big action story was the challenge of really finding the fun. We ended with a big dramatic story, let's come back in. Of course, we're going to need action in the mighty Marvel manner, but let's find the fun of this team on Earth because who knows if we'll ever see this again.
So, if you had one time to tell this story, let's make it as absolutely fun and funny as possible. There's a lot of comedy in this show that is a little harder to pull off on, say, AVENGERS where it's the end of the world for 22 minutes every week. Finding little things like Groot in his New York City John Lennon shirt, seeing how a bunch of people in Central Park react to the ship, seeing Gamora with a Statue of Liberty hat on, those were just moments we weren't sure we'd ever get to see again and really wanted to have fun with it.
Marvel.com: Was the idea of teaming them up with the Avengers an extension of that idea of making this trip super memorable?
Stephen Wacker: Yeah, I come from that comic book world so I want to see our characters butt heads with each other and finally find a way to work together despite their differences. The Avengers are the greatest super team of all time and the Guardians, arguably, one of the worst, so there's a great contrast there that's a hell of a lot of fun.
Cort Lane: I would add that the Marvel Universe works because of the connections to some extent, but also the characters are so relatable because their emotions and personalities and flaws are so human. You can connect to them even these rogues in the Guardians. Getting really interesting, relatable diverse characters to interact with each other creates great character moments which I don't think a lot of franchises connect to the way that Marvel can. We really wanted to play off the characters with each other and we did that in a really fun. I think my favorite in it is the way Rocket and Hulk actually really get along. Their personalities are not that different. And just like you mentioned, Star-Lord and Ant-Man are sort of similar, but different. There can be conflict and comedy, but also, in the end, some camaraderie with them playing off of each other.
Marvel.com: How was it coming up with this take on The High Evolutionary and his alien-based creatures?
Stephen Wacker: That strictly came from Marty. Marty is a fan of that character. I had done several High Evolutionary stories in publishing. I find the character baffling and impossible to wrap my head around. I certainly laid down the gauntlet to our writing team that if they want to use a character like the High Evolutionary, they really had to make it so I could understand it and, by extension, an audience of kids or new viewers can understand just what this character is. He sort of rides a line between good and evil depending on perception. I was very happy where they ended up. We really had to dig into the character, from my perspective, to make him understandable to a human being.
Cort Lane: I had the opposite reaction. I love the High Evolutionary, Wundagore Mountain. He's right though, some of these villains across Marvel history have not been as fully fleshed out as a villain like Magneto or Ultron. So, it was good to challenge the story editors to give him a clearly defined motive and personality. I think it comes across well here because I was delighted to see him in animation.
Marvel.com: Going into these episodes, I was more on Steve's side. I got the whole scientist thing, but adding in the part about him seeing himself as an artist really made everything click for me.
Cort Lane: The best Marvel villains have a relatable motive that you can connect with them and they're not just cartoon villains.
Stephen Wacker: Yeah, High Evolutionary thinks he's the good guy in the story.
Marvel.com: Without giving too much away, Rocket makes off with something at the end of the episode that comic fans may recognize. How will that play into the rest of the season?
Cort Lane: Steve, what can we say?
Stephen Wacker: It will play in a very big way. Everything Rocket has, is always important. As we learned, even a robot leg that wasn't initially needed will become very important.
Cort Lane: There's something interesting with making Rocket a bit of a scavenger, like a lot of raccoons are. The things that he gathers and uses become important in the story, particularly the thing you're talking about. Yes, yes, a thousand times yes.
Marvel.com: My note when I saw that was, "Is that HIM?"
Stephen Wacker: I think we have talked about the character publicly.
Cort Lane: Yes, we have actually. We said that he'll be important to this season. So, yes, it is HIM.
Marvel.com: What else can you tell us about this season and the stories or characters it will hold?
Stephen Wacker: I can say there's a lot of Nova this year. The Nova Corps and Nova himself play an important role in the season and we really dig into Sam in particular, but everything about the Nova Corps and their relationship with the Guardians. We'll see a return of the Black Order, Cosmo. We've got a really fun episode around 8 or 9 called "Me and You and a Dog Named Cosmo" when we find Cosmo going undercover. There's a lot of belief that Cosmo could be a really fun character for us to flesh out the team.
Cort Lane: There's a story for Tana Nie which is not something you'd expect, but it makes her a really compelling character and really relatable to young people too.
Stephen Wacker: A big storyline coming up this season, that I think will have a lot of people talking, is what we're calling The Symbiote War. That's coming about halfway through the season, following up on our Symbiote story from season one and it takes us back to Groot's homeworld.
We'll see more of Quill's sister, we'll see Thor throughout the season. It's important for people to know that, like with season one, there is an arc to the season. Our stories can be enjoyed individually, but we do leave the team at the end of 26 episodes in a different place than we find them in. That journey's going to be dramatic, with some wins and some losses. It's going to have a little good, a little bad, a little bit of both throughout it. I know Cort and I are very excited about how deep we were able to dig into the Marvel cosmic universe this season.
Cort Lane: It's a little more exploratory, even though there is a defined arc and something to do with HIM that carries us through the end of the season, but we get to meet a lot of new races and key characters throughout the Marvel cosmic universe. Last season was more of a scavenger hunt and them on the run, this is an exploration of the Marvel Universe.
To go exploring with the Guardians check out "Marvel's Guardians of the Galaxy" season two as it returns on Disney XD this Saturday at 9:00pm ET/PT on Disney XD! Stay tuned to Marvel.com for all the latest news and updates on your favorite Marvel animated series.
The Hype Box
Can't-miss news and updates from across the Marvel Universe!