TV Shows
Published April 23, 2018
'Legion': Jeremie Harris on the Burden That Comes With Ptonomy's Mutant Powers
The 'Legion' star on getting to see the downside this season of never forgetting everything.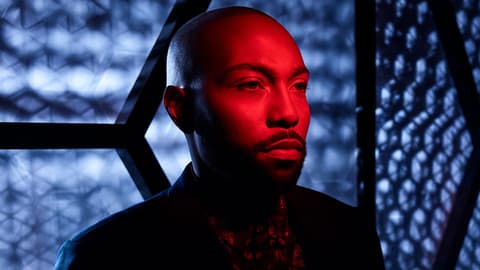 Having a mutant ability that includes a perfect memory might sound incredibly useful, but there's also would likely be some innate issues that go along with that – something we saw reflected in a notable way on last week's episode of "Legion" on FX, as David (Dan Stevens) and Cary (Bill Irwin) discovered that for Ptonomy (Jeremie Harris), the perfect life would be forgetting things, all the time, rather than have to recall everything he's ever experienced.
After Jeremie joined the debut episode of Marvel's Voices podcast, which you can listen to right here, Marvel.com spoke to Harris on the set of "Legion" Season 2 about exploring more of the downside of Ptonomy's abilities, along with the new character dynamics in play this year. But first, we began by chatting about the show's behind-the-scenes move in the second season, as far as where "Legion" is produced…
Marvel: What was it like for you relocating the show from Vancouver to Los Angeles for Season 2?
Harris: I really like it. I'm actually based in New York so it's cool to be here and live in LA under these circumstances, working on a really great show and getting to know the city and meeting new people and exploring, all those types of things. It's exciting. I liked Vancouver but Vancouver is the type of place that's really beautiful in the summertime and then it just rains. [Laughs] So we started shooting in August and when we first got there, I was like "Man, Vancouver is gorgeous!" I was hiking, walking around and then probably by the middle of September it just started raining and was really gray every day and I was like, "Oh, I don't know if I love Vancouver as much as I thought I did." It's an amazing city. It's a beautiful city. But you know that [weather] can be a little tough sometimes!
Marvel: It was interesting to begin the season with this time jump that David himself didn't understand at first, given the new dynamics with the characters, including the move to Division 3.
Harris: I think we're in a place now where everyone has similar roles but different relationships – relationships have changed a lot. So just seeing that develop and seeing those relationships develop has been nice and exciting and fun. You're reading every script going "Where's this going? Why am I now close to this person when I wasn't close to them before?" There are a lot of those thing that come about that are exciting and interesting and fun things to explore as an actor. With Ptonomy, I think he has a straightforward, direct way of addressing people and talking to people so I think that continues and he puts on more of a detective hat this season which is really nice and interesting. He has some really cool obstacles to overcome.
Marvel: His mutant abilities are very intriguing and different than the norm.
Harris: Yeah, I think the main thing [in Season 2] is just going deeper into how he feels about those powers. I think we're getting more into his relationship to his own powers and how they affect him and just how he feels about them. I think in Season 1 we see in some ways how they can be a burden but I don't think we went too much into the ways in which remembering everything can be daunting. It's there for a job and a purpose and feeling David out and who is this guy, what is he really about? In Season 2, we're getting into his relationship to his own powers and how he really feels about them.
I think he's a task oriented, very focused person so obviously he's always going to be like "What are we trying to do? How do we figure this out? How do we move the needle forward?" Less emotions and more "Let's get this done." Stiff upper lip. He has that, but I think we're gonna be granted the opportunity to let him express more emotion and that's exciting.
New episodes of "Legion" air Tuesday nights at 10:00pm ET/PT on FX.
The Hype Box
Can't-miss news and updates from across the Marvel Universe!