TV Shows
Published January 24, 2018
Marvel Animation: Get Ready for a Superior 'Marvel's Spider-Man,' 'Black Panther's Quest,' 'Marvel Rising,' and Guardians' 'Mission: Breakout!'
Cort Lane on Spidey Season 2, 'Marvel Super Hero Adventures,' Marvel HQ and a whole lot more.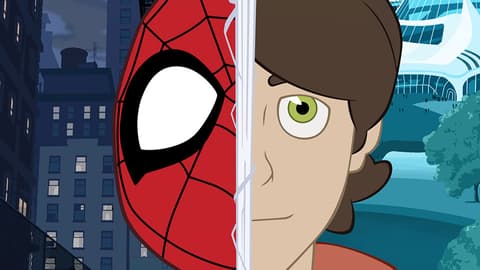 It was announced today that "Marvel's Spider-Man" will be returning for a Season 2, and Marvel.com used the occasion to sit down with Marvel's Senior Vice President, Animation & Family Entertainment, Cort Lane, to chat about Spidey's next set of adventures, and so much more going on in the world of Marvel Animation.
That includes a third season of "Marvel's Guardians of the Galaxy" subtitled "Mission: Breakout!" that is inspired by the popular theme park attraction of the same name at Disney California Adventure park, which included notable collaboration between Walt Disney Imagineering and both Marvel Studios and Marvel Entertainment.  Cort also spoke about "Marvel's Avengers: Black Panther's Quest," the recently-announced "Marvel Rising" initiative, and more!
Marvel.com: We have a lot to talk about with Marvel Animation, but let's kick it off with the announcement that "Marvel's Spider-Man" is returning for Season 2!
Cort Lane: Yeah, Season 2! Bigger and better! And it really is. The core narrative that holds the season together is based off of Dan Slott's SUPERIOR SPIDER-MAN, so that's the big news for the audience. That means that Doc Ock will become Spider-Man and Peter Parker will go away for a brief time. That has huge implications. It also means you get to see more of the other Spider characters in costume. And we have an amazing onslaught of villains — particular some of the newer villains from publishing — that Doc Ock throws at Spider-Man. Without giving too much away, it's just a wonderful character arc for both Peter and Otto. I can't really say more than that, except it's just really complex, interesting and fun.
Marvel.com: Dan Slott is a Consulting Producer on the series. I'm guessing he must be pretty excited about moving in this direction?
Cort Lane: Yes, he is! He's consulted with us from the very beginning of this season. Obviously, we borrowed a lot of elements from his run; Horizon and Max Modell and some of the villains and plots. But more than that, his tone, which was just always sort of very bright and fun and funny, yet with this forward momentum and this tremendous sense of jeopardy at the same time. We just love his run.
Marvel.com: Can you tease any other characters in "Marvel's Spider-Man" Season 2?
Cort Lane: I can't say yet, because we will have future announcements. Between us, some of these key roles, especially a lot of the villains, are played by big name actors. There are some surprises in our casting.
Marvel.com: Moving over to the world of Avengers, we're currently in the midst of "Marvel's Avengers: Secret Wars," and we know that "Marvel's Avengers: Black Panther's Quest" is coming after that. Anything you can reveal about that next season?
Lane: So for our fifth season… Wow, fifth season, that's kind of surprising to say! But for our fifth season, we really decided to do a spotlight season on Black Panther. The Avengers are still there, particularly in the beginning, middle and end, but his relationship with the Avengers changes significantly. T'Challa has a conflict between being the King of Wakanda and protecting his country and his family, and serving as an Avenger. That conflict creates all kinds of problems for him and for the Avengers. It's a globetrotting, espionage-filled, epic story about evil forces looking to take over Wakanda, because it truly has the most valuable resources in the world. But at its core, what holds it together emotionally, is a story about a brother and his little sister, and about how T'Challa and Shuri interact with each other. There's a sense of competitiveness, obviously there is lots of love, there's sadness over the loss of their father… And he's an overprotective older brother and she's a younger sister who trained to be the Black Panther too and has a lot to prove, she feels.
Marvel.com: As you mentioned, it's the fifth year, and "Avengers" has evolved a lot. Is it fun to be able to work on a series where you certainly can't say you do the same thing every year? You get to really change things up.
Cort Lane: You really do, and this one changes things up a lot. First, obviously there's the focus on Black Panther's story, and that's reflected in the title "Marvel's Avengers: Black Panther's Quest." The animation style has changed as well to reflect this storyline. And the story is so big that we have broken it up into two half seasons that will run all the way into 2019. So it's really big, even though the story becomes more personal, being about this brother and sister.
Marvel.com: Then there's the third season of "Marvel's Guardians of the Galaxy," which is called "Mission: Breakout." I am a huge Disney Parks fan, so I'm very excited about that. Was it cool to get to include that influence here?
Cort Lane: Yes. First of all, I'm a Disney Parks fan too. And I got to work on the ride, just as a creative consultant, but I actually helped name it as well, and was involved in the development of the story, as was Joe Quesada and so many other people on the Imagineering and Marvel Studios sides. It was really exciting. In fact, I got to go on the ride when it was first ready and go on all six versions, right after the other. And about version five, I got pretty sick. But me and one other Marvel representative made it all the way to the sixth one. Everyone else scattered by three or four.
Marvel.com: [Laughs] At the press event when it opened, I was one of a small group of people that made it through the four versions they let us ride.
Cort Lane: Oh, wow! I love the ride, love the story of the ride, and since we knew and were involved in the development to some extent, we could incorporate Tivan's collection and the Guardians' escape. But the Collector wants revenge and they pay a price, and particularly mid-season, they're up against the wall. But before that happens, a lot of fun and interesting things occur for the Guardians. They get rich and famous and how they individually deal with that reveals a lot about each character and is pretty funny in some cases. But the team needs to come back together midseason, with the Collector after them. That brings us into a storyline that we've talked about at cons, called "Black Vortex," where the Guardians go into different dimensions, which are animated in different styles. I can't talk about those individual stories, but there's a story for each of the Guardians and that's a really exciting creative leap for us and that leads us through the second part of the season.
Marvel.com: Anything you can say about guest stars here?
Cort Lane: There are a lot of big guest stars in the season and there are some huge Marvel characters, including probably the most exciting character to have team up with the Guardians, who appears in episode one.
Marvel.com: I am both intrigued and frightened by the idea of Rocket getting rich and famous – and curious about all the characters making that transition.
Cort Lane: Well, being together as a team and as a family, brings out the best versions of themselves. Separately, not so much… Which is why they were outlaws before. I will say that Gamora uses her money wisely, to redeem herself. The others, a little less wisely.
Marvel.com: And then moving to a completely different realm, let's talk about "Marvel Super Hero Adventures." What's it like to develop a project like that for a preschool audience?
Cort Lane: Preschool development is so very different. You have to work with preschool experts and we specifically worked with experts at Disney Junior about messaging and tone and how sophisticated the action can be, how violent it can be, how clearly the message needs to come across without being too overt. Just even things in terms of visuals and what looks good to a preschool viewer. So there was a lot to learn. We were very collaborative with Atomic Cartoons and Disney Junior. With all of those learnings, and the great success that the shorts have had, including gaining viewership on like six platforms, we know that our Marvel HQ traffic is through the roof. What's very interesting is the one with the most traffic is the Miles [Morales] one, which is not one of the first ones.
You'd think the first couple would have the largest traffic, because they had the longest run, which just goes to show you that kids really love to see the Spider characters together, which bodes well for "Spider-Man" Season 2 with three other characters suited up in costume and teaming up with Spidey.
Marvel.com: Anything you can say about upcoming installments of "Marvel Super Hero Adventures?"
Cort Lane: We're just starting to write it, so it's early days. You'll see a lot of big heroes you expect and a lot of new heroes too. The thing that will be souped up this season is more vehicles and cool gear and tech because Spider-Man is an inventor. So there's more technology, which shows off that skill that he has.
Marvel.com: You mentioned Marvel HQ, which has been the home for "Marvel Super Hero Adventures," and also the Marvel Funko shorts. What lead to the birth of Marvel HQ?
Cort Lane: It fulfills a lot of needs for us. First, to have a really compelling vehicle to promote the Disney XD shows beyond Disney XD's reach, and to connect with fans ourselves. Also, to create a home for projects that may not suit Disney XD, like comedies for example. There will be a lot of digital content from "Marvel Rising" on Marvel HQ that can live there. We are also able to promote and feature content from all of our different programs including "Super Hero Adventures" — which also lives on Disney Jr – the Disney XD series, as well as all kinds of shorts and projects and things I can't even talk about that are in development. Beyond that, there's a wealth of behind the scenes content that dives into the process of making our shows. "Here are the actors, this is what it's like. Here's how we design these characters. Here's what it's like to record a script…" Plus Marvel HQ allows us to interact with the fans, including kid fans, and get creative input from them. There's all kinds of content that just isn't really suitable for broadcast network because it might exist in all sorts of formats and weird lengths. We want to be able to include content in all these different formats, and this platform can be a home for that. And it exists both on YouTube and also on the YouTube Kids app. That's a really distinct and important platform for kids now. It's important for us to create our own destination there, so we can be everywhere kids are.
Marvel.com: You mentioned "Marvel Rising," so let's wrap up discussing that. What can you say about the characters you're including in that project and the relationships?
Cort Lane: I have some favorites in the cast, so it's hard…
Marvel.com: Well, you're wearing one of them on your shirt!
Cort Lane: Oh my god, yes! This is one of my three favorites. They're all great characters… actually I have four favorites. But that's pretty much half the cast! But for those reading this, I am wearing a Ghost-Spider shirt, which is the official super hero name for Spider-Gwen, because she can't go around telling people she's Spider-Gwen. That's not a good secret identity! [Laughs] What's really wonderful is that even though there's great action stories and big Earth-saving plots, the stories are really about the relationships of these characters. They are teenagers. They're just figuring out their place in the world. They want to be big time super heroes and they don't know how to get there. Now they can help each other, and with a little help from mentors, they can learn even more. But most of all, by being friends and good teammates, they grow a lot. The kids who are going to watch this, they define themselves to a large extent based on their relationships in their social circle. They're making friends and they're dealing with the ups and downs of friendships and bullies and people who are difficult and how you negotiate that at school and outside of the home. These characters have to deal with that in a much more dramatic way.
The most grounded relationship is between Squirrel Girl and Ms. Marvel. They're best friends – best super hero friends. And they don't always get along and they don't always agree. Because, frankly, Squirrel Girl is very goofy and Ms. Marvel has a lot of anxiety about a lot of things and expectations of herself that are too high. So as they come together as part of this team, and as they work through these adventures, they come in conflict but they make up as friends. It's very relatable. Also, Gwen's story is super compelling in the shorts. She's on the run from her father, the police captain who she adores as Gwen, and all the while he doesn't know that his daughter is actually this super-powered character. Her personal story is very sweet.
Marvel.com: Through the years, you've seen a lot of actors getting to voice these iconic Marvel characters. Is it safe to say that the cast of "Marvel Rising" is very excited to be a part of this and to be playing these roles?
Cort Lane: Frankly, the whole cast were so excited about something like this – teenagers making their own way in the world, but with such an inclusive cast of characters and predominantly female. Six female characters and only two male characters. When we showed the initiative to boys, they were just like, as long as there is great action and great powers, we're fine. But for girls it was really meaningful. For the female cast members, they feel this sense of importance and significance. This is a really dramatic, exciting, relatable super hero story about characters that are just like you, but they just happen to be females for the most part and they come from different backgrounds like everybody does. So it really reflects the world that we live in.
The Hype Box
Can't-miss news and updates from across the Marvel Universe!