TV Shows
Published October 17, 2018
How Matt Murdock Has Changed in 'Marvel's Daredevil' Season 3
Showrunner Erik Oleson and star Charlie Cox on taking Daredevil on a new journey in Season 3, debuting Friday, October 19th on Netflix!
When "Marvel's Daredevil" comes back to Netflix on October 19, there are as many familiar elements as there are new ones. Namely, new Executive Producer and Showrunner Erik Oleson, who came into the third season of the show with some very big ideas on where to take Matt Murdock, his friends, and his enemies. But part of that new plan involved going back to basics – and if there's anyone who has been stripped down to his core, it's Matt Murdock. Marvel.com spoke with Oleson and Charlie Cox, the actor who has brought Matt Murdock to life in and out of the Daredevil suit since the first season.
From the time he joined the series, Oleson said "wanted to tell a thriller, between Season 1 and 'The Sopranos,' darker and character-driven, with real stakes." He warned, "There are characters who will die, there are fights Matt will lose," adding, "Matt is in a dark place, spiritually and physically in crisis."
Oleson remarked, "I think, honestly the events of ["Marvel's The Defenders"] and his inner fear, which he's not fully conscious of, among other things, drive Matt at the very beginning of the season to regress into the teachings of Stick and the 'solo warrior' mantra, like 'I cannot attach to others because that will harm them.' And that is the emotional place that Matt starts this season."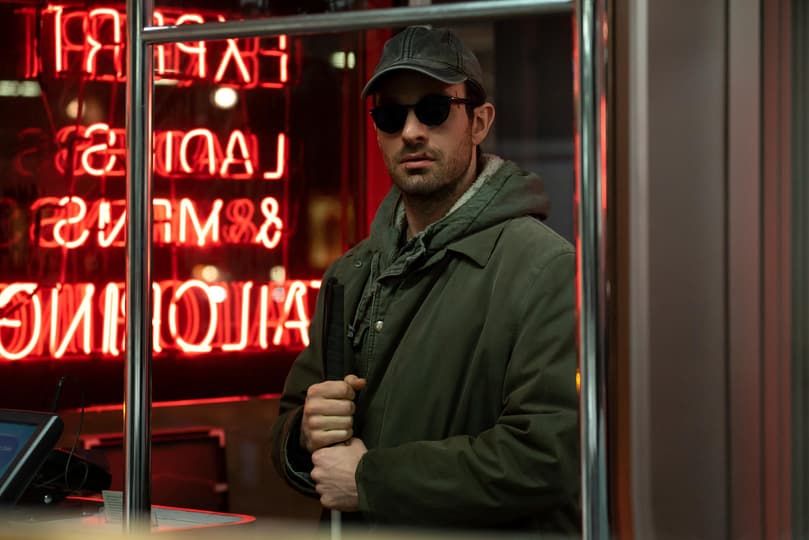 Wilson Fisk, on the other hand, was going to be heading in another direction: up. Oleson described Fisk as "feeling empty" in the beginning, "depressed in a prison cell" and "playing a deep game of mental chess on how to get himself out of his current predicament."
"I see him this season as somewhat of a spymaster. … We've always seen how [Fisk] had his hooks into people, and I go a lot deeper with that this season. And that will set Matt and Fisk on a collision course which will have tremendous implications for everyone in our cast and for who Matt is." Oleson's father was the Deputy Director of the Defense Intelligence Agency, and later worked for the CIA, and the EP said he was eager to see what Wilson Fisk would look like with that kind of skill set, noting, "Fisk is a fascinating character to me."
But it isn't just his imprisonment that has Fisk wanting to change his trajectory, with Oleson observing, "He's seen as a villain by the city… He has designs on undoing the way that the world sees him, and that is something that will play across the season." When asked if this motivates him to come back stronger or if it humbles him, Oleson replied, "I think it motivates him to come back smarter."
As far as additional enemies go, we've learned since our visit to the set that Wilson Bethel's character is FBI Agent Benjamin 'Dex' Poindexter, as "Marvel's Daredevil" Season 3 depicts the origin story of Bullseye. At the time of our set visit, Oleson was coy about this character, but did stress that he's "A physical threat to Matt who is able to balance or best Daredevil, someone who can match him blow-for-blow, and is also deeply drawn psychologically, and is a real human being and a character in and of his own right, so that we will see that character as a person with his own wants, needs, and desires and understand what those are. The way that he will clash with Matt, I think it will illuminate aspects of Matt's character at the same time it will illuminate aspects of this other villain, but also Fisk and others."
Oleson also brought big plans for Foggy Nelson and Karen Page to the table for Season 3, with Oleson stressing "each have their own arc this season" and, like Matt, "have their own individual storylines." He added, "Karen and Foggy are messed up by the death of Matt. Karen doesn't think it's possible, Foggy thinks he's dead, and they're screwed up."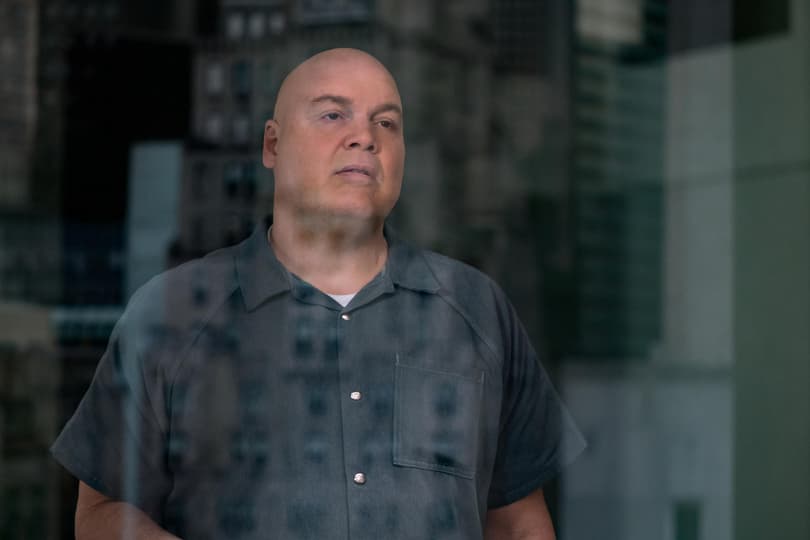 While Karen and Foggy grieve (or don't), Matt Murdock secretly survives, but just barely. This means leaving behind the red suit. Charlie Cox, who said his new costume was "much more comfortable," said that there were several reasons why Matt Murdock would go back to his original look. "To me, I really need to feel from a story point of view that it makes sense and keeps with the genre and theme of the show. The conversation with Matt and Father Lanton, that sometimes it's important for there to be a symbol to be feared, that was the reason Matt embraced the red suit. Earlier in this season there's an equally compelling reason for him not to be in the suit any more. Matt, for various reasons... One, he isn't deserving of it. And two, he's sort of outgrown it. There's another reason why he literally can't wear the suit as well."
Matt's emotional and physical states play a big part in how Cox has approached playing him from the beginning, with the actor noting, "What makes the character enjoyable to play is that he's a walking contradiction in everything he does. You can sort of see him as someone who's beneficial, moral and upstanding to society. I think with this season, [there's a] level of doubt in that, and early on in the season there's a point where you shouldn't feel he's completely convinced that he's operated as he has done.
"The first thing that takes a massive hit is his faith. Something Erik and I talked about was how his attitude changed going into Season 3. We landed on two elements: One of them is Matt's relationship towards God and his faith. He believes in a punishing God now, almost vindictive. He's that angry and let down. If you're someone who has his powers taken away, after believing [they were a] gift of God. He's gone from Matt Murdock with the Daredevil alter ego into now Daredevil with a slight Matt Murdock. It brings a recklessness to his character."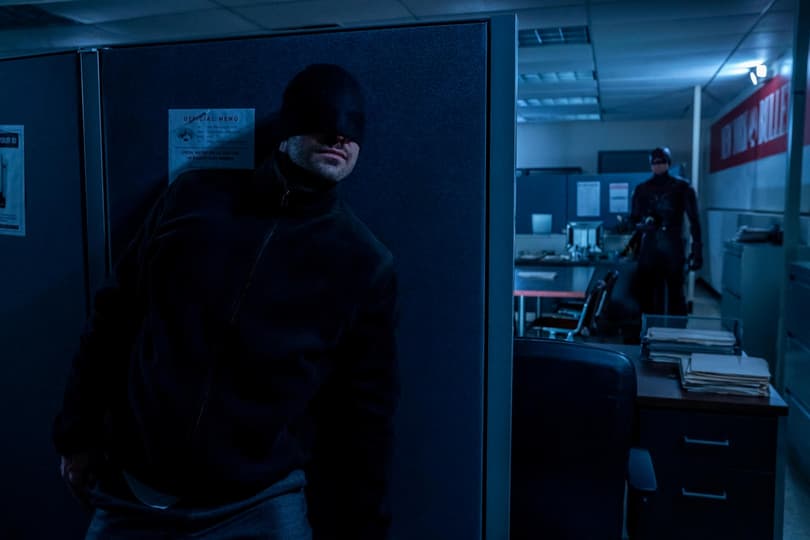 When asked about playing the darker aspects of Matt, Cox said it can be challenging to go to those unhinged places. "It's the scary part of someone who spends a lot of time alone and isolate themselves. Madness starts to creep in. For me it's been clearly written as he starts to lose himself, and that's hard to play. It's easy to do that, and is easy to do an impression of it instead of living it. Scenes I've struggled with the most is [when] there's something off about him, when you're playing that kind of character where it's like 'He's normal, he's normal … oh no, he's not.' What's really scary about a crazy person is when they seem normal."
As far as just how mad Matt Murdock goes, is he in danger of turning into someone on the level of the Punisher? Said Cox, "["Marvel's The Punisher" Executive Producer] Steven Lightfoot used to say this is a Daredevil who is one bad day away from being Frank Castle. It's trying to find that balance of the same and different, enough of the same of the character that we've met and liked, but also enough to keep the story interesting, and growth so you're not saying the same stuff over and over again."
Oleson mentioned that Matt will have fights that don't turn out so well for him this season. The showrunner was mindful of action scenes and how they told the story on "Marvel's Daredevil," explaining, "I'm really interested in using action and all of the dramatic elements to more fully and deeply draw the characters. When I'm in the writers' room and we're designing the events of a story in an episode, there are infinite possibilities for things that could happen, but I always try to bring it back to the characters' arcs and the emotional storyline of each of the characters and really force them to face their fears and to face their demons.
"That's when suddenly the show takes on a deeper resonance, and it's just more meaningful than a bunch of awesome, but not-that-involving stunts. I like watching a stunt sequence when I really don't know what's going to happen, and when you're writing a show like this, the danger is 'Well, you know, the title character's probably not going to die.' That means you have to do it in such a way that they face a dilemma or decision inside the action sequence that illuminates their character, or there has to be some other element in the scene that could go wrong that really would upend the rhythm of the show and/or the relationship and/or the character's sense of who he or she is. So what I mean about the action this season is that I very much want it to mean something. Every action sequence happens for a reason, and it means something after it happens. It's not just a fight."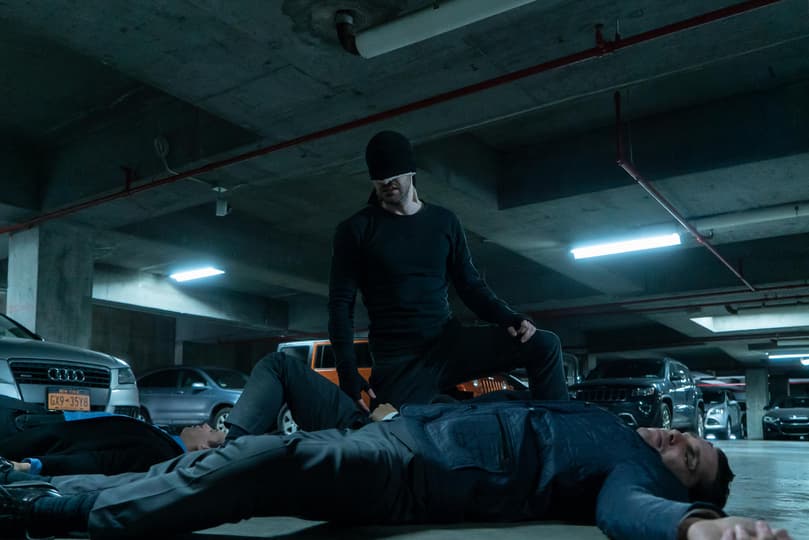 Oleson's desire for "Marvel's Daredevil" was to drive home an overarching theme that applied to all the characters on the show: "Our fears enslave us."
Explained Oleson, "I think the Man Without Fear is actually afraid of something. I won't tell you what that thing is. It's not spiders! That kind of psychologically informs his arc this season. And when he gets to the end of the season he will realize that it actually was a motivation for a lot of his decisions over the course of the season. And that is a psychologically rooted fear."
Oleson continued, "Everybody has got their fears… Our fears enslave us. When we're afraid of something, it makes us act dumb. And it turns us against other people sometimes when we don't understand that they are just motivated by their fears, and that allowed me to design a season which hopefully, after everybody watches it, and walks away from this season, feels like the world is not such a terrible place and has a deeper understanding."
"Marvel's Daredevil" Season 3 premieres Friday, October 19th on Netflix.
Make sure to follow @Daredevil on Twitter and like "Marvel's Daredevil" on Facebook, and check out Marvel.com's "Marvel's Daredevil" section for more about the Man Without Fear! 
The Hype Box
Can't-miss news and updates from across the Marvel Universe!