TV Shows
Published October 22, 2018
'Marvel's Daredevil' Season 3 Spoiler Chat: The Threat of Wilson Fisk and Dex
Executive Producer/Showrunner Erik Oleson gets spoilery on the big villains in Season 3, now streaming on Netflix!
Additional reporting by Ryan Penagos and Jamie Frevele. 
Note: Full spoilers for "Marvel's Daredevil: Season 3 follow. If you haven't seen Season 3 yet, go check it out on Netflix, and then come back here!
They say a hero is only as good as his villain, which is probably one reason why Daredevil is such a great hero. "Marvel's Daredevil" Season 3 gives the Man Without Fear some incredible challenges thanks to the return of Wilson Fisk (Vincent D'Onofrio) and his realization that Matt Murdock is Daredevil. Along the way, Fisk is able to manipulate Benjamin "Dex" Poindexter, turning the FBI agent's amazing skills into a weapon aimed at Daredevil. 
"Marvel's Daredevil" Season 3 Executive Producer and Showrunner, Erik Oleson, spoke to Marvel.com about Season 3's villains and the path they take, including where they end up in the season finale. 
Regarding Wilson Fisk's journey going into this season, Oleson noted, "[Fisk] was brought down, obviously, by the combination of folks in the first season and he rose to become Kingpin of the prison in Season 2. That, ultimately, is a pyrrhic victory. To be king of a prison is not that awesome. He had time to plot his return."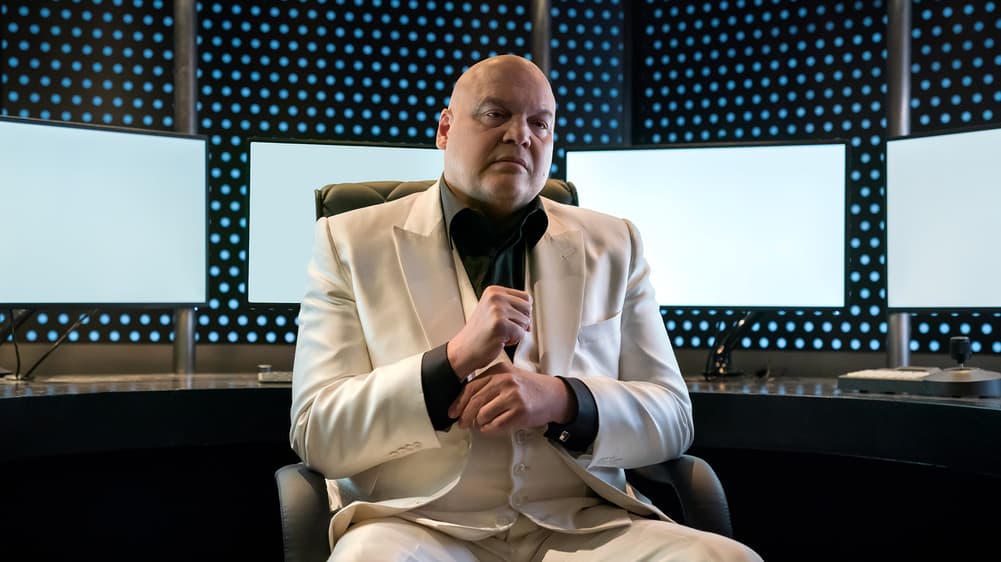 Oleson mentioned that an overall theme for Season 2 involved how our fears can enslave us and recalled pondering "What would Fisk—the villain—be afraid of, and landing on the idea that his fear that was driving all of this was the fear that he was unworthy of Vanessa. And had been humiliated in front of her at the end of Season 1, dragged off to prison. And she had to flee into exile. He was going to plot a way where he could come back and impress upon his queen that he was worthy, and that she didn't choose wrong. The goal for Fisk was to bring him back more manipulative, smarter than ever. I treated him this season like a spy master. I used real-life intelligence technique, spy tradecraft. My dad was in that business as I was growing up, so I know a considerable amount about it. We see real-life recruitment techniques - Manipulative and misinformation, disinformation."
Oleson described Fisk as "Always hiding his true intention. He manipulated a lot of folks along the way. It's really only at the very end of the season when you realize the true kernel for all of this was his fear that he was unworthy of Vanessa. That was the impetus and the drive to him. Of course, he's eager to get revenge against Matt and knew he was going to need a key piece. That key piece was [that] he would need a physical villain that would be able to face Matt one on one. That opportunity presents itself to him at the end of episode two, when this FBI sharpshooter saves Fisk's life when pissed-off gang members come to kill Fisk for ratting them out to the FBI. Then begins this kind of recruitment story, a psychological manipulation story of Dex and recognizing the things that held Dex up. And knocking those legs out from under him so that he would be psychologically ripe for the picking is what Fisk does over several episodes of the season."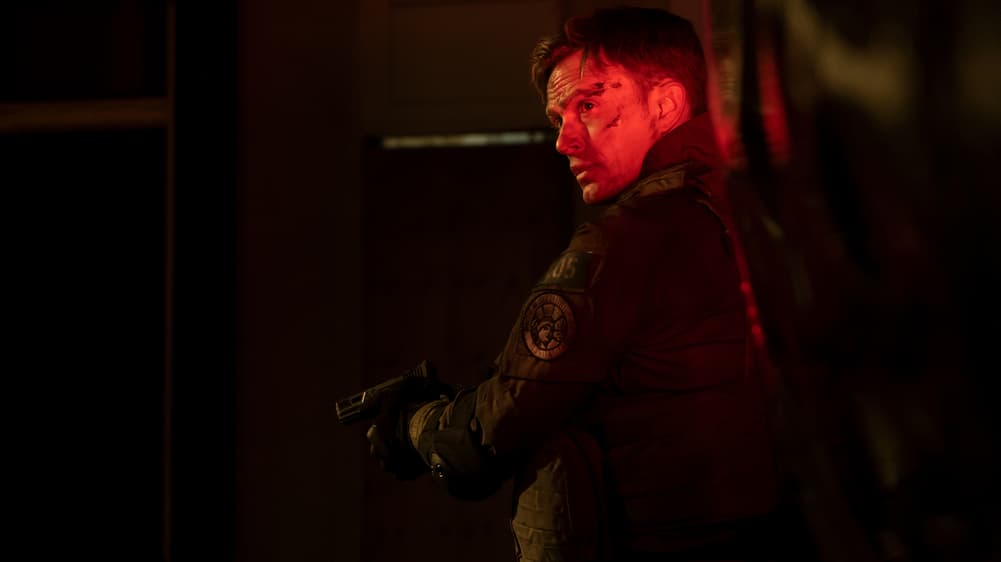 When it came to Dex, his story is also the origin story of Bullseye, and Oleson said his approach was to "have a more psychologically-whole profile" for the character, explaining, "We looked at all of the comics and there were different versions of him. Generally-speaking, in television or in a filmed medium madmen don't play that well. Like people [who] are just nuts. There's not a lot of depth to somebody who is that crazy and just taunting people, and a killer. I was interested, as was Marvel, in getting into what made him that way. Telling the origin story. First of all, I think origin stories are just awesome. You finally get to go under the hood of the car and figure out what it is that makes it run. What Wilson Bethel brought to the role also was the ability to play multiple layers to the character. I wanted to give him red meat to play. We all looked at that and said, this is a fascinating character from the comics, he is one of the major villains of Daredevil."
Oleson added, "Also, when I was looking at that character, there was another layer to him that I wanted to add. It was speaking to kind of a larger world. I thought that there are people right now who could go into light or could go into darkness. People who may have been drawn into evil by people who have that effect and appeal to fear and to hatred, and psychologically manipulate people into the darkness. I wanted kind of a borderline personality. What we took then, and we spoke to psychologists and psychiatrists and we did research, we defined Dex as having this Borderline Personality Disorder where he could have become a functional member of society. He was an FBI sniper. He was trying to help people. He was on the right side of the law. Enter: Wilson Fisk."
Oleson described Fisk as, "This moral black hole who pulls everyone into darkness who are in his orbit. He is the one responsible for pulling a character who is on the border of good and evil into the darkness. That was another element of the hidden architecture of the show: What happens when you have these toxic tyrant personalities come in? What happens to people who are on the border, like Dex? What happens to good men like Ray Nadeem, the FBI agent who is Wilson Fisk's handler, played brilliantly by Jay Ali. Here's a good man who is afraid of failing his family, not living up to the expectations of his son and his wife. That is something that Wilson Fisk plays upon and draws him also into the abyss."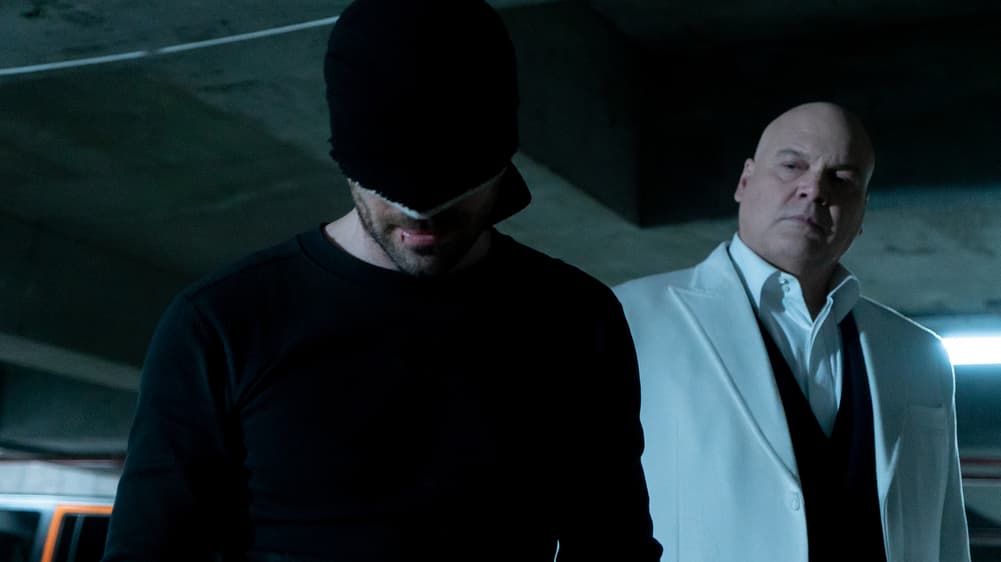 The end of the season finds Wilson Fisk once more locked up, after making an agreement with Daredevil that will protect Matt's friends and secret identity - while also protecting Vanessa from Matt going after her as Fisk's accomplice. Said Oleson, of Fisk agreeing to keep Matt's secret, "I knew that we had to put that cat back in the bag at the end of the season. I didn't want to fully out Matt to the public. It was a bit tricky. The agreement that Matt and Fisk form at the end of the season felt like a smart one that would create that fragile peace that we needed at the end of the season." 
As for where we last saw Dex, in the midst of surgery following his massive injuries, Oleson remarked,  "Certainly there's many possibilities for where that character can go…"  
"Marvel's Daredevil" Season 3 is now streaming on Netflix!
Make sure to follow @Daredevil on Twitter and like "Marvel's Daredevil" on Facebook, and check out Marvel.com's "Marvel's Daredevil" section for more about the Man Without Fear!
The Hype Box
Can't-miss news and updates from across the Marvel Universe!