TV Shows
Published February 9, 2018
'Marvel's Agents of S.H.I.E.L.D.: The Road to 100': Season 3 Spotlight
Wendy Willming on how Season 3 of the series redefined Hydra's history and purpose.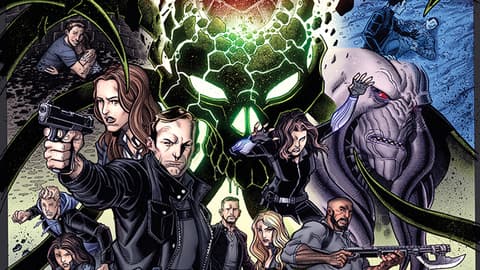 Today, we shine a spotlight on Season 3 of "Marvel's Agents of S.H.I.E.L.D." as we draw closer to the landmark 100th episode.
The next piece, shown below, in the "Marvel's Agents of S.H.I.E.L.D.: The Road to 100" art program comes from artist Nick Bradshaw, and helping us walk down memory lane is "Marvel's Agents of S.H.I.E.L.D." producer Wendy Willming. Don't miss the Season 1 piece and Season 2 piece.
Marvel.com: Bradshaw highlights several key moments from Season 3. What were the significance of these scenes and how did it impact our agents?
Wendy Willming: These moments depict some of our more iconic scenes and Bradshaw weaving a sense of evil throughout the piece is telling of the many layers that are uncovered this season.
On the far left, Fitz holds Simmons after he pulls her out of the portal from Maveth – a sunless, desert-like planet where Simmons was stranded for "4,722 Hours," which also happens to be the title of the 5th episode in this season.
Shown on the far right, Coulson dives into the portal after Ward and Fitz. Coulson ultimately kills Ward with his prosthetic hand, finally destroying the evil that has plagued our agents of S.H.I.E.L.D. for years. Unbeknownst to our team back on Earth, an ancient and parasitic Inhuman named Hive, finds Ward's body and returns in his form until he reveals his true appearance – an octopod-like creature – that Bradshaw has depicted on the right.
In the bottom left hand corner, the art piece also features the Secret Warriors, finally together . It's an iconic moment for our Inhuman agents – Daisy Johnson, Elena 'Yo-Yo' Rodriguez, Lincoln Campbell and Joey Gutierrez.
Bradshaw also gives us Bobbi Morse and Lance Hunter, our beloved bickering couple. Fans will remember the episode "Parting Shot." Morse and Hunter choose to leave S.H.I.E.L.D. after their lives are spared with the caveat that they never work for the U.S. government again. The team takes a shot in their honor but their undeniable presence is sorely missed.
Marvel.com: Hydra breaks the S.H.I.E.L.D. logo and its tentacles looms over the entire piece. How had the Hydra revelations change the course of the season?
Wendy Willming: The revelations that unfold throughout the season give a whole new perspective and understanding of Hydra's history in the Marvel Universe. It also ties in the thread of Inhumans. In our third season, we learn that Hive is the source of Hydra and what an ancient, parasitic Inhuman has built, lived on to become the most feared institution in history. For fans and anyone keeping track of the Marvel U thus far, it redefines Hydra's history and purpose.
Marvel.com: As we near the 100th episode, is there anything you'd like to share with the cast, the teams behind the scenes and the fans?
Wendy Willming: I've had the incredible fortune of being apart of Season 3 and our current Season 5. It's a privilege to be a part of such a wonderful group of storytellers and artists. Everyone on this team, and it takes a village and then some, has been a complete joy because they love what they do and they love the show they get to bring to life every single day. I truly believe that if you love your job, it shows on screen. And this group, shows it on screen every week. Here's to 100 more!
Season Five will return Friday, March 2. Don't miss the 100th episode of "Marvel's Agents of S.H.I.E.L.D." will air Friday, March 9 at 9|8c on ABC!
For more information on "Marvel's Agents of S.H.I.E.L.D.," visit ABC.com, follow @AgentsofSHIELD on Twitter, and like "Marvel's Agents Of S.H.I.E.L.D." on Facebook for all the latest news and updates!
The Hype Box
Can't-miss news and updates from across the Marvel Universe!