TV Shows
Published February 16, 2018
'Marvel's Agents of S.H.I.E.L.D.: The Road to 100': Season 4 Spotlight
Rahzzah takes on Hydra in new art program piece.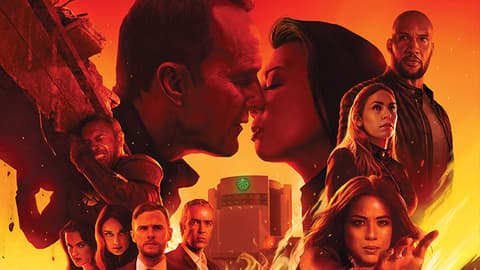 We're weeks away from the landmark 100th episode of "Marvel's Agents of S.H.I.E.L.D." and here to commemorate Season 4 of the Marvel TV series is artist Rahzzah. Don't forget to look back at the "Marvel's Agents of S.H.I.E.L.D.: The Road to 100" Season 1 piece by Dale Keown, Season 2 piece by Daniel Acuña, and Season 3 piece by Nick Bradshaw.
The dynamic fourth season was shook by the following key events that continue to haunt our agents — at the core of the art piece by Rahzzah is the introduction of Ghost Rider. Who can forget Daisy and Robbie Reyes' rough start as they crossed paths in Los Angeles tracking down the Watchdogs who were hunting down Inhumans? Striking out on her own, Daisy had to cope with the effects of her 'quake' powers on her body.
Season 4 introduced us to another new character, Jeffrey Mace, who was appointed by the President to be the new director of S.H.I.E.L.D. and enforce his vision for the organization in their new partnership with the government.
Meanwhile, the season heats up as Radcliffe and Fitz develop Life Model Decoys. As Mack and his love of sci-fi movies taught us, nothing bodes well when robots become sentient. Aida gets a little more intense and a lot more deadly when exposed to the Darkhold. Devising her own cat-and-mouse game, Aida thinks she's doing our team a kindness by removing each of their biggest regrets in the Framework, creating a 'what-if' world where Hydra is in charge.
Relationships are complicated when you're an agent of S.H.I.E.L.D. and unfortunately for Coulson, he ended up locking lips with LMD May. Aida envisioned herself as Madame Hydra with a callous Fitz by her side. And Mack was reunited with his daughter Hope. Could Yo-Yo draw him out of the Framework to save his life?
In one of the defining moments of the season, Mace as the Patriot, assuring his life is real, sacrifices himself to save a child when a Hydra correctional facility is attacked on Aida's orders. In sacrificing himself, he also sacrificed his real human self in the real world.
The choices and experiences made in this season continue to reverberate for our agents as they navigate Season 5. Some of which have yet to come to light…
Season Five will return Friday, March 2. Don't miss the 100th episode of "Marvel's Agents of S.H.I.E.L.D." will air Friday, March 9 at 9|8c on ABC!
For more information on "Marvel's Agents of S.H.I.E.L.D.," visit ABC.com, follow @AgentsofSHIELD on Twitter, and like "Marvel's Agents Of S.H.I.E.L.D." on Facebook for all the latest news and updates!
The Hype Box
Can't-miss news and updates from across the Marvel Universe!