TV Shows
Published February 16, 2018
'Marvel's Agents of S.H.I.E.L.D.: The Road to 100': Season 5 Spotlight
Stonehouse delivers out of this world art piece for 'S.H.I.E.L.D.' program.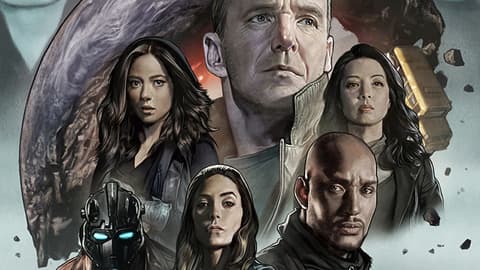 We close out the "Marvel's Agents of S.H.I.E.L.D.: The Road to 100" art program with artist Stonehouse capturing the highlights of Season 5 so far.
In case you missed it, take a look at the previous seasons captured by Dale Keown (Season 1), Daniel Acuña (Season 2), Nick Bradshaw (Season 3), and Rahzzah (Season 4).
With barely any time to recuperate from the events of Season 4, our agents were thrusted 70+ years into the future on a quaked apart earth by the Destroyer of Worlds as the clock ticks out on humanity. Flanking the art piece are Kasius, the Kree who rules over the Lighthouse, and his second-in-command, Sinara, who keeps the remaining humans in line. In addition to Kasius and Sinara, the agents are joined by Deke, a roguish scavenger, and a hard man to trust.
At the heart of the piece, we find Fitz and Simmons reunited after Fitz traveled across time and space to find Simmons.
"The Fitz-Simmons' proposal is such a big moment for the show, the fans, and for everyone involved," shared executive producers and showrunners Jed Whedon and Maurissa Tancharoen exclusively to Marvel.com. "It is the culmination of a relationship that has been maturing since Day One, and it's only fitting that it was directed by S.H.I.E.L.D.'s Director Clark Gregg."
As the prophecy of Quake destroying the world looms over our agents, what can we expect from this season as we draw near the 100th episode and beyond for our agents? According to Whedon and Tancharoen, "They are going to have to try to do everything they can to stop the future they saw from coming to bear. The problem is they only have vague clues as to what events lead to the earth's destruction. It will be a race against the clock as well as a puzzle and also a mystery and a conundrum and a rigamarole and a doozy."
Season Five will return Friday, March 2. Don't miss the 100th episode of "Marvel's Agents of S.H.I.E.L.D." will air Friday, March 9 at 9|8c on ABC!
For more information on "Marvel's Agents of S.H.I.E.L.D.," visit ABC.com, follow @AgentsofSHIELD on Twitter, and like "Marvel's Agents Of S.H.I.E.L.D." on Facebook for all the latest news and updates!
The Hype Box
Can't-miss news and updates from across the Marvel Universe!