TV Shows
Published June 7, 2017
'Marvel's Ant-Man' Animated Shorts Are Big On Fun
Josh Keaton talks about taking on the role of Scott Lang in 'Marvel's Ant-Man' shorts!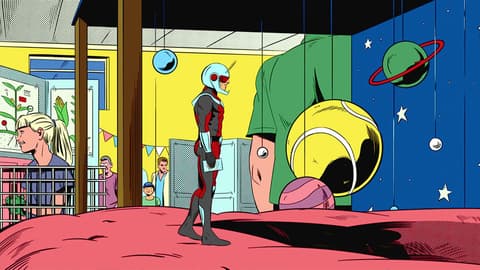 Good things come in small packages as Marvel Animation's series of cartoon shorts is kicking off this weekend with "Marvel's Ant-Man" on Disney XD. The debut of these six new action-filled shorts gives viewers a peek into the life of Scott Lang as he battles Yellowjacket, finds common ground with Wasp, and creates a giant piece of cheese. You know, the typical super hero life.
Marvel.com talked with the new voice of Ant-Man Josh Keaton, whose previous roles include many familiar video game voices and most recently, Shiro on "Voltron: Legendary Defender." We spoke with Josh about taking on the exciting task of voicing of the Ant-Size Avenger, and whether saving the world or helping with homework is the more difficult task.
Marvel.com: Have you always been a Marvel comics fan?
Josh Keaton: Absolutely, my favorite comic book character is Spider-Man. Ant-Man is a new thing for me, I didn't go into this knowing as much about him so I had research more about the character, I started reading more about Scott as the process was going on.
Marvel.com: How did you decide to approach the character of Scott Lang, did you use past iterations of Ant-Man ("Avengers: Earth's Mightiest Heroes!," Marvel Studios' "Ant-Man" movie) to get his character just right or is this your own new variation on Scott Lang?
Josh Keaton: I'm definitely putting my own spin on it, I like a lot of the stuff that other people who have played him have contributed. I like Paul Rudd's snarkiness, I've been a fan of his for a long time. It's not necessarily a recreation of any particular performance, I'm taking elements of what I've read about the character and how I feel he would be.
Marvel.com: Is there a particular way you get into character to voice a superhero? Most superheroes have alter egos so it's really two characters in one but here you have Scott Lang, Ant-Man, and also Giant Man, so you get three characters in one.
Josh Keaton: At the end of the day it's all Scott. He's got the mask on but he's very much the same character in and out of the suit. There's not a lot he's trying to hide, if anything he's trying to prove himself to the rest of the Avengers and trying to prove that he's not a bad guy. He's a likeable guy and he wants to be liked.
Marvel.com: You've voiced Shiro in "Voltron Legendary: Defender." While Shiro is a born leader, Scott was pretty much thrown into the action. How does that manifest itself in the way you approach voicing "Marvel's Ant-Man"?
Josh Keaton: It helped the process that I wasn't as familiar with the character as I have been with other superheroes that I've played. Shiro is larger so there's a physicality that I get into when voicing him, and Ant-Man is more like an everyman. There are definitely some parallels between the characters—there's a huge amount of loyalty that you can find in both. It's really more of a mental place to get into, rather than physically preparing to get into the role.
Marvel.com: With these shorts you get a quick but concise look into Scott Lang's world. What do you think fans will like most about these shorts?
Josh Keaton: One of the things that I really love about the shorts is the fact that—much like the fact that he can shrink and grow—his problems and the enemies that he faces also shrink and grow. I mean, he's fighting this massive force of nature in one, and then in another one he's fighting the exterminator that's going to kill his ant buddies. It's just a run of the mill exterminator that is just as much of a supervillain to his ant buddies as a much bigger supervillain would be to the rest of the world. He still has that loyalty to his little buddies that he does to humanity.
Marvel.com: Wasp is clearly superior when it comes to plan of attack against enemies, do you think Scott's faltering helps his character?
Josh Keaton: Absolutely. He's able to poke fun at himself. He knows that he's still kind of figuring stuff out, things are going to go wrong and he just kind of deals with it. There's definitely a relaxed-ness to him, even under fire. There's even a little bit of crossover with Spider-Man, there's that humor that comes out under fire and Scott's always down to make the joke.
Marvel.com: Yellowjacket ruining kids' science projects is the ultimate in villainy, do you think Scott has a more difficult time fighting the bad guys or helping out Cassie with her homework?
Josh Keaton: How much more evil can you get than messing up kids' science projects? I think it's a little bit of both. I have two young kids and I barely have time, so if I had to add fighting supervillains to my schedule, I don't know how I'd get it all done.
Marvel.com: What would you like to say to the fans who'll be tuning in this weekend?
Josh Keaton: Thanks for watching, thanks for supporting Marvel and everyone who worked so hard to make these!
Catch Josh Keaton as the voice of Ant-Man in "Marvel's Ant-Man" when the first of six of the two-minute shorts titled "Science Fair," will debut on Disney XD on Saturday, June 10 starting at 7:58 AM ET, with "Alien Invasion" and "Soup Time" following in every four hours at 11:58 AM and 2:58 PM. The next three shorts will follow on Sunday, June 11 with "Exterminator" at 11:28 AM, followed by "Proton Cube" at 5:28 PM and finally, "Not a Date" at 8:58 PM.
The Hype Box
Can't-miss news and updates from across the Marvel Universe!