TV Shows
Published July 17, 2018
'Marvel's Cloak & Dagger' Is Grounded in Reality
The cast and crew discuss the importance of authenticity.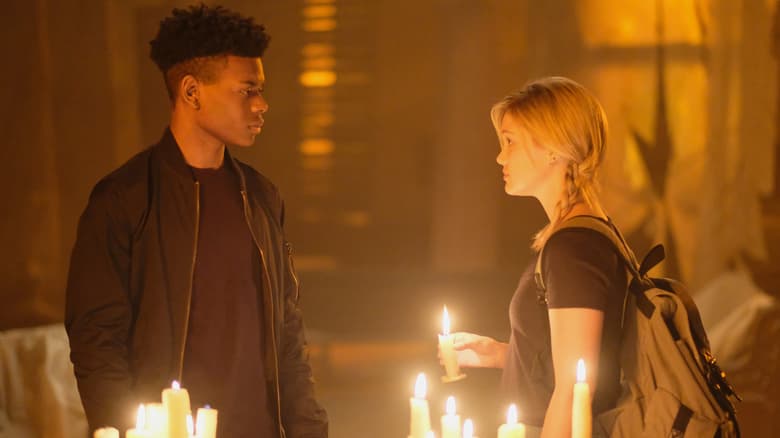 "Marvel's Cloak & Dagger" may be based on a comic book, but the important themes are still relevant to today's society. Tackling sensitive subjects from race and class privileges to suicide, drug abuse, and police corruption, the show is portrayed in a way for young people to understand and relate to in their own lives.
When bringing together a series that touches on sensitive, relevant themes, it was important to get the tone right from the very first episode. Head of Marvel Television and executive producer Jeph Loeb explained, "It all starts with story. It all starts with the script. It all starts with believing in the story that we were telling and once we had our cast, that made it even more easy for us to be able to get super talented people involved. When Gina [Prince-Bythewood] came on board as a pilot director, she came to us with a very real passion and I always will respond to passion."
Director Gina Prince-Bythewood not only brought directorial experience, but personal experience into play. "She has two young boys who said to her, 'Why aren't there any heroes that look like us? That are our age that we can actually identify with more directly?'" continued Loeb. "And so the thrill of her being able to come up with a young black man and a young white woman who not only are very different but somehow learn to understand each other, that's a really good story to tell. So that's what we did."
Despite CLOAK AND DAGGER debuting in the 1980's, the themes are still eerily relevant today. "We live in a dark world sometimes, so I think it was important for all of us to present the world as it is," described executive producer and showrunner Joe Pokaski on the parallels. "And as dark as it can be, then put Tandy and Tyrone in the middle of it, they can kind of be our avatars of people, as Jeph says, who are standing up when they are told to sit down."
Ty and Tandy's voices are rooted in the people who created their voices. "We filled the writers' room with as many different points of view as possible and we started having real conversations. It felt right that Tandy and Tyrone would have real, unguarded conversations as well," added Pokaski.  
Keeping true to the subject matter of the CLOAK AND DAGGER comics was important for Loeb. "I've always taken the position that it didn't need to be updated," said Loeb. "It needed to find itself in our present day world. But that's so true of what the comic always was. It always was an issue for them to be involved in what was going on in society, what was going on politically, what was going on economically in the comic itself. When you marry that to what is happening to kids today and how involved they are, it was just something that inspired Joe in many ways to stay in that world."
The cast agrees that the reality of the show is what makes the storytelling so important. Jaime Zevallos, who plays Father Delgado, was impressed that Freeform welcomed the meaningful subject matter. "I'm proud to be a part of it because families need to sit down and see this with their kids," shared Zevallos. "This is what's going on and I remember being in high school and going through those things. Some of the characters that are older go through those things. These are real topics that you can watch with your family. The elephant in the room these days...people are tackling things head on and I'm proud to be a part of it."
"A ton of people are going to watch this show," acknowledged Carl Lundsted, who plays Liam Walsh. "But it's targeted toward a YA demographic and it's going to be really special for them to see something that is actually very real. People dealing with real issues who are their peers. I hope it's ,if nothing else, cathartic for them. Whether it's anxiety, depression, substance abuse, dealing with racism, sexism." 
"Absolutely. They don't tippy-toe at all," added Noëlle Renée Bercy, who plays Evita Fusilier. "I have so much respect for them for that and feel so honored to be involved in something that's so gritty and so real."
The authentic storytelling is an important part of why the show resonates with young adults. Olivia Holt, who plays Tandy Bowen, knew this was key for the new show to be taken seriously. "It was very important for us to create a show that has a bit of reality and authenticity and to keep it grounded," shared Holt. "Honestly, for both Aubrey [Joseph] and I, we wanted to be able to tell a story that was real and that people can relate to and that we can start an open dialogue about what's happening right now in 2018 and how we can impact other people and inspire them to change and to have a voice and stand their ground and be bold. We're very lucky to be a part of a show that wants to talk about those sorts of things, just to start a conversation of hope and to change the world."
Brand new episodes of "Marvel's Cloak & Dagger" air exclusively on Freeform Thursdays at 8p/7c! Stay tuned to Marvel.com for the latest on "Marvel's Cloak & Dagger" and Marvel Television! Be sure to follow @CloakandDagger on Twitter and like the official "Marvel's Cloak & Dagger" Facebook page!
The Hype Box
Can't-miss news and updates from across the Marvel Universe!