TV Shows
Published September 7, 2018
'Marvel's Iron Fist' Stars Finn Jones and Jessica Henwick on Season 2's New Battles
With the new season now streaming on Netflix, here's what the stars told us about Danny Rand and Colleen Wing's journey.
Newly arrived on Netflix, "Marvel's Iron Fist" Season 2 finds Danny Rand (Finn Jones) and Colleen Wing (Jessica Henwick) having to face familiar and new enemies and the fallout of major events from both the first season of "Marvel's Iron Fist" and also "Marvel's The Defenders." 
Jones and Henwick recently stopped by Marvel to sit down for a chat with Lorraine Cink on "Earth's Mightiest Show" about what to expect in the new season. 
As Jones noted,  "The last thing that Daredevil says to Danny at the end of 'Defenders' is 'Protect my city,' and we start Season 2 and Danny's doing that. He's out all night being a vigilante, he's a lot more capable, confident, the power is more readily available, and he's moved in with his wonderful girlfriend, Colleen Wing. He's struggling to try and balance it all."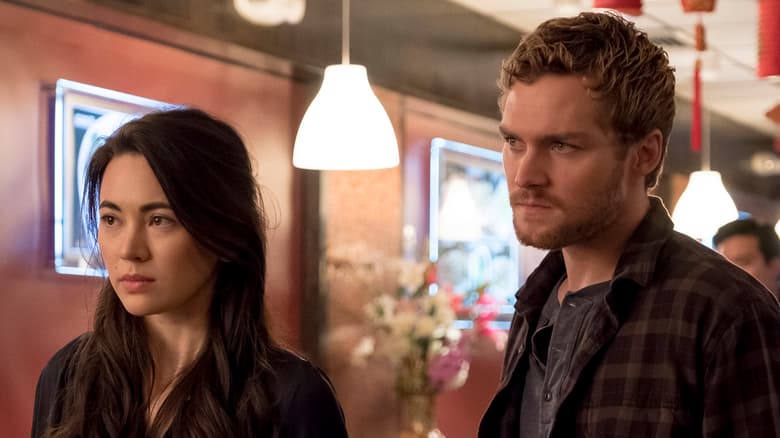 As for Colleen, Henwick said, "When we find her, she's just exorcized anything from her life that reminds her of The Hand. She closed the dojo, she stopped teaching, she put her katana up. She doesn't want to fight, she doesn't want to be a vigilante, and she's just trying to do good. She spends her time doing volunteer work, but I think she's having a bit of an identity crisis... It's hard to stay at home, see Danny come home having just saved Chinatown, and for her to not be a part of that."
After watching them meet in "Marvel's The Defenders" and then spend time together in "Marvel's Luke Cage" Season 2, fans get a chance to see more of the dynamic between Misty Knight (Simone Missick) and Colleen Wing in "Marvel's Iron Fist Season 2." As Henwick explained, "Really, this season we're kind of building the foundation of their relationship. Because, in 'Defenders,' they were two strangers. Then in 'Luke Cage,' we're kind of survivors of everything that happened, thrust together. With this season, we're actually building the foundation of okay, do they like each other? Are they friends? Do they just feel like they owe each other because she saved her, and she lost her arm because of that? Actually, they're finding that they have quite a bit to discuss!" 
An exciting addition to "Marvel's Iron Fist" this season comes in the form of Mary (Alice Eve), a decidedly complex woman Danny encounters, with the character inspired by Marvel Comics' Typhoid Mary. 
Said Jones, "Mary appears in Danny's life quite abruptly and he can tell that she's a little bit different. He keeps on bumping into her 'coincidentally,' and he wants to help her out. He sees that she's struggling a little bit in New York. She's just come to New York for the first time. Danny knows what it feels like to be in that situation, so he's just being like a good dude on the street, trying to help a neighbor out. And boy does that go wrong!" 
In the meantime, Danny still has to deal with the threat of Davos (Sacha Dhawan), who believes he should be the Iron Fist, not Danny. 
"Danny grew up with Davos and I think at the center of their relationship is love," remarked Jones. "They really care about each other, they are brothers, and because of the events that happened in K'un-Lun and the fallout from it, there's a lot of resentment. Davos wants the Fist, he wants to see Danny suffer for what he has done, but then Danny wants to bring Davos back into himself. He knows Davos [from] when he was a child. He knows who he really is in his soul, and he feels like Davos has become corrupt over time. There's that kind of battle going on throughout the season." 
You can watch the full new episode of "Earth's Mightiest Show" with Finn Jones and Jessica Henwick at the top of the page - including what happens when they play The Newly Paired Game! 
"Marvel's Iron Fist" Season 2 is now streaming on Netflix. 
The Hype Box
Can't-miss news and updates from across the Marvel Universe!