TV Shows
Published August 16, 2017
'Marvel's Spider-Man' Will Offer Plenty for Spidey Fans to Enjoy
The star and creators of the new animated series on what to expect and what their influences are.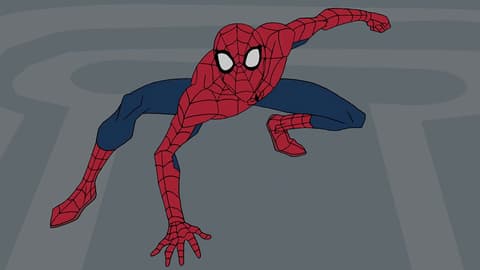 With the show debuting this coming Saturday, Marvel, Disney XD and ASIFA/the International Animated Film Society hosted a special screening of "Marvel's Spider-Man" this week, followed by a Q&A with Cort Lane (SVP, Animation & Family Entertainment), Marsha Griffin (VP, Animation Development & Production), Eric Radomski (SVP, Production), Kevin Shinick (Supervising Producer), and Robbie Daymond (Voice of Spider-Man).
Here's what we learned about the new animated series!
Finding the New Spider-Man
When Daymond auditioned for "Marvel's Spider-Man," the series was using a code name and alternate character names. Daymond joked that when he got the call from his agent telling him that not only had he got the part, but in fact, "That was Spider-Man. You're Spider-Man!" he promptly passed out.
Years ago, Daymond had in fact auditioned to play Spider-Man in "Ultimate Spider-Man" and nearly got the role. Lane mentioned that while they decided he wasn't quite right for that particular version of Spider-Man, when they were casting "Marvel's Spider-Man," "You were automatically going to come in, because we knew you were so close last time."
Daymond said he's always been a big Spider-Man fan and that he felt the character had elements that made him highly relatable, including, "Feeling like an outsider and struggling to make ends meet."
Ongoing Storylines
Discussing how much the show will have continuing storylines, Shinick explained, "We have a lot of arcs. It is serialized in a way." He added, "It's a cliché to say, but no matter what you're doing, it's the relationships that are important." The show will track the dynamic between Peter and those he's close to.
Shinick said that on "Marvel's Spider-Man" they weren't spending much time on romantic relationships but rather on friendships and family bonds and how Peter's double life as Spider-Man makes things tricky. For instance, Griffin explained, "Gwen and Anya have different relationships with Peter and Spider-Man. They [each] feel differently about one half."
Homages to the Comics
Shinick said that the core of "Marvel's Spider-Man" comes from the Stan Lee, Steve Ditko era, and that while updates can and should be made to the story, "We wanted those core values."
Dan Slott is a consulting producer on the series, and his Spider-Man comic book inclusion of Horizon Labs was reconceived into a school, called Horizon, on the series. There will be elements from older stories used as well, along with many nods fans will appreciate. Radomski noted there are times they include, "At least an homage, without directly lifting [what happened in the comics]," saying, "Whenever we can, we have those moments."
As for adapting bigger story arcs from the comics, Daymond mentioned that several times he's read a script and asked if a particular story is being set up. He said the response he'll typically get is a coy, "It might be!" and noted the show "Does a great job of blending all those arcs together."
The Schools and the Science
As "Marvel's Spider-Man" begins, Peter Parker has been accepted into the aforementioned school, Horizon. Said Shinick, "We've kind of tried to create a Hogwarts situation for science geeks. There's the public school he's always gone to [Midtown], but then there's this magnet school for geniuses."
Meanwhile, Norman Osborn is creating his own rival school to Horizon, the Osborn Academy, giving the series three different schools as ongoing elements. Shinick said the idea was to introduce "familiar characters as teachers or students." In some cases, you might see someone start out in a more villainous role and change, while others might start out as seemingly heroic, only to go in a different direction.
Said Shinick, "For me, the intro to this series was science.  Peter's entry point for everything was through science." Lane remarked, "Peter's science smarts is a power in and of itself," and praised Shinick for focusing on the idea that, "Your intelligence is something you can use to make the world a better place."
Miles and Gwen
Asked by an audience member if we might see supporting characters Gwen Stacy or Miles Morales become heroes in their own right, like in the comics, Shinick replied, "Would you like that? Because you might be very happy!"
Lane noted Miles and Gwen each have their own arcs, and that as far as them becoming heroes, "The idea is yes, but that takes time." Lane also revealed, "Miles gets his powers much sooner," but that things will get complicated for him. As we know, Peter learned a sad lesson about power and responsibility that helped forge him into a hero, but meanwhile, "Miles has a good heart, but he doesn't have that grounded sense of responsibility that Peter has."
Daymond said that when the series begins, Peter is still trying to get control over his powers, but later, "He gets to mentor Miles a little bit. That's a really fun dynamic to play."
"Marvel's Spider-Man" will debut with a one-hour premiere on Saturday, August 19th (7:00-8:00 AM EDT), on Disney XD, and on the Disney XD App and VOD (12:01 AM EDT). Stay tuned to Marvel.com for all the latest news and updates on all of your favorite Marvel animated series.
The Hype Box
Can't-miss news and updates from across the Marvel Universe!