TV Shows
Published January 15, 2019
'Marvel's The Punisher' Season 2: Setting the Stage for Frank
How the look of the show is created, from the sets to the costumes.
The world of "Marvel's The Punisher" is undeniably dark, a reflection of the nature of Frank Castle and the people he encounters. The bleak nature lends itself to people who are hiding secrets, which also applied to the crew of the Netflix show. Marvel.com got the chance to see some of the sets for the second season of the Netflix show and speak to production designer Scott Murphy and costume designer Lorraine Calvert.
While the second season of "Marvel's The Punisher" will still take place in New York City, part of Frank's story takes place miles away. Murphy provided a tour of one of the sets that Frank (Jon Bernthal) and Amy (Giorgia Whigham) inhabit while outside of the city: a seemingly abandoned trailer in a junkyard. It seems like a simple enough concept – surround an old trailer with old cars – but Murphy went into the great detail and thoughtfulness behind the look and feel of the set, as well as how it colored Frank's story and set the tone for the season, which he described as "much more grounded and rooted in this blue-collar Americana."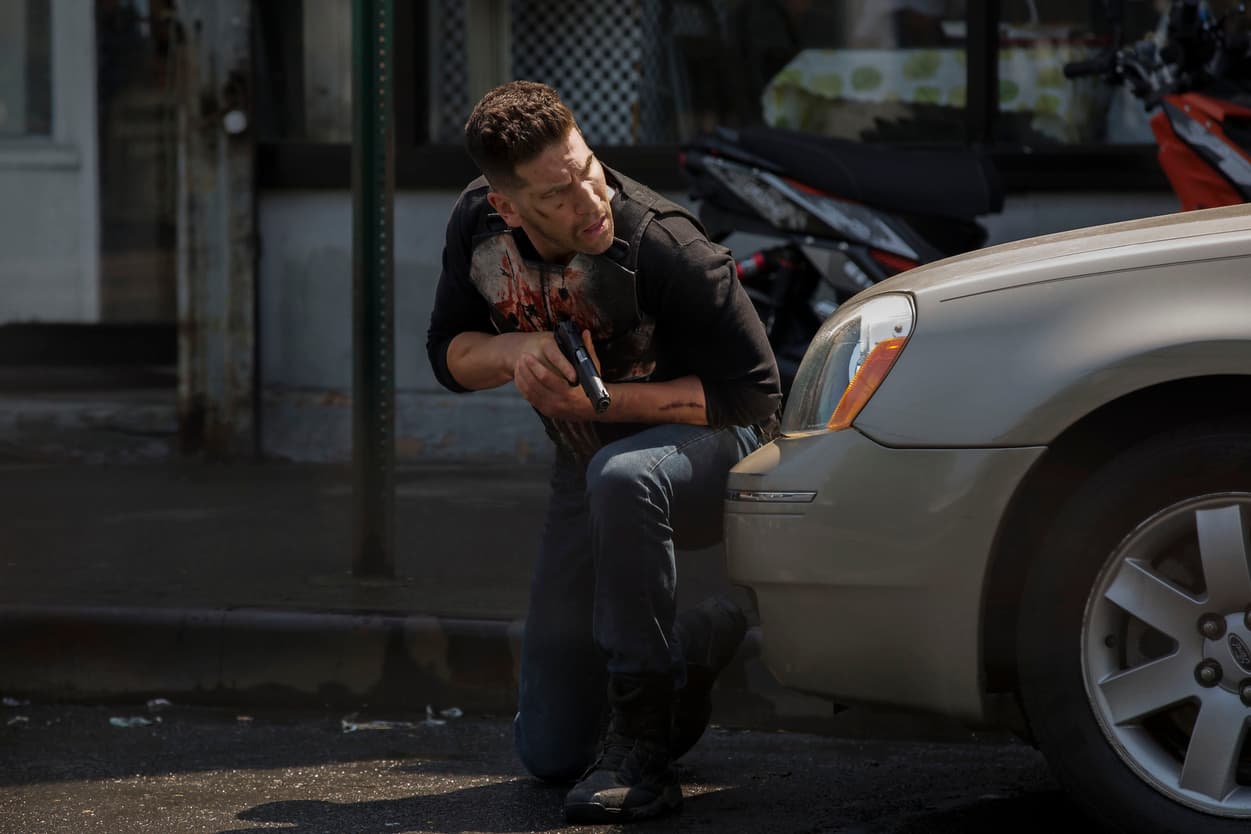 Murphy explained: "There was a script note that looked like [this trailer] hadn't been redecorated from the seventies that we fully embraced." He continued: "We wanted stuff that looked like it had been here a while, so there's some vintage stuff in there. There's also not knowing for sure if someone's gonna crash through this thing. We wanted to make sure it was stuff that would work for a stunt.
"We didn't want it to look too cozy. We brought in everything we had. Not everything, because we always have extra stuff. But we'd gotten it to a point where [showrunner Steven] Lightfoot's note was to pare it down and make it look less lived-in and homey. We took out a good chunk of the decorative stuff."
Other sets that will be seen in the show this season are the apartments that house Dinah Madani (Amber Rose Revah) and Krista Dumont (Floriana Lima). Both sets, according to Murphy, reveal bits of their story coming up. "In Season 1, Dinah was staying at her parents' house. She now has her own apartment, so that's one of the apartments [I worked on]. There's a new character named Krista, and the other apartment is her apartment. Dinah's is much more new, modern, contemporary, crisp and clean, very ordered. Krista's is kind of a pre-war upper west side apartment that's much more personalized and homey."
Murphy also described the collaboration process with Lightfoot: "When I was designing [Krista's apartment], I only had the first two or three scripts, and Krista's [home] didn't play 'til a few episodes in. So I had a 40-minute conversation with Steve, like, 'Who is this character?' Steve's very good about getting scripts out early and ahead of time and he's got the whole season planned. There are things he knows are going to be happening and things about the character that I wouldn't know from the first few scripts. I take all those notes and go through them and as I'm designing it, recheck the notes."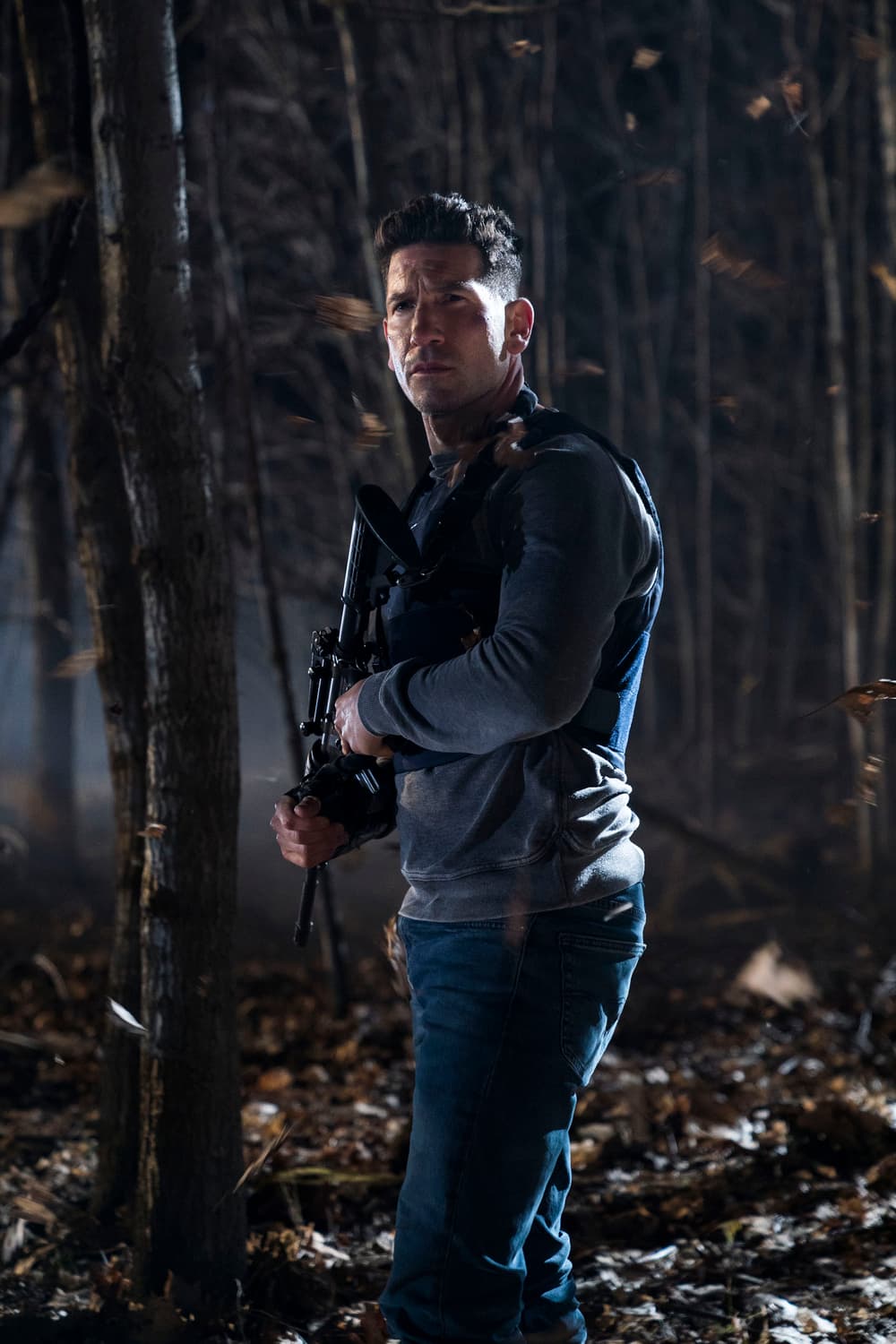 Not only will there be a shift in tone for the sets, but the costumes will also be indicative of what kinds of lives the characters are leading in the new season. Costume designer Lorraine Calvert explained that Frank's style became "a little more relaxed" after being on the road. "He's a very basic guy. It's a blue jean kind of look and he's very comfortable in it, the actor and the character. And it doesn't veer very much from what we started with, I don't think."
Frank Castle is no stranger to fight scenes, and Calvert noted, "You have to work with special effects and provide the right amount of clothing for squibbing, and provide the after effects of the squibbing, and put the cuts in the different clothes. Then once it's squibbed it has to have its blood. Yeah, a lot of blood and a lot of multiples." Calvert estimated "about a thousand pairs of blue jeans" were needed for the show this season. "We just get groups of people, whole groups of -- for lack of a better word -- thugs who John fights." She also explained that between outfitting the actors, she also has to be aware of stunt doubles, plus the fight continuity of every single performer. "It's a lot."
And what about the famous Punisher skull vest? "In Season 1, he was in Schoonover's lair of weaponry and bulletproof vests, and he painted that vest himself. I think it's a good storyline for him. He's a very basic guy. Whatever's there, he's going to use. He's not going to go to some special place to do it. He's just going to make it. And we certainly streamlined it from what a bulletproof vest would look like. Because it's an actor and you want him to look great, we made it much more streamlined and thin without a lot of padding."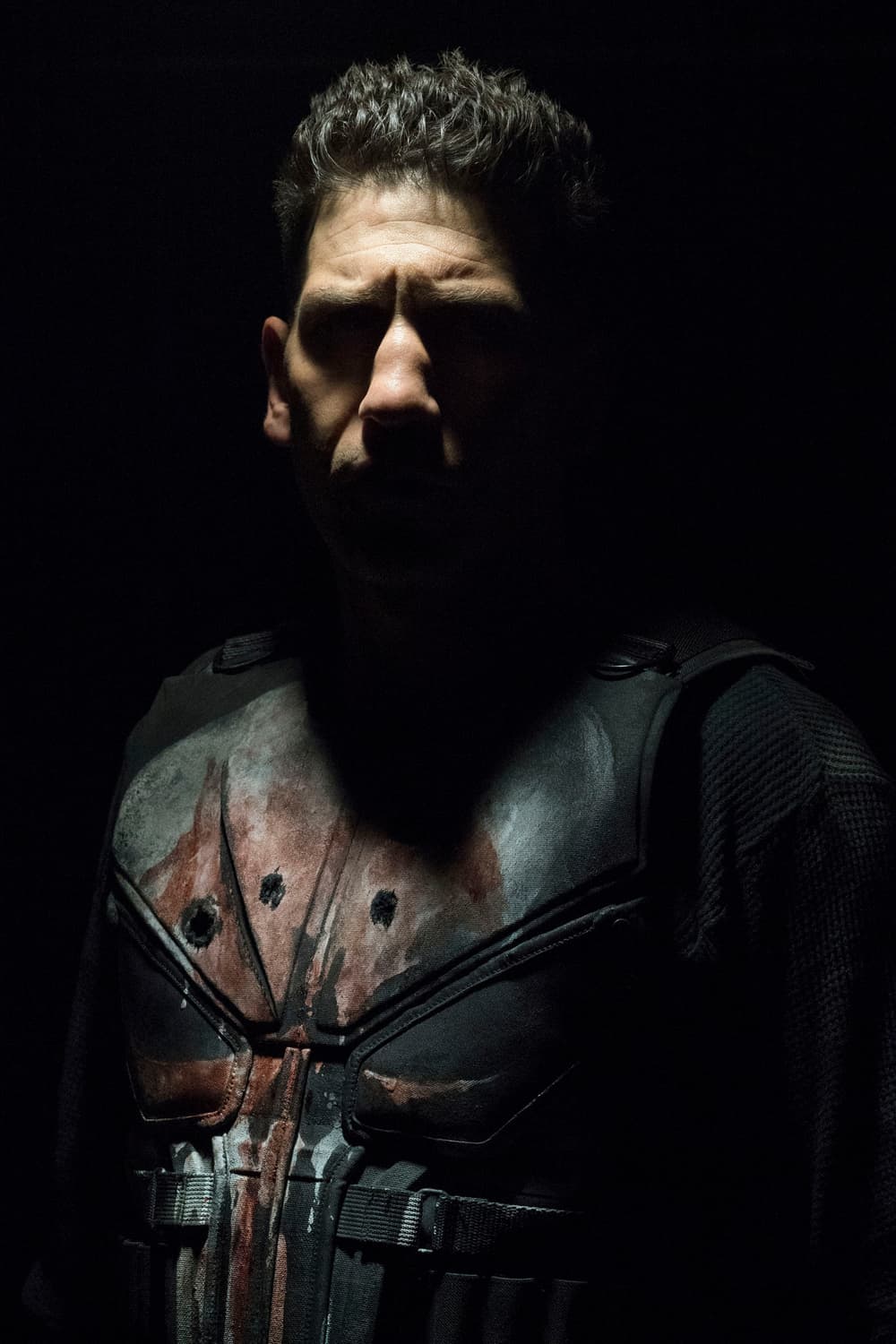 Frank may be a simple dresser, but plenty of other characters on the show tend to be a bit more flashy. Calvert revealed that Madani's style will return to her tailored suits and stilettos – "Dinah is still Homeland Security and suited up." – but new character Krista Dumont presented a much different trait that lent itself to her style.
"In her emotional life, she's very covered up, very uptight, doesn't want to let anybody in to her personal world, and when season two comes out, you'll see why. I definitely started her out very, very covered up. And it really worked well for us and just became a really important part of her character to just be able to do this and hide behind that facade of the clothes that cover her up."
But the other newcomer, Amy, was a lot of fun for Calvert to dress: "Amy is just an awesome character. She's a girl on the run. She's a grifter. We don't know what she's on the run from but she's a unique personality. She doesn't really use profanity and she makes up [euphemisms] and stuff like that. This season there's a bit more humor in the dialogue and it plays in really interesting ways and they've done a great job with it. She is certainly very freaked out by Frank Castle in the beginning and it becomes a pretty great relationship. I can't say any more than that. I dress her very young, lots of prints and stripes. And I can do color which is great because I don't do too much color in the show. I try to be playful with her because she is young and needs to play that. I think it works pretty well for her and for her character, especially as a counterpart to Frank Castle."
The final new character, John Pilgrim (Josh Stewart), required a look into certain cultures for Calvert's designs. "He's very religious, conservative, alt-right. I've actually based him on some research on the Amish and Mennonites, and a very old-fashioned look. It's all custom made. Shirts are custom made and the suit is custom made. It's a more homespun kind of thing. He inhabits a world that's just different from anything you've seen in the Marvel Universe. So far, anyway."
And then there's Billy Russo, who went from vain narcissist to destroyed victim. "What I've done with Billy is made it incredibly simple. But you'll see there's a pivotal [event] that creates his look, and the actor was phenomenal in helping out with it, as was Steve. The three of us worked out this interesting twist on his look that I think looks really great. I'm excited to see it. I've seen the cut and I just love it."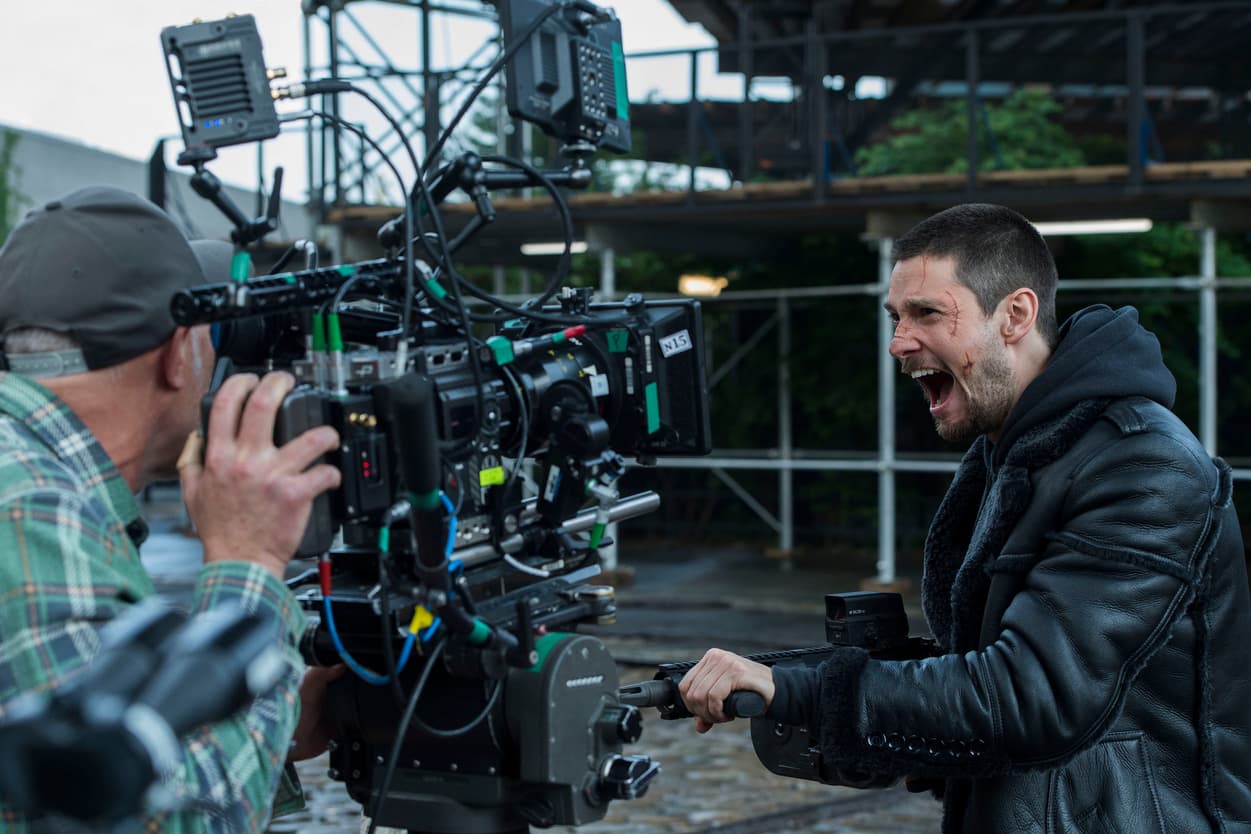 Many forces will be converging on Frank Castle during the second season of "Marvel's The Punisher." Worlds with different beliefs, different perspectives, and different goals will collide, giving the show's crew the epic task of creating not just an environment for Frank, but an arena.
"Marvel's The Punisher" Season 2 arrives on Netflix this Friday, January 18!
The Hype Box
Can't-miss news and updates from across the Marvel Universe!