TV Shows
Published November 10, 2020
Marvel Studios' 'WandaVision': Entertainment Weekly Welcomes You to the Wanda Years
The Marvel Studios original series is coming exclusively to Disney+!
Welcome to the Wanda years!
As Marvel Studios gets ready to launch the first of their original television series, exclusively for Disney+, Elizabeth Olsen and Paul Bettany reprise their roles as Wanda Maximoff and Vision, respectively, on the cover of Entertainment Weekly in support of their series WandaVision. No need to adjust your screens, get a glimpse of the cover below!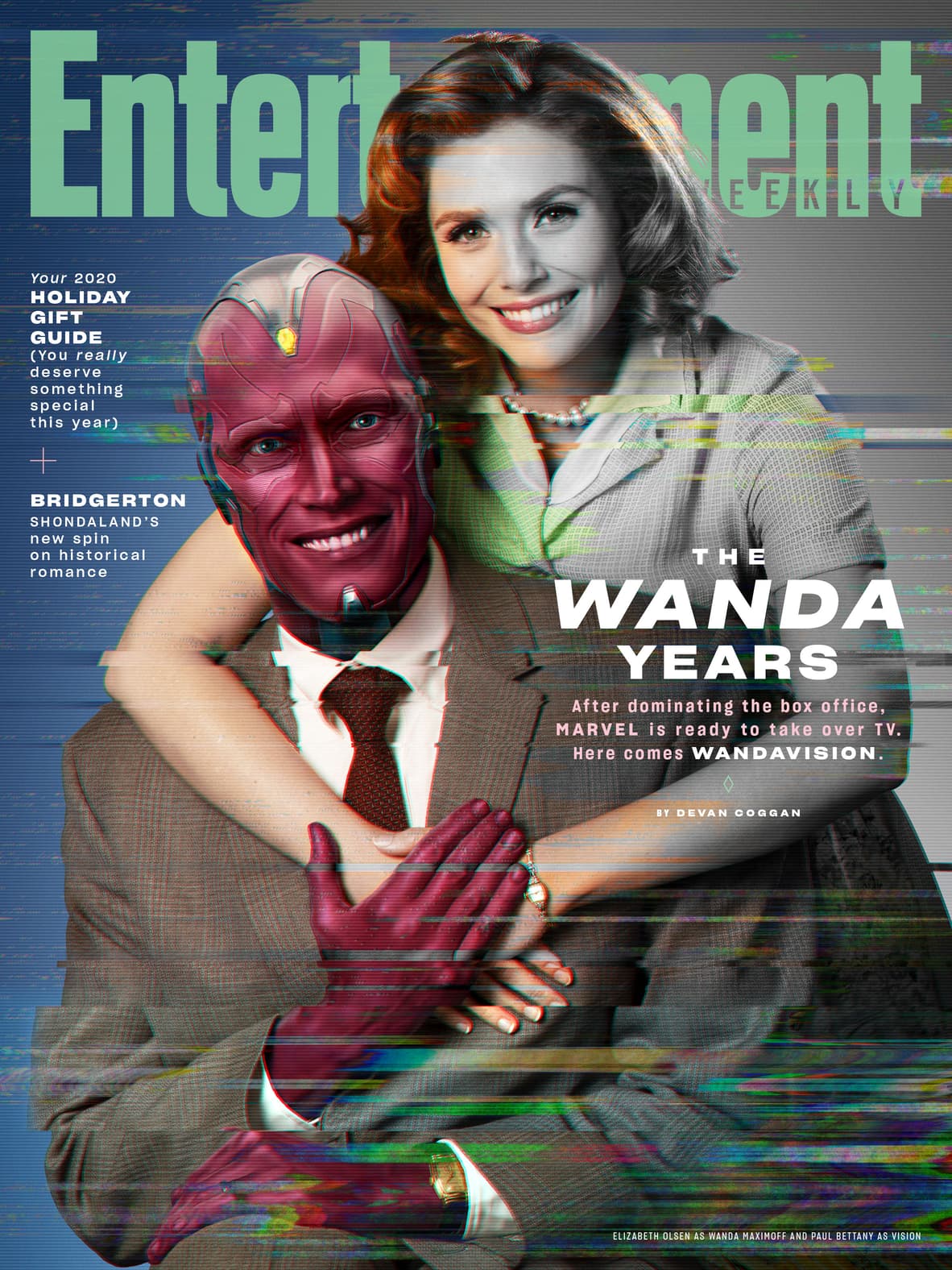 The new EW issue, arriving this week, gives us an in-depth behind-the-scenes look at the Marvel Studios' original series, ahead of its Disney+ debut, and its wonderfully weird send-up of sitcoms past.
As the two stars reveal in the pages of EW, making WandaVision turned them into sitcom stars, due to the setup of the show. Olsen describes the process as "meta," considering she grew up going to set with her older sisters, Mary Kate and Ashley, with Bettany adding, "We were all so high by the end of it, we wanted to keep on running the show...I should have been doing sitcoms all this time."
"The show is a love letter to the golden age of television," explains WandaVision head writer Jac Schaeffer. "We're paying tribute and honoring all of these incredible shows and people who came before us, [but] we're also trying to blaze new territory."
Taping in front of a live-studio audience, the production team actually utilized classic television tactics from yesteryear to create special effects, like wires and camera tricks to create the magic on-set. But not only is the series a throwback, it also moves the Marvel Cinematic Universe forward. WandaVision deeper explores both Wanda and Vision, and their relationship together. 
"It's been the biggest gift that Marvel's given me, getting to do this show," Olsen explains to EW. "I already felt like I had ownership of her because Marvel always encourages you to be part of the process. But even more so now, I feel I have a really strong sense of ownership. If anyone wanted to ask me a question about the future or just a question about what she would think, I feel like this time has provided that."
Additionally, the series also (re)introduces the audience to a grown-up version of Monica Rambeau, played  by Teyonah Parris. 
"I feel so special and honored to be able to walk in her shoes and bring her story to life," the actress explains to EW.  "I hope that me playing this character (a) gives a group of people who are underrepresented a chance to see themselves, and (b) seeing my face and my Black body helps them engage with Black women and our humanity." 
And will audiences, who maybe haven't seen every prior Marvel movie, be able to step right into this WandaVision world? According to Marvel Studios President Kevin Feige, yes! 
"If you haven't seen any of them and just want to step into this weird thing because you love The Dick Van Dyke Show, it's going to work," Feige says. "But if you've been tracking the 23 movies we've made and following along the stories into Phase 4, there'll be a wealth of rewards waiting for you as it all unfolds."
[RELATED: Marvel Studios' 'WandaVision': Breaking Down the New Disney+ Trailer]
Stay tuned to Marvel.com, follow @WandaVision on Twitter, and Like "WandaVisionOfficial" on Facebook for the latest on 'WandaVision' as it develops.
Looking for more Marvel movies and shows to stream? Check out everything on Disney+, Hulu, and ESPN+ right here, and where to find all your favorite Super Heroes right here. 
Disney+ is the dedicated streaming home for movies and shows from Disney, Pixar, Marvel, Star Wars, National Geographic, and more. Disney+ is available as part of a bundle offer that gives subscribers access to Disney+, Hulu (ad-supported), and ESPN+. Visit DisneyPlus.com to subscribe and/or learn more about the service.
Sign up for Disney+ and start streaming now! And be sure to follow Disney+ on Facebook, Twitter, and Instagram for more.
The Hype Box
Can't-miss news and updates from across the Marvel Universe!